Bloomington Gold Corvette Show Returning to Its Hometown in 2022
By Eric Stock, Ryan Denham on August 24, 2021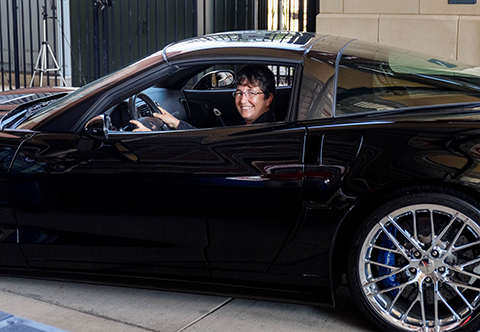 Emily Bollinger/WGLT
ISU President Terri Kinzy posed for a photo from the driver's seat of a Corvette during a news conference at Hancock Stadium on Tuesday.
Guy Larsen says he's been hooked on Corvettes since he was a kid.
"When I got out of college, I bought a car for $25 and drove it for a year and a half to save money to put down on a Corvette," Larsen recalled.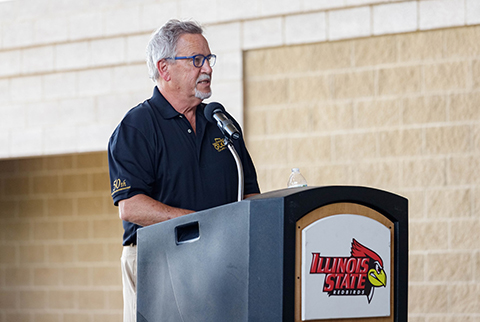 Emily Bollinger
Guy Larsen
Corvettes have since become Larsen's life. Now Larsen is president of Bloomington Gold – billed as the "Granddaddy of Corvette Shows."
The event was born in Bloomington in 1973, but has been gone for decades. Now, it's coming home.
Larsen announced on Tuesday the 50th annual corvette show will be held on the Illinois State University campus, at Redbird Arena, Horton Field House, the Bone Student Center ballroom and the grounds in between on June 10-11, 2022. It will be open to the public.
Larsen estimates up to 5,000 Corvettes will be in Bloomington-Normal for the event, adding the event will include judging and certifying of the sports cars, along with new and used Corvette sales, and sales of Corvette parts and supplies.
ISU President Terri Kinzy said following the announcement inside the Hancock Stadium concourse the university offers an ideal space.
"One of the things to remember is how precious the resources are of these Corvettes that are coming," Kinzy said. "We want to have the best possible facilities to showcase them."
The Bloomington-Normal Convention and Visitors Bureau (CVB) projects the Corvette show will bring 15,000 visitors and pump more than $1 million into the area economy.
CVB President and CEO Crystal Howard proposed a Corvette parade along Route 66 and Corvette-themed movies at Normal Theater as part of the event.
Howard said the community needs more big indoor events like this as entertainment venues struggle to recover from the pandemic.
"We are doing a lot of great things with outdoor events, it's the indoor events that are lagging behind," Howard said. "Having an event like this filling our hotel rooms, going into our restaurants, shopping, buying lots of gas is going to be pretty exciting."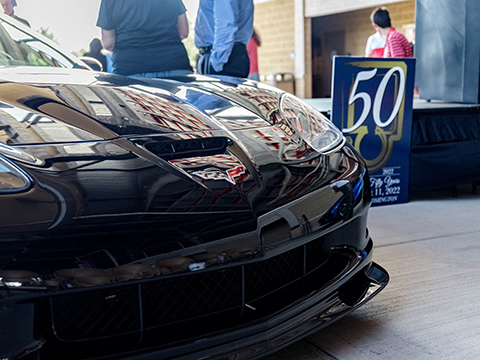 Emily Bollinger
A Corvette sits parked inside the Hancock Stadium during a news conference to announce the 50th Bloomington Gold will be held in Bloomington-Normal June 10-11, 2022.
Bloomington Gold left Bloomington in the 1990s and had a brief return later that decade. The car show has had several homes since then, including St. Charles, Ill., and the University of Illinois in Champaign-Urbana.
Normal Mayor Chris Koos said it wasn't hard to bring the Corvette show back after a two-decade hiatus.
"They want to be here. They understand their tradition and obviously Guy remembers it from the early days and is trying to recreate that excitement," Koos said.
Guy Larsen recalls those earlier days of Bloomington Gold on the ISU campus and hopes to recreate some of that vintage feel, though one its primary venues has had a major facelift since then.
"I kept pushing that I want to see the Bone Student Center ballroom in the late '80s and '90s, we held our special collection of display cars in that ballroom, so we are going to do that again next year."
Larsen said enthusiasm hasn't waned for America's longest-running sports car.
"It's embedded in people's memories and knowledge from their parents and people have just known about them," Larsen said. "The car that probably comes closest to it would be the Mustang, but the Corvette has been around longer."
Bloomington Gold has been in Indianapolis since 2015, most recently at Lucas Oil Stadium. Larsen didn't say how long he's committed to staying in Bloomington-Normal, but he said the Corvette show never moves to a new site for just one year.