What's it Like to Drive a Solid Axle Corvette?
By Brett Hatefield on October 12, 2021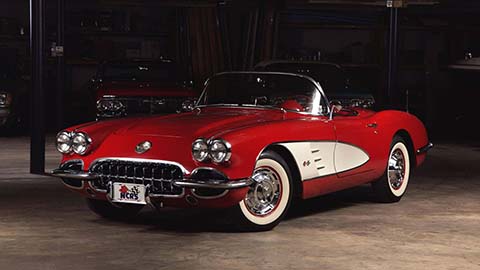 The Solid Axle Corvette, or the C1 generation, bowed for the 1953 model year after a successful showing at the 1953 GM Motorama auto show in New York City. The first production Corvette left a Flint, Michigan plant on June 30th, 1953. It was Polo White over red vinyl, as all of the three hundred 1953 Corvettes were. The Chevy Corvette was powered by a 150-horsepower Blue Flame inline six cylinder backed by a two-speed automatic transmission. There were but two options, a heater and an AM signal-seeking radio, and all three hundred were so equipped.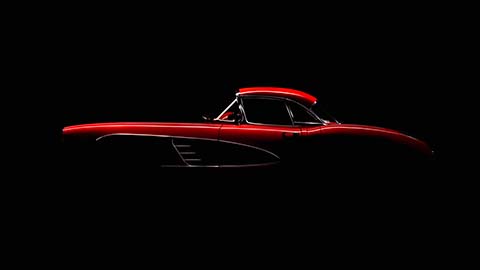 During the Solid Axle Corvette production run, Chevy's sports car received a number of improvements and a couple of facelifts. The venerable Small Block V8 arrived in 1955, in the guise of a 265 cubic-inch, 195 horsepower mill that replaced the Blue Flame Six. A three-speed manual transmission was available for the first time in 1955.
The 1956 model year brought a major redesign, featuring roll-up windows (1953-1955 Corvettes had side curtains), external door handles with locks, exposed headlights, and side coves with optional contrasting two-tone paint. 1957 brought a bump in displacement to 283 cubic inches, and a corresponding increase in power. Base output had grown to 220 horsepower, with 245 or 270 available with dual four-barrel carbs, or 250 or 283 horsepower with the optional Rochester mechanical fuel injection. A four-speed manual transmission and Positraction rear end were also available.
The 1958 model year saw the second redesign for the Solid Axle Corvette, with chrome grille teeth shrinking from thirteen to nine, dual headlights per side, and an all-new interior. Engine power ratings were 230 horsepower for the base single-carb engine, 245 and 270 horsepower for the two dual-carb engines, and 250 and 290 ponies for the Rochester mechanical fuel injection variants. The option list had been growing, and now included courtesy lights, power windows, power convertible top, and a number of performance goodies intended for competition use.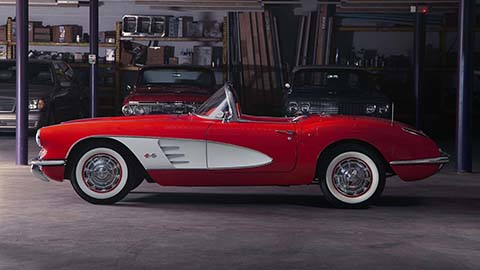 Our feature Solid Axle Corvette is one that is near and dear to my heart. I got my 1960 Corvette over thirty years ago when I was 18 years old. It has been in our family since 1984. It was originally Roman Red with Ermine White coves, and a red interior. It has been repainted a couple of times over its sixty-one years, and the red is now a little closer to fire engine red than the tomato soup-shade that was Roman Red. The coves are still white. It is a largely original, matching numbers car with just shy of fifty-seven thousand miles on the clock.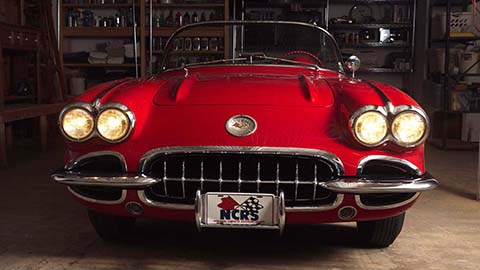 Driving my Solid Axle Corvette is still special after thirty-plus years. That said, it has also become familiar. I am used to how it operates, drives, corners, and brakes. I have become accustomed to the light touch it takes to close the doors, the routine of putting up the soft top or installing the hard top, the lack of power brakes or power steering (parallel parking will let you know if you are hitting the gym hard enough on arm day), the lack of A/C, FM, and sun visors. The early Corvettes had GM's X-frame, meaning the seats sit above the frame rather than down inside it. Combine that with a short windshield, and drivers over five-foot-nine will play the over/under game with the stop light at intersections. As I am six feet tall, I have to slouch when either the soft top or hardtop are in place.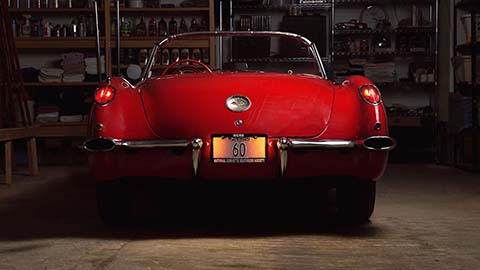 If the car has been driven in the last day or two, turning the key will result in the engine coming to life immediately, faster than modern cars. If it has been a few days, you will have to give the gas a blip. Longer than that, and a few good pumps on the throttle will be necessary. I try to drive the car as often as I can, but circumstances do not always allow daily drives.
The three-spoke steering wheel is almost perfectly vertical. It has a large circumference to overcome the lack of power steering. You have to slide your right leg under it when you get in. The speedometer is immediately in front, in a large half-circle visible through the wheel. The tachometer is a smaller full circle sitting atop the steering column. To the right of the column are the battery and oil gauges, with the ignition switch and lighter below. To the left, the gas and water temp, with the headlight switch and wiper switch below. On top of the padded dash is a single speaker for the Wonderbar AM signal-seeking radio, with the rear-view mirror mounted in front of the speaker. Below the radio are the three climate control knobs and the clock. On the transmission tunnel is the shifter and ashtray in a metal surround. There is a large fresh air scoop just in front of the windshield, operated by a lever close to the driver's knee, that blows air into the footwell. The windshield wraps around to the sides, meeting the door windows in a sweeping, wonderful curve.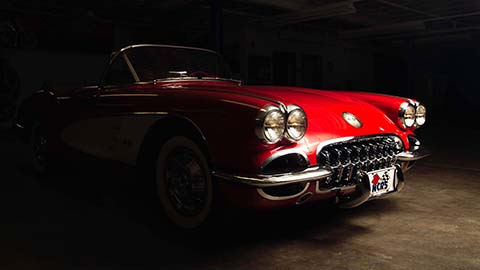 My Solid Axle Corvette has a base 230-horsepower engine with a Powerglide two-speed automatic transmission, and an open differential with 3.55 gears. It isn't fast, certainly not by modern standards, but is quick enough to be entertaining. It doesn't handle great, but you can wring a bit out of it with a little effort. Braking hard with the drum brakes will generate significant fade after just a couple of pull-downs. It does, however, have one of the best exhaust notes anywhere.
The only performance enhancement to my Solid Axle Corvette has been a set of radial wide whitewall tires that have markedly improved ride quality. As it is a solid rear axle, or live axle, the ride is firm, and can be jarring. The radials have softened the sharper bumps. The Corvette has four-wheel drum brakes, as they all did until 1965. With bias-ply tires, the car tended to follow every groove in the road. A panic stop with bias-plies will change your thoughts on religion. The radials have made a big difference in braking, as well. This is not a high speed car; you can drive it fast, but the fun quotient goes down as the speed increases.
Driving a Solid Axle Corvette may come close to automotive nirvana, at least for some. The car is as open as anything this side of a Jeep with no doors. The seats only come up to the lower edge of your shoulder blades. The door is the perfect height for an armrest. After years of ownership, I naturally default to resting my left hand on the trailing edge of the windshield/door window track, and steer with one hand. The wind envelops you, and you can smell everything. The exhaust burbles. People stare, honk, holler, and wave.
Gas stops in a Solid Axle Corvette take time. Everyone wants to know about the car, or to tell you their story about a friend or relative who had one, or if you will trade them for whatever mundane conveyance they are driving. You can drive it to dinner or out for an evening without fear, as the Corvette is a giant neon sign that screams, "HEY! DIG ME!" This is not the car for the shy or retiring types.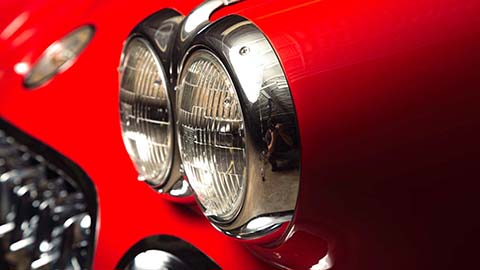 I have taken a few road trips in the Solid Axle Corvette. It has a trunk that will hold enough for a weekend trip. The soft top will keep you mostly dry in all but the worst rain storms, the windows seal reasonably well, and it seems to do okay on gas (I've honestly never checked in 33 years, as it never seemed to be the point). I hope I never have a flat on the road, as the spare in mine is the original, and it has never been in service ... it still has the little rubber "hairs" on it.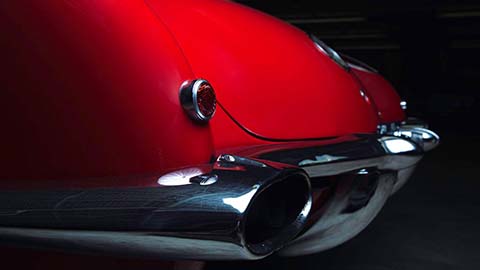 For years I drove the Corvette sparingly, until a conversation with a friend convinced me to start enjoying the car. In the past ten years, I have put a little over sixteen thousand miles on it, and I am happy I did. As we are staring down the barrel of the electric car era, I'm glad I have the memories of driving the Little Red Corvette in the Colorado mountains, getting lost in a national forest, touring the Chicago suburbs, driving through most of south Kansas City, and a good chunk of central Kansas.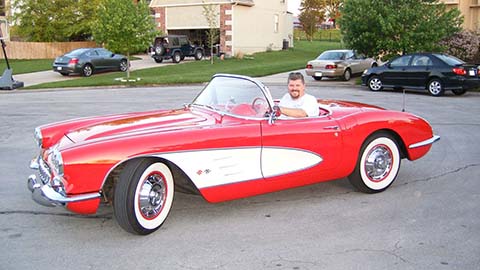 Solid Axle Corvettes are thoroughly enjoyable, and if you have the good fortune to enjoy one, don't let the opportunity pass you by. They are not exceedingly fast, though they can be spirited, they do not handle exceptionally well, but with a bit of effort you can enjoy a twisty road, and they do not brake overly well, but that can be overcome by watching a little farther ahead than usual. What they do better than most cars is make you appreciate what was considered a performance car of the time, create more of an uproar than a parade on Main Street, grab attention from everyone including non-car people, and give you the sense of driving something truly special. Park one next to a Ferrari at your next Cars and Coffee, and the Prancing Horse's owner will hate you for stealing his thunder.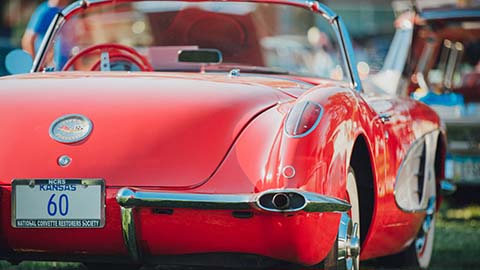 Subscribe to GM Authority for more Corvette news, Chevy news, and around-the-clock GM news coverage.
Shadow images by Ped Watt of Watt Design Photography. Car show image by Casey Maxon of Historic Vehicle Association.