1971 Chevrolet Corvette Export ZR2 Coupe
1 of 12 Produced, The Last Known ZR2 Car Ever Built, Bloomington Gold Certified
For Sale: The Last Chevrolet Corvette ZR2 Ever Made
By Ben Branch on May 7, 2023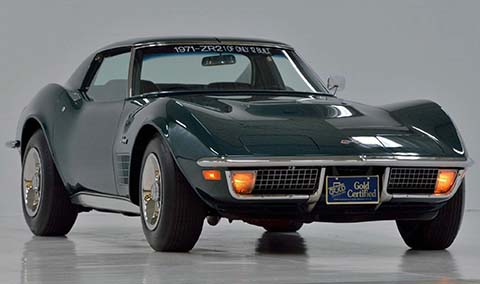 This is the last Chevrolet Corvette ZR2 that was made, just 12 were manufactured in total and all in one year – 1971. While the ZR1 Corvette nameplate has gone onto to become a legend, few remember the ZR2, and fewer still remember that it was faster than the ZR1 of the era by every available measure.
The early 1970s were a time before the arrival of the 1973 Oil Crisis and the teeth of the 1970 Clean Air Act had yet to fully bite. As a result manufacturers had one last hurrah of fire breathing big block V8 magic before the arrival of the Malaise Era, in all its underpowered, velour upholstered glory.
Fast Facts – The Chevrolet Corvette ZR2
The ZR2 is a limited-production model designed strictly for racing enthusiasts. Only 12 were produced, all featuring an upgraded LT-1 454 cubic-inch (7.4 liter) big-block V8, delivering 425 bhp at 5,600 rpm and 475 lb ft of torque at 4,000 rpm.
The 1971 ZR2 was equipped with heavy-duty suspension, uprated power brakes, an upgraded alloy radiator, and a close-ratio Muncie M22 4-speed manual transmission. Buyers had no option to have a radio or air conditioning fitted, these were designed to be street legal race cars and no excess weight was permitted.
The ZR2 has since been nicknamed "Zora's Racer" after Zora Arkus-Duntov, the Corvette lead engineer and the man who made the car into the respected performance car it is today. He's known as the "Godfather of the Corvette."
Due to the fact that just 12 examples of the ZR2 Corvette were made they're now among the most collectible Corvettes ever made, and they can change hands for sums in excess of $1.0 million USD at auction.
The ZR2 Corvette – Creating A Legend
The ZR2 was conceived in the early 1970s as a stablemate to the first ZR1, the ZR2 would be both faster and more powerful than its sibling, and it was intended for serious use on the race tracks of North America.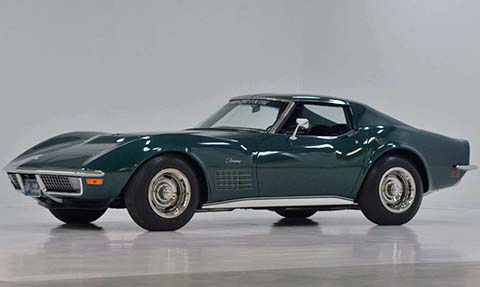 From the outside there are very few clues as to just how special this Corvette actually is, it's not until you look under the hood that you realize it's a ZR2.
Whereas the first ZR1 was powered by the 350 cubic inch LT1 V8, the ZR2 would be powered by the altogether more hefty 454 cubic inch LS6 V8. The engine had been reworked by Chevrolet engineers with a view to squeezing out more power, and as a result it had aluminum cylinder heads, solid lifters, and a slew of go-faster parts resulting in an output of 425 bhp at 5,600 rpm and 475 lb ft of torque at 4,000 rpm.
Almost everyone who's ever driven a ZR2 will tell you that those power ratings are significantly underrated, with most estimates pointing to at least 460 bhp.
It seems that Chevrolet didn't want to make the existence of the ZR2 common knowledge at the time of its release. There were no magazine reviews of early-production models, no advertising, and not even a single leaked pre-production photograph to get people talking.
The reason for this secrecy is that Chevrolet likely didn't want all and sundry driving the ZR2. In the wrong hands the car could be exceedingly dangerous – it was really intended for racing drivers at both the professional and amateur levels who would be able to tame the prodigious performance and hopefully embarrass a Ford or two in the process.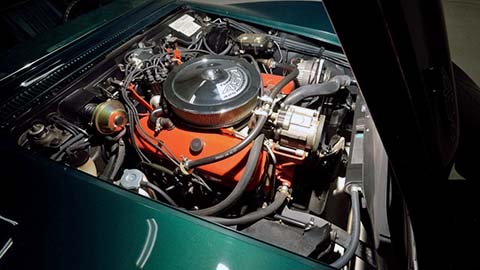 This is the 454/425hp Mark IV big block LS6 V8, it's fitted with aluminum cylinder heads, solid lifters, a transistorized ignition, and it was good for a claimed 425 bhp at 5,600 rpm and 475 lb ft of torque at 4,000 rpm.
Each ZR2 started out with a C3 Corvette L88 chassis, onto which was fitted the F41 Special Suspension package including uprated coil springs, tuned shock absorbers, and thicker front and rear sway bars.
Once the 454/425hp Mark IV big block LS6 V8 was fitted up front the Muncie M22 close-ratio "Rock-Crusher" 4-speed manual transmission was installed, along with a heavy-duty aluminum radiator to help keep the engine cool even when being pushed hard around the track.
Heavy-duty power disc brakes were also added, to help slow the whole thing down when needed, and if you wanted to add a radio or air conditioning you were out of luck – neither were ever offered on the ZR2 as they were seen as being unnecessary comfort items that added weight and provided no performance advantage. Though in my experience most people do drive a little faster with some AC/DC on the stereo.
The cost of the ZR2 package was $7,673 USD, which works out to approximately $57,185 USD in 2023 currency. This was big bucks back in the early 1970s, you could buy a standard C3 Corvette for $5,469 USD after all, and it would even come with a radio as standard!

This ZR2 is finished in Brands Hatch Green over a Green interior, a color combination that works surprisingly well on the car, right down to the green carpet and green vinyl upholstery.
As a result of the lack of promotion and the higher cost, and perhaps the lack of available creature comforts, just 12 examples of the ZR2 Corvette were made in 1971 – the only year it was produced. As a result they're now among the most collectible Corvettes ever made, and the most valuable, with at least one example selling for over $1.0 million USD.
The 1971 Chevrolet Corvette ZR2 Shown Here
The Corvette you see here is the last ZR2 that was ever made, it's Bloomington Gold certified, and it was previously in the well-known Ed Foss Collection.
More recently this Corvette was invited to the special exhibit at the Gilmore Car Museum in Hickory Corners, Michigan titled "Greatest Generations – Corvette – Evolution of America's Sports Car" which opened on April the 1st, 2021 and ran through until March of 2023.
The car is finished in Brands Hatch Green over a Green interior, and as you would expect it's powered by a 454/425hp Mark IV big block LS6 V8 mated to a Muncie M22 close-ratio gearbox.
It's now due to roll across the auction block with Mecum in mid-May and you can visit the listing here if you'd like to read more about it or register to bid.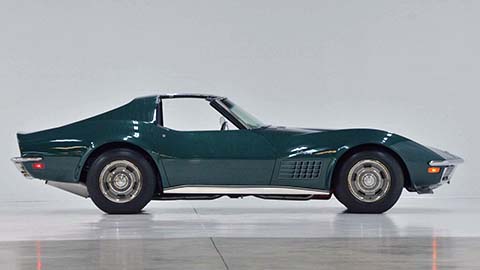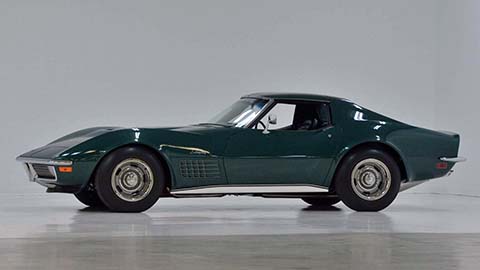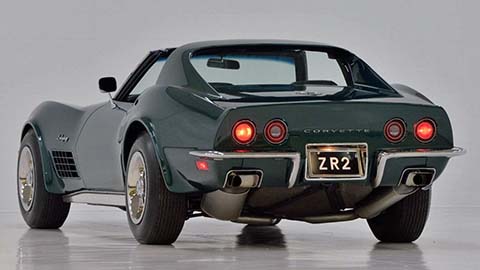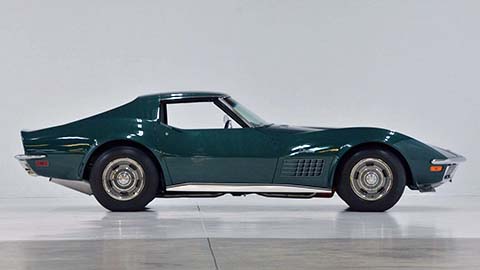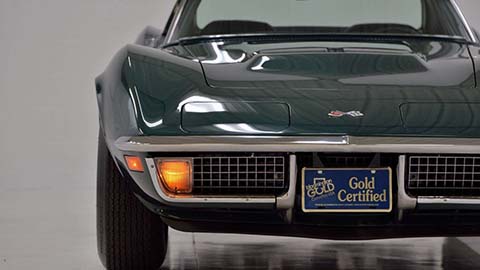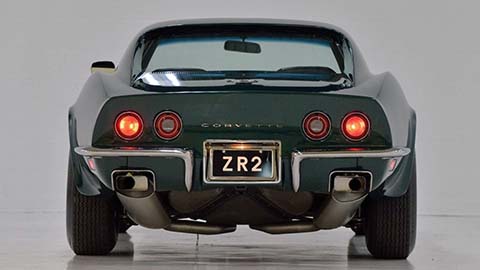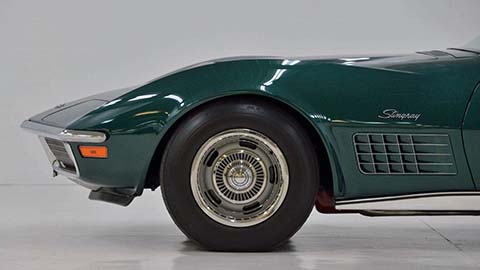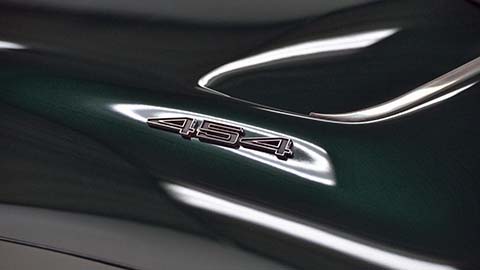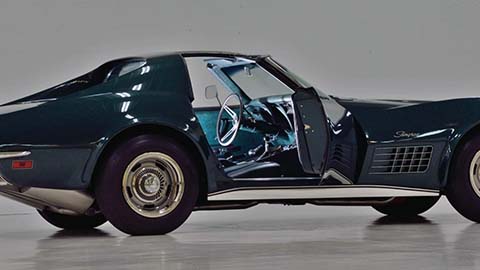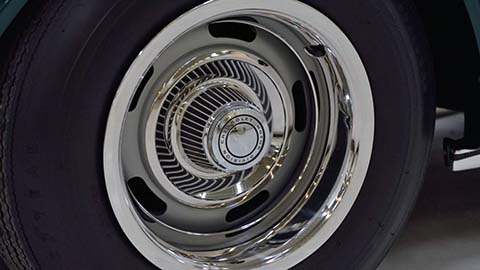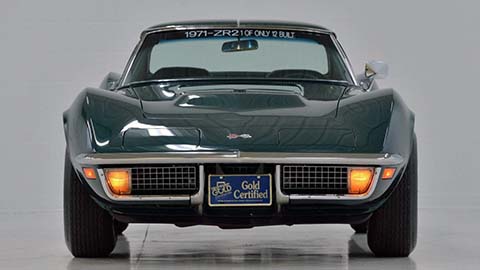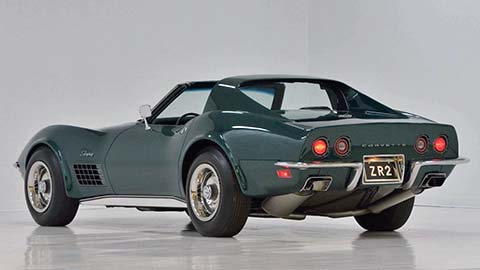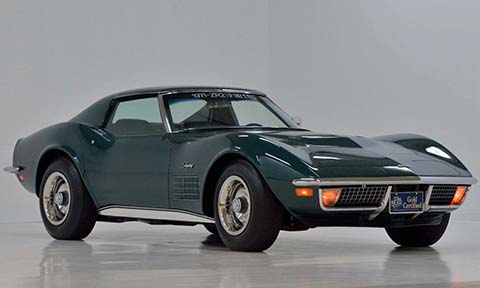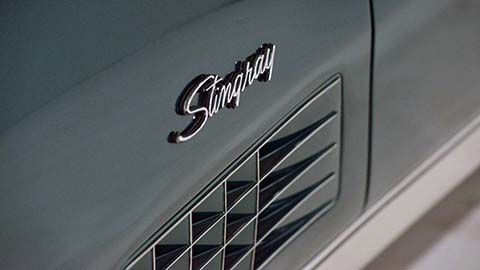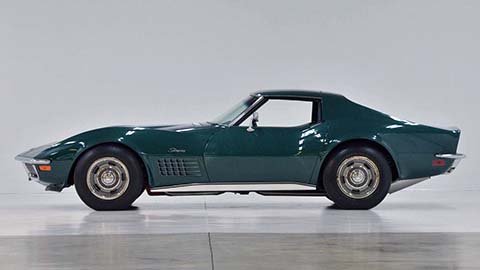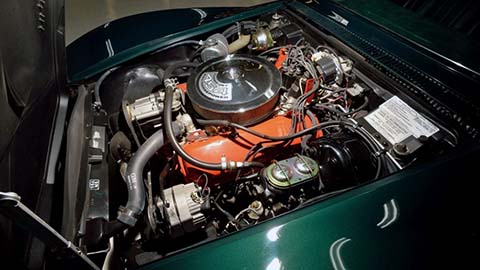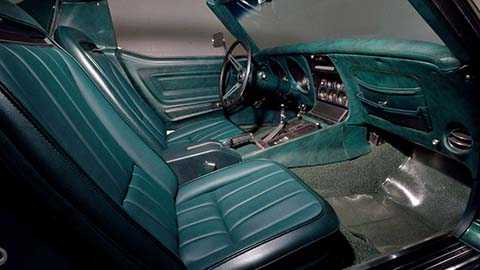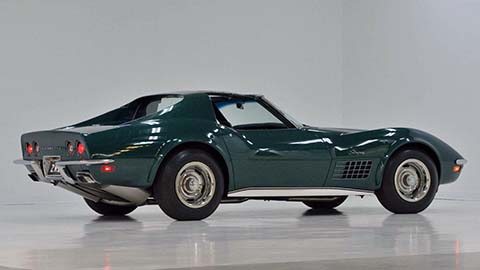 Images courtesy of Mecum