1954 Chevrolet Corvette Facelift Design Prototype Heads to Auction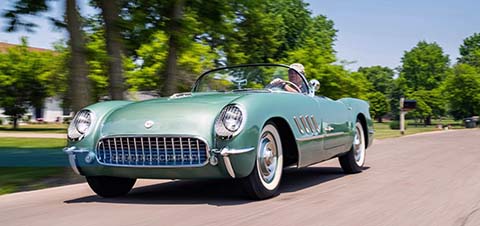 By Stephen Edelstein on July 25, 2023
A unique 1954 Chevrolet Corvette design prototype for an unreleased facelift is headed to auction at Gooding & Company's Monterey Car Week event, scheduled for Aug. 18-19.
This car dates back to the very earliest days of the Corvette. According to the auction listing, it started out as one of approximately 15 hand-built show cars constructed prior to the start of Corvette production in 1953. Used for testing and appearances at General Motors' Motorama shows, these cars weren't assigned conventional vehicle identification numbers (VIN), instead getting an "S.O." designation for "shop order."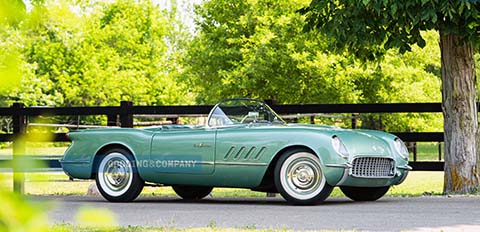 1954 Chevrolet Corvette design prototype (photo via Gooding & Company)
The car up for auction bears the serial number S.O. 2151, which marks it as the prototype for a proposed 1955-model-year refresh of the Corvette. The car was sent to GM's design department, then overseen by legendary design boss Harley Earl, where it received a number of styling tweaks, including a nonfunctional hood scoop, front fender vents, an eggcrate grille, bumper-exit exhaust tips, and a new trunk lid based on the Corvette Corvair fastback concept.
A hint that this car was used to try out new design ideas is the placement of Corvette script, which is high on one side and low on the other for comparison. Designers also added a large gold "V" to the lettering to signify that the 1955 Corvette would be available with a V-8 engine, providing more muscle than the inline-6 engines used for the first two model years. S.O. 2151 was also painted in Bermuda Green, a GM production color of the time.
The completed body was mounted on a 1954 Corvette chassis equipped with an experimental solid-lifter-camshaft engine. The design prototype was officially completed on July 30, 1954, according to a tag riveted inside the engine bay.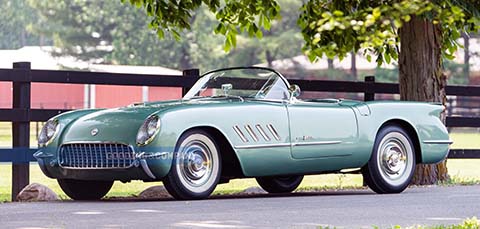 1954 Chevrolet Corvette design prototype (photo via Gooding & Company)
The proposed facelift for the 1955 Corvette never happened, though. Worried about competition from the Ford Thunderbird, GM management decided to delay the facelift. Aside from the V-8 option, the production 1955 Corvette ended up similar to the 1954 model, but for 1956 Chevy gave the Corvette a completely new body.
S.O. 2151 escaped the fate of most GM design prototypes, surviving intact in private hands. How it exited GM is unknown, Motor Trend notes, but the one-off Corvette was preserved by a series of owners and treated to an 1,800-hour restoration to its 1954 state.
This piece of Corvette history won't be cheap. Gooding & Company expects S.O. 2151 to sell for $1.5 million to $2 million at auction.