L88-Powered 1966 Chevy Corvette Race Car Headed to Auction
By Brett Hatfield on August 7, 2023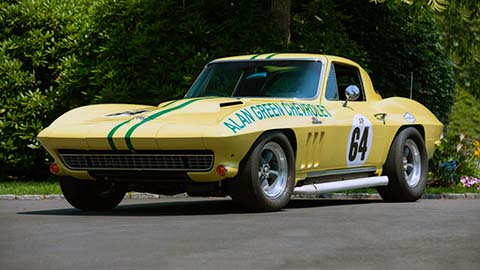 The Chevy Corvette L88 was "Father of the Corvette" Zora Arkus Duntov's end-run around General Motors' edict that they would not participate in competitive motorsports. That edict came after the horrific accident at the 1955 running of the 24 Hours of Le Mans, and was part of an agreement between all the American auto manufacturers to curtail competitive motorsports involvement in the hopes it would prevent governmental intervention in auto manufacturing.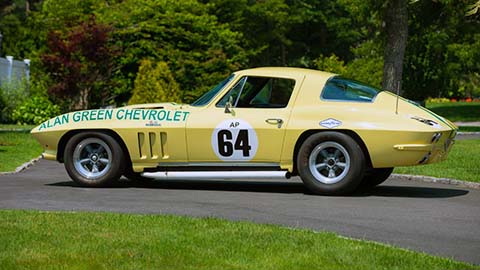 The Chevy Corvette L88 was built from 1967 to 1969, with production totaling just 216 cars. The L88 was an iron-block, aluminum-head 427 cubic-inch Big Block V8 that was factory rated at 430 horsepower, or five fewer ponies than the road-going L71 427. This was a gross underrating of actual power (550-600 horsepower was closer to the truth), and completely intentional, as the L88 was intended to be for competition use, and certainly unsuitable for daily-driver duties. The L88 engine option got you the aforementioned iron block with four-bolt mains, forged steel crank and internal bits, 12.5:1 compression ratio, an aggressive solid-lifter cam, transistorized ignition, Winters aluminum intake and heads, and a Holley 850 CFM carb.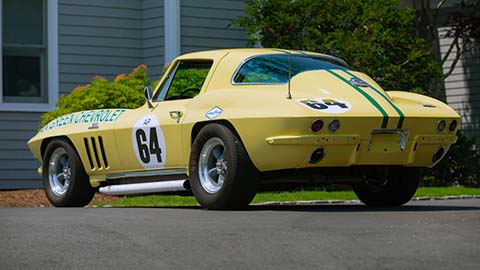 Checking the box for the L88 on your new Chevy Corvette would require a number of other options. You would get J56 Special Heavy Duty power brakes, Positraction rear end, F41 Special Front and Rear Suspension, either the M22 Rock Crusher four-speed transmission, or beginning in 1968, the Turbo-Hydramatic three-speed automatic. Opting for the L88 also restricted some of your option choices, as it was not available with air conditioning, power steering, electric windows, or a radio.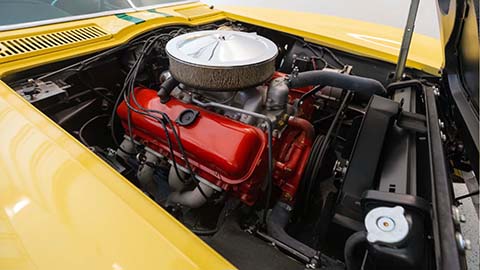 Our feature Chevy Corvette racer is an L88-powered 1966 coupe. This was one of the competition cars built with an HD 427 L88 from Chevrolet, to be tested for reliability. This 1966 Corvette is the only one campaigned by Alan Green Chevrolet (known for campaigning a number of Bill Thomas Cheetahs) in SCCA AP Class competition, scoring three wins on Labor Day weekend 1966 at Spokane, with subsequent wins at Deer Park, Shelton, Newton, and Kent. Driver Gary Gove prepped the car, and became the SCCA Northeast Region points leader, earning an invitation to the 1966 Championship race at Riverside.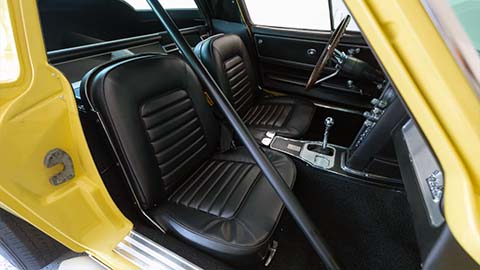 This MCRS American Heritage Award Winning L88-powered 1966 Chevy Corvette has been restored to its racing condition configuration, complete with Alan Green Chevrolet livery. The Big Block moves power to the rear wheels through a Muncie M22 four-speed trans. A 36-gallon fuel tank resides in what was once the cargo area.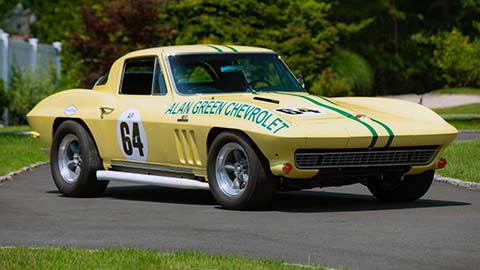 This historic 1966 Chevy Corvette L88 race car will cross the Mecum Auctions block at their Monterey Car Week event taking place August 17th through the 19th.