This is the 1966 Chevrolet Corvette Race Car that Didn't Sell for Half a Million Dollars
By Daniel Patrascu on August 30, 2023
As soon as a major car auction event ends the world immediately learns of the vehicles that managed to make a splash and sell for big bucks. Almost no one ever talks about the ones that failed to go, despite some very high bids.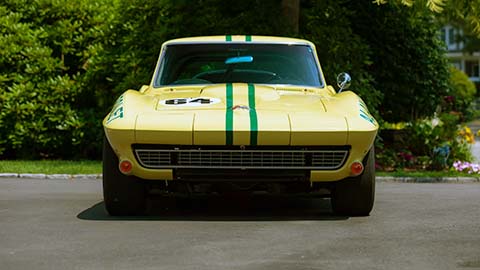 On the list of cars that didn't manage to get themselves a new owner during the Mecum auction in Monterey, California a couple of weeks ago is a special, race-bred Chevrolet Corvette of the second generation.

We talked about this car before, when we learned of it going under the hammer at the beginning of August. Given it's history, pedigree, and fittings, we found it interesting enough to be worth its 15 minutes under the spotlight.

The Chevy was a long time ago a constant presence on the tracks of the SCCA AP Class series, being driven there by the people of the Alan Green Chevrolet team, more specifically driver Gary Gove.

The 'Vette is one of those rare cars that were born as a result of the behind-the-scenes collaboration between privateers and Chevy engineers, given how back then the bowtie carmaker was not providing direct support to racing teams.

The collab resulted in a Corvette powered by a 427ci engine ran through a Muncie 4-speed transmission that managed to make quite an impression in the races of the 1970s. Behind the wheel of this exact car Gary Gove became point leader for the Northeast region, while its subsequent driver, Dale Samuelson, made a name for himself with this car in the SCCA NE championships.

So, quite an impressive beast, with a racing pedigree not to be ignored, thus a valuable addition to any car collection. But there seems to have been a major disconnect between what the Corvette's current owner believed the car was worth and how much the collectors present in Monterey were willing to pay.

Restored to its former shine, the Alan Green Chevrolet was listed by Mecum with an ambitious goal of fetching as much as $800,000 from the crowd. The worst-case scenario spoke of it selling for $750,000.

Yet when the hammer fell the highest someone was willing to go was $500,000. That's a huge amount of money for any car, but clearly not enough to satisfy expectations for this one. As a result of the very-lo-by-comparison bid, the Corvette is presently still up for grabs.

Mecum has it listed still, but it's likely it won't be able to find a new owner for the racer. And that only means we'll probably stumble upon it again at one of the remaining auctions of the year. We will of course keep an eye out for developments and we will update as soon as we learn more.