1967 Corvette with 2,996 miles to be offered at auction
Found in mysterious owner's garage after his death, 1967 Vette is essentially new inside and out
By Jay Ramey on February 26, 2014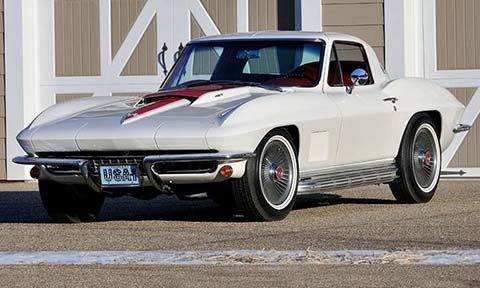 People generally buy a Chevrolet Corvette planning to drive the wheels off it, but examples with absurdly low mileage have to come from somewhere. Cars suffer a small breakdown and are parked for years, owners suddenly pass away and their children don't know what to do with the cars, vehicles get donated to museums ... the list of usual suspects for something like this is pretty limited. But the story of this unrestored and completely original 1967 Chevrolet Corvette with just 2,996 miles on the clock is a new one for us. Here's what we know:
Don McNamara turned 30 in 1966, and celebrated his retirement from the United States Marine Corps with a trip to Las Vegas. Unlike a great many visitors to the city, McNamara actually hit the big time right out the gate, winning $5,000. That was big money at the time, and McNamara knew what he wanted to buy when he got home to Colorado Springs: a brand new Chevrolet Corvette. His father was a car salesman, so ordering a Corvette was a done deal. McNamara bought his 1967 example equipped with a four-speed manual transmission, a 3.36 Positraction rear end, tinted glass, a telescopic steering wheel and an AM/FM radio. The car came with an ermine white exterior with a red stinger strip over a red leather interior. The young veteran got the car of his dreams, and by all accounts enjoyed driving it. At least for a while.
McNamara drove the car very sparingly during the first few months ... and then his friends never saw it again. When asked about it, he told people that he no longer owned it. But the truth of the matter was that the car was still in his garage, with the odometer showing just a little over 2,000 miles. And so it sat in his garage for the next 45 years.
McNamara passed away in 2011, and only then did the neighboring couple who inherited his entire estate find out that he had a Chevrolet Corvette with 2,966 miles on the odometer in his garage all this time. The car had accumulated most of those miles just during its first year of ownership, and evidently when it came time to renew the registration, McNamara simply chose not to. McNamara reportedly drove the car for the last few times in the mid-1980s, only driving it late at night. So why wouldn't someone drive their dream car after essentially getting it for close to free?
By all accounts, McNamara was a very private individual, never had kids and never married, portraying himself to the few friends that he had as just barely making ends meet. Whether this was indeed the case is undetermined, though we do know that McNamara never had a credit card and never opened a checking account. The car left the garage for the first time in years in 2012, having been found wrapped in a car cover with a blanket decorated with Marine Corps flags draped over it.
The Corvette is said to be completely original throughout, aside from the addition of polished Edelbrock aluminum valve covers and four Corvette emblems mounted on the air cleaner. The car was purchased by Dr. Mark Davis from the estate in 2012, and has subsequently only been displayed at the entrance to the Bloomington Gold Great Hall.
Despite the lingering mystery (a Corvette couldn't have been that expensive to run in the '70s and '80s given the fact that McNamara owned a house), what we have is one of the most well-preserved low-mileage examples of a 1967 Corvette anywhere in the world. The car comes with all the accompanying items like the original window sticker, a showroom brochure, a Chevrolet warranty book with Protect-O-Plate, the original keys and fob along with a duplicate set of keys, as well as the original owner's manual. Only three people are known to have ever sat in the car, and it is said that no one has ever even sat in the passenger seat!
Mecum Auctions is slated to offer this Corvette during its April 10-12 sales in Houston at The Reliant Center, and they're estimating this car to sell between $600,000 and $800,000.