2015 Chevrolet Corvette Z06 Hits 60 MPH in 2.95 Seconds
By Jason Udy, Motor Trend on October 1, 2014 at 7:30 am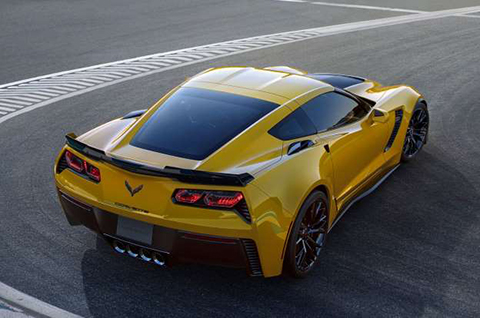 GM has released its internal testing data for the new 2015 Chevrolet Corvette Z06. The impressive performance stats put the new supercharged Corvette Z06 in the rarified supercar realm.
When equipped with the new paddle shift eight-speed automatic, the new 650-hp Corvette Z06 with Z07 Performance Package (Brembo carbon ceramic brake rotors, Michelin Pilot Sport Cup 2 tires, and full aerodynamic package) hits 60 mph in 2.95 seconds and reaches the quarter-mile in 10.95 seconds, according to GM's tests. The Corvette Z06 with the Z07 pack and standard seven-speed manual transmission reaches 60 mph in 3.2 seconds and finishes the quarter-mile in 11.2 seconds. GM claims the Corvette Z06 has a 127-mph trap speed regardless of transmission.
Those acceleration claims put the 2015 Chevrolet Corvette Z06 among some impressive vehicles including the latest Porsche 911 Turbo S, Nissan GT-R, and discontinued Mercedes-Benz SLS AMG Black Series. The 2015 Chevrolet Corvette Z06 is powered by a supercharged 6.2-liter LT4 V-8 making an SAE-certified 650 hp and 650 lb-ft of torque.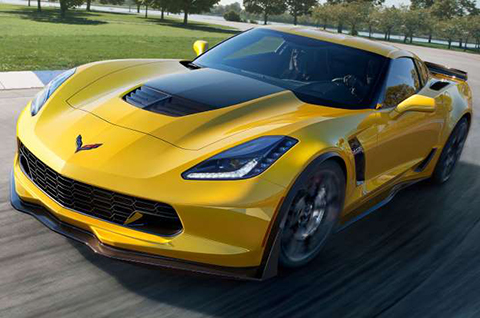 Stopping from 60 mph takes just 99.6 feet with the Brembo carbon ceramic brake rotors. GM claims the Corvette Z06 pulls 1.2 g in lateral acceleration. That stopping distance is the best result of any production car tested by GM, while the lateral acceleration number bests the 1.13 g posted by the best Corvette previously tested. The new Corvette Z06 also beats the previous Corvette ZR1 around the automaker's 2.9-mile Milford Road Course making it the fastest production car around that track.
Those handling numbers are due in part to the Magnetic Ride Control suspension and the Z07 package's aggressive aerodynamics package, which gives the new Corvette Z06 the most downforce of any car GM has tested.
"The Corvette has long been known as America's sports car," said Mark Reuss, GM executive vice president of Global Product Development, in a release. "With the capability of the new Z06 rivaling the best performance cars in the world, we will also be America's Supercar."
With a base price of $78,995 for the coupe and a price of $83,995 for the convertible, the 2015 Chevrolet Corvette Z06 is set to be a bargain-priced supercar. The coupe is scheduled to go on sale in early 2015, while the convertible will arrive in the second quarter.