Corvette lovers gather for annual event at The Pier
Posted May 23, 2015 By Lance Rothstein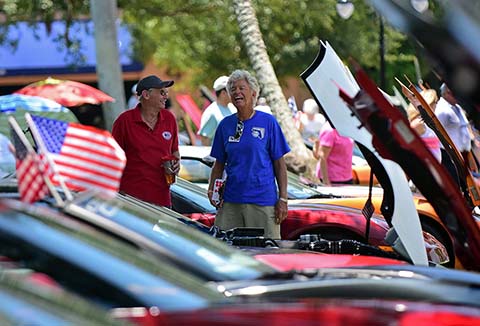 Lakeland Corvette Club member Tony Murray, left, chats with Suncoast Corvette Club show judge Milt Johnson beside Murray's 1994 Corvette at the event.
Multiple generations of Corvettes and their owners gathered in South Straub Park on Saturday for the 22nd annual Corvettes at the Pier event.
The annual gathering brings enthusiasts to downtown St. Petersburg to show off classic models of the popular Chevy sports car dating from the 1950s through current models.
The Largo-based Suncoast Corvette Association brings together local Corvette fans to wash and polish their cars together, parade vehicles at area school functions and even make a pilgrimage to the Corvette Museum and factory in Bowling Green, Kentucky, according to the group's website.