Driving the Dream Vacation!
By Ziona Burkett on August 1, 2016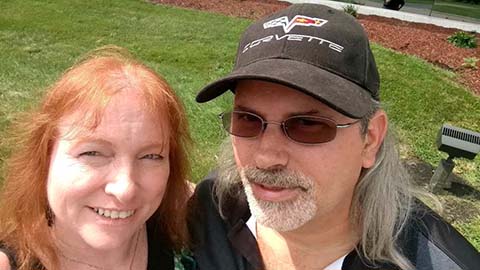 Ziona and Tim Burkett
When Tim Burkett was a little boy, about age 10, he saw his first Corvette. After Tim and Ziona (me) were married and needed a new car, he wanted a Corvette. However, a more sensible car would be needed if children were being added to the new family. So, Tim waited, and waited, and waited, putting family and home first. His dream would have to wait until he retired from his job which seemed to be never! Now the children are grown with the last one planning to move out in 2016, only one car loan was left to pay off. For Christmas, I gave Tim the bank receipt showing the car loan was paid in full. FINALLY, it was Tim's turn to fulfill his life long dream and better yet, it would be before Retirement!
Tim found several deals online and one special Corvette kept coming up in the search results. A week before Valentine's Day, we stopped at the Cars of Tampa lot (N. Florida Ave.) to check the deal. The sales rep, Brian, and his cousin, Metin, were straight up and delivered beyond expectations with new brakes, oil change, O2 sensors, and transmission fluid change. We returned the next day to drive Tim's new black 2006 C6 base model Corvette home. It was an emotional drive for Tim, realizing his dream had come true!
Soon after, we started attending local car shows. That's where we met members of the Suncoast Corvette Association (SCA). We joined the club that first event in March 2016!
As Tim and I enter into a "new season of life" with a soon-to-be Empty Nest, Tim is reaching a life milestone, his 50th birthday. He wanted to make this birthday really special and made a list of places he's always wanted to visit: the Pro Football Hall of Fame, the Rock and Roll Hall of Fame, and the National Corvette Museum. Of course, he planned to drive his new Corvette to each!
We left at the wee hour of 4am on Saturday. Tim drove first and then me. When we first got the Corvette, I was not sure if I would like it as much as Tim. The more I was inside the car, the more enjoyable and comfortable the ride became. When he drove, I would post my thoughts and events on Facebook. The first post at 7:45am was:
I'm in the left fast lane, approaching another car. You think you're going fast? You don't know what FAST is! They don't move, so I go around ... They learn the meaning of Fast! I'm really liking this Corvette!
(Tim's driving now. Don't text or FB while driving!) God is Good!
Another post at 4:19pm was:
There was a slow down on the highway. Drove slow (under 50mph) and got tired eyes. When traffic cleared and moved faster, I became more AWAKE at the speeds over 80mph. I guess I'm a "can't drive 85" kind of gal! Tim married the right woman!
Driving on the highway was SO MUCH FUN!!! It was also so hard to stay close to the speed limit. Thus, we did not. Tim reached speeds over 112 mph and I did not notice but was decelerating from over 101 mph. These were passing speeds, not maintained driving since we really did not want any tickets or jail time - LOL!
During our drive, we talked about naming the Corvette. Some ideas were Knight Rider, the Black Knight, or Rocket Ride. Tim jokingly came up with the name "Black Vetty," as in the song Black Betty by Ram Jam (1977). So, Bam-A-Lam! Black Vetty was named and posted to Facebook!
Our first stop for gasoline was at 11:00am in Yemassee, SC, after 392.9 miles. Woohoo! We only knew to stop because the "low fuel" warning shouted at us - LOL!
We reached the half-way point in Huntersville, NC. The last 30 miles were the toughest to our destination, the Red Roof Inn in Canton, OH - checked in on Facebook at 11:28pm.
The next morning, the very first stop was Dad's Car Wash in Canton. Black Vetty needed a bath before going anywhere else! The next stop was the Pro Football Hall of Fame and we spent the day there.
Day 2 was a drive to Cleveland, OH, to the the Rock and Roll Hall of Fame. We spent the day there, got lost by a confused GPS, and found a Hard Rock Cafe for dinner. Black Vetty really likes the Florida highways as Ohio roads are so bumpy!
Day 3 was the drive to the most special place in Bowling Green, KY: the National Corvette Museum. We left at 11am and reached the Hyatt Place hotel at 7pm. Black Vetty really, really likes highway driving!
Of course, Black Vetty had to have another bath at Waterworks Auto Wash before arriving at the Museum. She even had her own parking area! Then the real birthday present to Tim was the 11:30am appointment at the NCM Motorsports Park. My surprise gift was a Touring Lap and a Hot Race Lap. It was like being in a video game - ZOOM!!!
Per the suggestion from the Kendall's (SCA members), we had to visit Art and Darla at Art's Auto Mart, aka Art's Corvettes. They are so nice! It was fun sharing stories with new friends. Thank you, Kerry and Sandy!
We went to Tennessee to visit my childhood friend, Greg McDougal and his family. On the drive home, Tim reminisced about a family trip to Rock City during his childhood. So, we made an extra stop. Black Vetty was a little slower but handled the mountain curves like a real pro!
Our trip with Black Vetty was so much fun! Tim planned a great vacation for his milestone birthday. He's really "Driving the Dream!"