GM Document Hints 2018 Chevrolet Corvette Will Get DOHC 6.2L LT5 V-8
Will be first DOHC engine in a Corvette since 1995
By Alex Nishimoto (Motor Trend) on December 24, 2016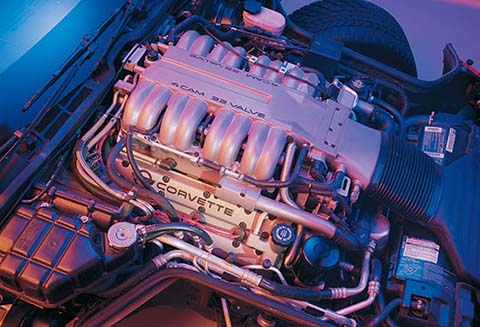 Corvette ZR-1 engine, 1990-1995.
A newly unearthed dealer document suggests the 2018 Chevrolet Corvette will receive a dual-overhead-cam V-8 engine, fittingly called the LT5 after the first DOHC engine used in the Corvette ZR-1 from 1990-1995.
The document is a vehicle identification number (VIN) guide posted on GM's internal service and parts operations website. Hidden among the many engine codes is an LT5, which is described as a DOHC 6.2-liter gasoline engine with eight cylinders, direct injection, variable valve timing, and an aluminum block. The only application for this engine is listed as "Y," which corresponds to the Corvette. The LT5 was rumored to be a twin-turbocharged version of the supercharged LT4 found in the Corvette Z06, but there's no mention of forced induction in this document.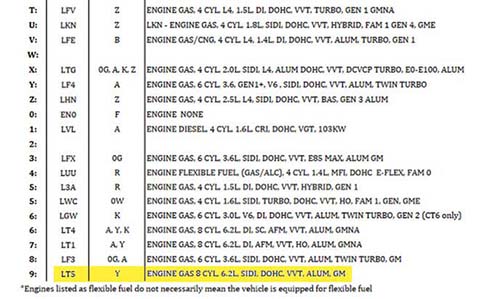 2018 Chevrolet Corvette document reveals LT5 DOHC V 8.
It's still unknown which Corvette model this engine will power, but we know it won't replace the LT1 as the Corvette Stingray's base engine because the LT1 also appears on this sheet for the 2018 model year, designated for book codes Y and A (Corvette and Camaro). There are two new Corvette models on the horizon that could benefit from this engine, the C7 ZR1 and the elusive mid-engine Corvette Zora. Though there would be something poetic in seeing a twin-cam LT5 V-8 power a Corvette ZR1 again, our money is on this being the mid-engine Corvette's powerplant. The DOHC valvetrain would more easily facilitate high revs, which is what you want in an exotic supercar.
We hope to learn the truth of the Corvette's first DOHC engine in more than 20 years in the coming months. Until then, tell us what you think Chevy has in store for the LT5.
Source: GM Service and Parts Operations