I Am Quietly Obsessed With This V6 Corvette
By Raphael Orlove on March 27, 2018 @ 9:00 AM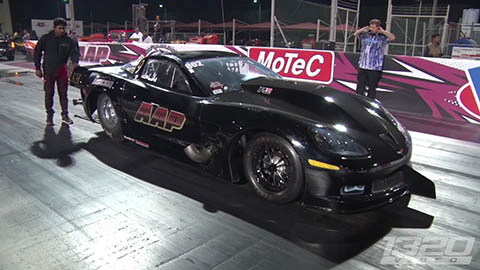 One of the fastest cars in the world at the moment is a Chevrolet Corvette with a V6 under the hood. Which V6, I wondered, like so many of you at this very moment. As it turns out, it's a unique one, one with a bit of story behind it.
This is the Outlaw 10.5 class world record holder, a class that is for cars that are sort of stock-like, but not really, but not totally custom, but rather somewhere in the middle. Drag racing is complicated, and I do not seek to understand it. All I know is that this is a fully custom build made to look like a C6 Corvette, with a roughly stock wheelbase, front frame rails and doors.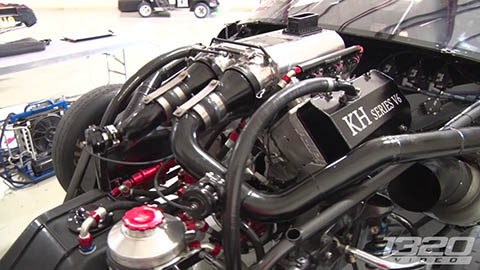 Also custom: the engine. You can see that it's labeled a 'KH' engine, but I imagine that has more to do with the initials of its owner, Sheikh Khalid bin Hamad Al-Thani, than anything else. It started life as a hemi V8 from the States, but became V6'd for racing in Qatar, as Speedhunters explained early last year:
What started life as an AJPE 5300 Hemi Billet Block V8 was transformed into a 559ci (around 9.0 litres) V6 by removing the front two cylinders.

The now six-cylinder block was mated to a custom 5.3 bore space cylinder head and a Speedtech intake. I believe the reason behind running a six cylinder in the first place is to take advantage of a rule which allows non-intercooled six cylinder 'alcohol' cars to have no minimum weight limit.
In any case, the car now makes four-figure power and earlier this month dusted off the 1/8th mile in 3.85 seconds at 201 miles per hour. What's enjoyable is the sound the car makes, two huge turbochargers boosting its six cylinders. If a R35 GT-R sounds strange, this sounds truly bizarre.
And I think it's an interesting car at the moment. A twin-turbo Corvette is probably on the way, a mid-engine Corvette, maybe a reevaluation of what a Corvette is. Whenever it comes out, whatever it is, I will enjoy keeping this very strange V6 Corvette in my mind.