Chevy Salesman Confirms Mid-engine Corvette is Real
By Clifford Atiyeh on April 9, 2018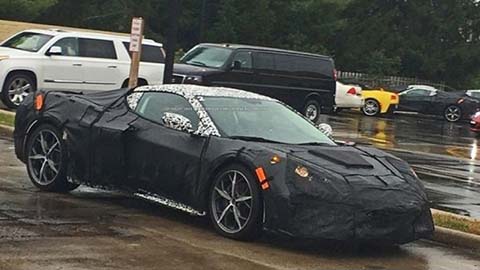 (Chris Doane Automotive)
The mid-engine Corvette is coming, possibly before the new year.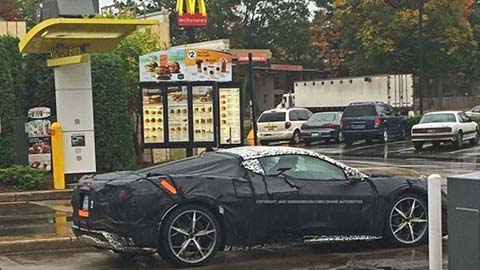 A prototype of the suspected mid-engine Corvette was spotted making a McDonald's run last fall. (Chris Doane Automotive)
A Chevrolet salesman who attended a dealer meeting in Las Vegas said he saw official photos of the eighth-generation Vette, describing it as the cross between a Corvette ZR1 and a Lotus. The ZR1 is the hottest Corvette on sale, with 755 horsepower and a claimed 211-mph top speed. Soon, it may not be.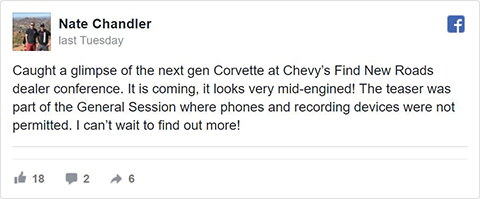 The C8 Vette is indeed real. We know it's coming, and we know (mostly) how it'll look. Test mules of elongated Corvettes have been spotted several times since last year, and the rumors of a Corvette with its V-8 engine mounted behind the driver have been brewing for much longer (decades, actually, since the Astro II concept in 1968). Speculation has been rampant, and there isn't anything official other than to expect the most precise-handling, agile, and exotic Corvette ever made, but crucially, offered at a modest price.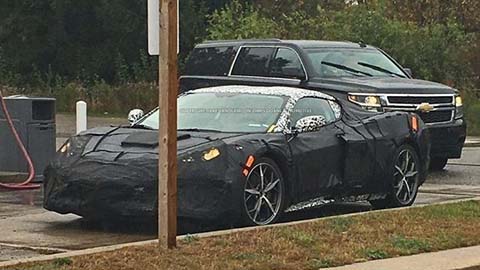 Leaked design images and documents suggest the car will be powered by a new twin-turbocharged V8. (Chris Doane Automotive)