Corvette C8 camouflage has a Zora-inspired Easter egg
By Kyle Smith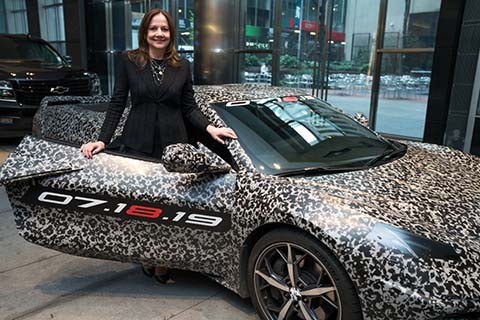 When the first official photos of the new C8 Corvette appeared last week, we were so busy studying the overall design that we missed a few interesting additions to the camouflage. But the staff over at Road & Track and Corvette Blogger pointed out some small stickers of a silhouette that depicts not just any man, but the man when it comes to Corvette.
You have to zoom in close, but we managed to find three. One appears on the side mirror, another on the door, and a final one toward the front just behind the passenger-side headlight. There have been rumors the top-tier, highest-performing C8 could carry "Zora" as the nameplate, living above the Z06 and ZR1 trims, so this discovery could fan those flames.
Zora Arkus-Duntov is the man to thank for the Corvette's status as America's most beloved sports car. He joined the Corvette team after the 1953 debut, but once on board, he set the target of making the American car competitive with the European sports cars of the time.
He shoehorned the small-block V-8 in the Vette's fiberglass body shell, but it was more than power than he wanted to change about the car. Duntov felt in order to be competitive, the 'Vette would need to go mid-engine.
Duntov died in 1996, but not before he put multiple prototypes of the mid-engine Corvette in front of GM executives. Now, with the mid-engine C8 on the horizon, someone at Chevrolet got a little sneaky with a nod to the man who so passionately envisioned the Corvette on its current path.
So as big of a shift as the mid-engine design represents, there is a contingent of Corvette faithful that have seen this coming all along. After all, it's part of the dream of the man who shaped America's sports car into what it is today.