The engineering brilliance behind the C8 Corvette's LT2 V-8
By Don Sherman on Sept. 17, 2019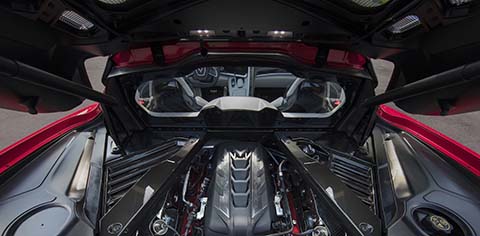 Given the C8 Corvette's role as the pride of GM, this sports car is both a revolution in American architecture and exterior design and a prime opportunity for engine lab gurus to shine. Squeezing 495 horsepower from 6.2 liters – that's 1.3 hp per cubic inch – without benefit of overhead camshafts, multi-valve combustion chambers, or boosting is a worthy accomplishment. Here's how the clever GM engineers did it.
They began by keeping the best parts of the small-block V-8 Chevy launched for the 1955 model year: A 4.4-inch spacing between cylinder bores and one block-mounted camshaft activating a mere 16 valves serving eight cylinders. They also retained key refinements developed over six decades that improved this engine's ease of making horsepower for the least weight, space, and cost: aluminum block and head construction; a deep-skirt cylinder block with cross-bolted main bearings and cast-iron bore liners; state-of-the-art electronic controls to meter the fuel and cleanse the exhaust; free-flowing cylinder heads with direct injection developed for the 2014 C7 Corvette's LT1 engine; and squirters aiming a jet of oil at the underside of each piston to lower their operating temperatures.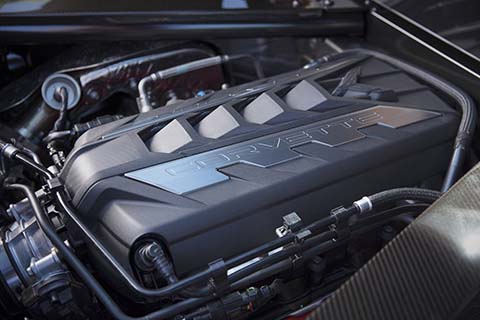 The LT2's centerpiece is a new cylinder block designed around a dry-sump lubrication system that's now standard Corvette equipment. There are three fundamental reasons why a performance engine's lubricant should not be stored in its basement. First, relocating the oil supply allows mounting of the engine significantly lower in the car, thereby dropping the overall center-of-gravity height in the interests of supreme cornering. The second motivation is that crankshafts have a bad habit of stirring oil into unpalatable whipped cream. This consumes power that might otherwise be used for acceleration and top speed and it greatly diminishes the oil's ability to cool and lubricate critical moving parts. The third reason for dry sump is that this is the easiest means of assuring there's never any lapse in oil pressure when the car tops one g cornering, braking, or flying over the Nürburgring Nordschliefe's Sprunghugel (hill jump). Using an engine dyno attached to a tilt stand, LT2 engineers made sure there is no oil pressure interruption up to 1.2 gs in every direction.
The most interesting feature in the new LT2 block is a sealed valley (the chamber between the cylinder banks) to stop oil draining down from the heads and hydraulic lifters from entering the crankcase (where the whipped cream factory used to thrive). According to Chief Engineer Jordan Lee, this is an unprecedented innovation. A scavenge pump driven by the camshaft sucks oil from the valley and dispatches it to a remote reservoir. The block's flanks are liberally ribbed to increase stiffness. They're also equipped with new pads for mounting the engine to the Corvette's chassis and spots to attach the eight ignition coils out of sight below the exhaust headers.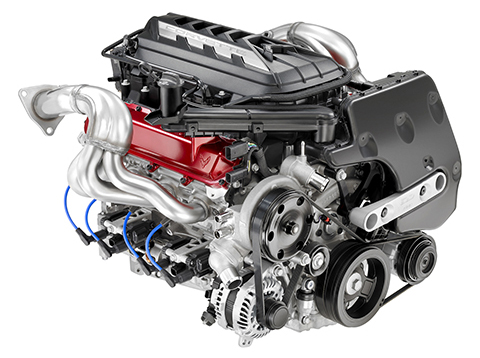 The second-most-interesting LT2 detail is a 7.5-quart molded-plastic oil reservoir bolted directly to a flat surface located at the left-front corner of the engine. This light tank serves several purposes. Oil scavenged from the valley and the shallow cast aluminum pan covering the bottom of the engine drops through a maze that separates liquid from vapor. After settling a few moments in the tank, vapor bubbles disappear, leaving only liquid oil. Vent lines attached to the top of the reservoir route the vapor to the LT2's valve covers where it's drawn into the intake plenum by engine vacuum. An exit passage at the bottom of the reservoir feeds the crankshaft-driven variable output oil pressure pump with no need for external lines that add weight and inhibit flow. A pipe extending to the right side of the engine bay provides a means of adding oil and checking the fluid level.
The new dry sump has proven so reliable in severe testing that engineers felt justified reducing the lubricant supply by 1.7 quarts – from the LT1's 9.7 quarts to the LT2's 7.5 quarts – which saves 3.7 pounds of weight and a few bucks at every oil change. Testing revealed that up to three quarts of oil could be stuck in various parts of the LT1 engine during extreme conditions as compared to less than one quart in the LT2 V-8.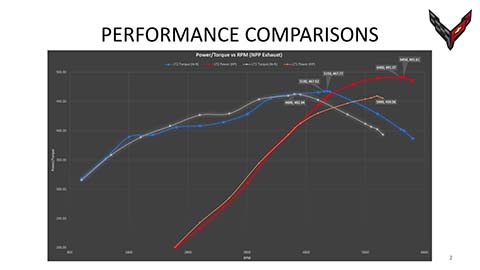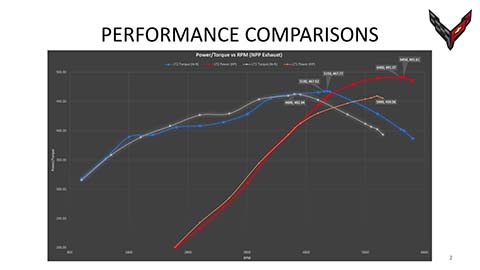 Oil draining from cam and crankshaft bearings settles into a two-compartment bottom cover (pan) which is scavenged by a pair of crank-driven pumps. A molded plastic scraper peels lubricant clinging to the crank's balance weights. A coolant-to-lubricant heat exchanger, with 28-percent greater cooling capacity than offered in the LT1, in combination with an oil filter mounting boss, is bolted to the LT2's oil pan.
The forged steel crankshaft with an extended snout to drive three of the oil pumps is made from an S38 alloy with higher strength properties. Dampers at both ends quell vibrations caused when the LT2 runs on only four cylinders to reduce both noise and fuel consumption.
Great volumetric efficiency strides have been achieved with new intake and exhaust systems. Since the driver no longer looks over the engine to see the road ahead, the intake system is some three inches taller than before. This facilitates 8.3-inch-long intake runners fed by a large plenum chamber with the 87mm throttle body (carried over from LT1) located at the rear. Since the intake manifold is made of black molded plastic to minimize weight and noise radiation, appearance is not one of its strong points. To hide that flaw, GM designers tooled up a decorative cover – also molded plastic – with surface features resembling the Corvette's rear body details. We predict the aftermarket will have a field day offering alternatives.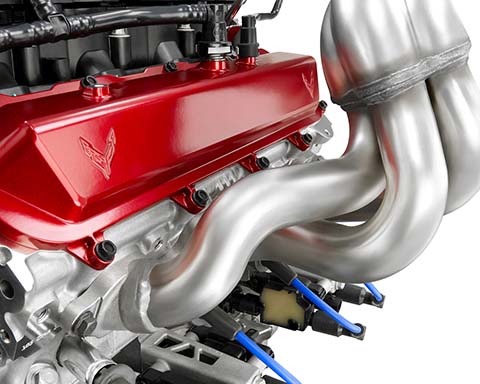 Engineering and design collaboration focused on the exhaust system and valve covers was more fruitful. To provide a clear view of the stunning Edge Red Metallic valve covers, the ignition coils were tucked out of sight. The headers are a classic four round tube into a single collector design which flows upward on its way to the catalytic converters and mufflers.
To make the most of this new found volumetric efficiency, LT2 chief engineer Jordan Lee investigated more aggressive cam profiles. The end result is an increase from 13.5 to 14 mm of exhaust valve lift (matching the LT1's intake valve lift), and 18-degrees greater exhaust valve open duration. Intake valve lift was left alone while intake duration was upped by four degrees. The result is a slight loss of power and torque through the midrange (2800–4500 rpm) with significantly more power and torque beyond 5000 rpm. The torque peak is thereby shifted to 5150 rpm with 465 or 470 lb-ft available depending on whether the performance exhaust system is in place. Power jumps to 490 or 495 horses at 6450 rpm, a 30–35 horsepower gain over the potent LT1. Fuel delivery is interrupted at 6600 rpm.
GM's Tonawanda, New York, engine plant builds the new LT2. This factory, built in 1938, was updated years ago to employ numerically controlled machining centers instead of fixed tools strung adjacent to transfer lines. During World War II, Tonawanda won five Army-Navy E (for excellence) awards building over 60,000 Pratt & Whitney radial engines to power bombers, fighters, and cargo planes. The plan is for this plant to produce 2200 small-block V-8s per day, including 170 per day for the Corvette.
LT2's real claim to fame is that it makes nearly 500 horsepower – enough to power your average $200,000 supercar – at low cost. This is why Chevy is able and willing to offer the new mid-engine Corvette at a $59,995 starting price. So the next time your bar bro disparages pushrods as yestertech, remind him that there's no other car in the world capable of crowding 200 mph and scooting to 60 in less than three seconds for such a pittance.