FIA WECMagnussen: Corvette C8.R Was 'Pegged So Far Back'
Frustration at Corvette Racing after C8.R's challenging WEC debut ...
By John Dagys on Feb. 24, 2020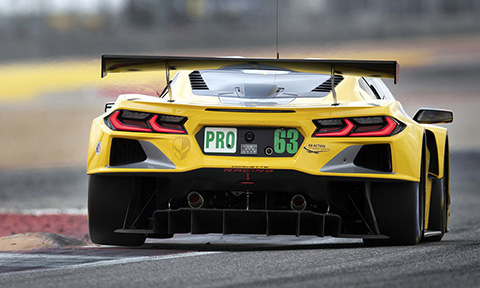 Photo: Richard Prince/Chevrolet
Jan Magnussen said he was sorry to see the Chevrolet Corvette C8.R get "pegged back so far" in Sunday's 6 Hours of Circuit of The Americas, in the car's FIA World Endurance Championship debut.
The No. 63 Corvette of Magnussen and co-driver Mike Rockenfeller finished three laps behind the class-winning No. 95 Aston Martin Vantage GTE after a trouble-free race for the Pratt & Miller-run factory squad.
It came after pre-event concerns from the manufacturer that the Balance of Performance established by the FIA and ACO was not going to put the car in a competitive position.
The performance deficit was seen from the start of track action on Saturday, with the No. 63 entry nearly 2.5 seconds off the pace in Free Practice 1.
With qualifying having delivered similar results, the team headed into the fifth round of the WEC season with little chances of fighting for a podium finish.
An electrical issue for the No. 91 Porsche 911 RSR of Gianmaria Bruni and Richard Lietz with less than two hours to go promoted the Corvette duo to a sixth place finish in class.
The car's fastest race lap, a 2:04.020, was 1.5 seconds slower than the best in the class.
"It's super frustrating when you're that far off the pace," Magnussen told Sportscar365. "That's what it is sometimes.
"We had to do this and we just have to learn as much as we can."
The result for Corvette came despite making one fewer pit stop than any car in the class, in a strategic call made pre-race.
Magnussen said it was the "only play" they had, which ultimately did little to help the situation.
"We were so completely out of it on performance so we had to try and do something. But it didn't do anything," he said.
"I'm sorry to see it get pegged back so far. It's a fantastic car.
"I'm sorry how this weekend went and sorry that the team had to be in this situation. Maybe Sebring will be a little bit better."
Both drivers said the team still managed to take away a number of lessons as the first race of a planned three-race run in WEC competition culminating with the 24 Hours of Le Mans in June, pending confirmation of entries.
"We have to take something away from this race," Magnussen said.
"Everybody's frustrated but we did learn something about procedures and learned something about how things are different in WEC and what we need to take care of compared to IMSA.
"It was not a complete loss. Everyone needs to walk away, have a beer, and think about it and learn from the stuff we have to in a situation like this."
Rockenfeller, who turned his first laps in the car on Saturday, said he enjoyed his time behind the wheel despite the challenging circumstances.
"We knew this would be tough and we knew that it takes a bit," he told Sportscar365.
"That's also why we need these races to show the car, present the car, race against the others.
"Ultimately, Le Mans is the big goal but I think also Sebring we really want to do and look better than we have been here.
"The organizer now knows the car a bit better. They have seen where we were and hopefully in Sebring we can fight with the other guys."
There could be an opportunity for a BoP change to be made to the Corvette ahead of next month's 1000 Miles of Sebring, through the so-called 'blackball' rule, should it be enacted by the FIA and ACO.
It was last used in August 2018 to help reset the BMW M8 GTE's BoP after it was outside of the performance window in its first few races of WEC competition.
The Auto BoP system, which balances GTE-Pro cars over small increments, only kicks in after a car completes two races.