C8 Corvette Badly Damaged After Falling Off Lift In Dealer Service Bay
By Sam McEachern on June 1, 2020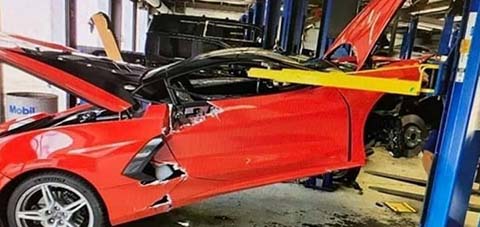 A C8 Corvette was badly damaged after it fell off a lift while in a dealership service bay.
Florida-based Chevrolet fan Jake Anthony recently took delivery of his C8 Corvette and was enjoying the car as it was meant to be enjoyed. Things went awry when he took the car in for service, however, with the vehicle falling off the lift while it was hoisted in the air, leading to significant damage.
Anthony shared a photo of the resulting damage on his Instagram page over the weekend, saying he did "did not want this to to be shared publicly," until after the dealer had the opportunity to correct their (very major) mistake, but some service center employees began circulating photos of his car without his consent, so he felt the need to speak up. In the post, he advised other C8 Corvette owners to "please ensure your dealer is aware," of the proper lifting points underneath the vehicle, also sharing a diagram showing the proper and improper places to hoist the vehicle from. It seems the employees at the dealership in question weren't familiar with said diagram.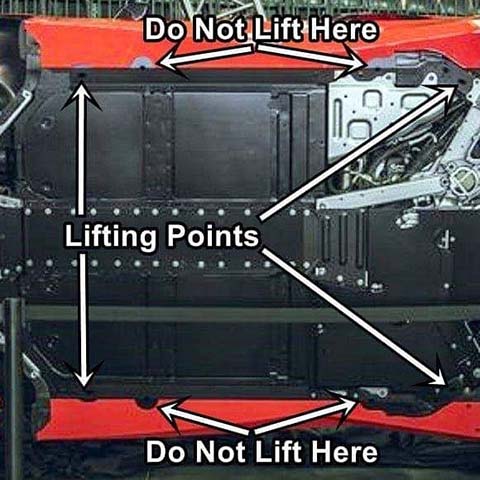 In the comments of his Instagram post, Anthony explains that he has "spoken with executives," from GM over this matter, so it seems the automaker is working to correct the situation. He also indicated that he's "not interested in a new base model," 'Vette and is now "waiting for the Z06," if he is going to take delivery of a C8 Corvette again. It's unclear when the C8 Corvette Z06 will arrive, but it is expected that it will feature a DOHC 5.5L flat-plane crank V8 engine that will be closely related to the 5.5L engine found in the new Corvette C8.R race car.
Let's just hope that by the time Anthony takes delivery of his Corvette Z06, his dealership has figured out how to properly put the C8 Corvette on a hoist.
Subscribe to GM Authority for more details on the 2021 Corvette in the coming months and for more mid-engine Corvette news, Corvette C8 news, Corvette news, Chevrolet news, and 24/7 GM news coverage.