Why C3 Chevrolet Corvettes are affordable, on the Hemmings Auctions Week in Review
By Mike Austin on January 11, 2021
This week on the Hemmings Auctions Week in Review, we take a brief dive into prices of third-generation Chevrolet Corvettes. It turns out C3s are pretty affordable, if you consider under $20,000 - less than almost any new car sticker price - to be affordable. Of the 16 C3s we've sold since opening Hemmings Auctions, almost all of them fall under the $20,000 mark, and there are also plenty of C3 Corvettes under $20,000 in the Hemmings Classifieds.
You can even get a lot of C3 for around $10,000. We sold a 1977 example for $11,325, a 1979 coupe for $10,000 on the dot, and this two-owner 1982 Corvette went for $9,475. All three of those cars looked clean, presented well, and had fresh paint. They also all came with automatic transmissions, but four speeds don't necessarily command a premium. Exhibit A: this unrestored 1980 coupe that sold for $11,759.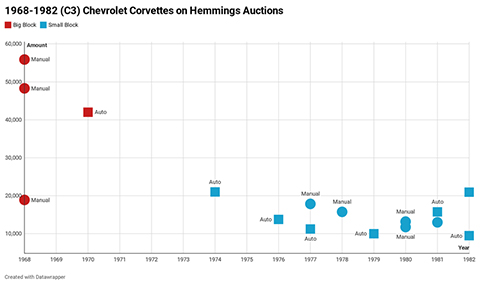 Data visualization via Datawrapper.de
Move into the $20,000 range and you'll find convertibles, rare and desirable options, and generally nicer cars or lower mileage ones like this 47,862-mile 1974 convertible that sold for $21,000. This 24,500-mile '77 'Vette was another example, with bright orange paint and the unique combination of manual windows and no air conditioning; it sold at a price of $17,850. Of course there are still expensive C3s, and they're usually packing big-block engines and from earlier model years, before emissions controls killed the horsepower ratings. Higher prices will also come with things like NCRS Top Flight certification, or the sort of restoration work that would likely achieve that honor.
As to why there are affordable C3s to be found, in simple terms one reason is that GM built more than half a million of these cars. Many were taken care of since new, while others have some degree of restoration work on them. That means there's still ample supply of good examples. And while the Corvette was a serious performance car when new (even in the smog era), today it's outgunned by modern minivans, so there's no premium for speed like you might get with a more modern sports car. And on that note, another factor keeping C3 values in line are plenty of C4s and C5s in the same price range.
In some ways it's a perfect collector car ecosystem. Low prices at the bottom make for easy entry and project car material, higher values for high-quality encourages restorations and continued parts support, and there's enough value in the most collectible examples that purists can rest easy knowing they will likely be preserved.