Some Of The Most Collectible Chevy Corvette Models Ever
By Brett Hatfield on Jan 18, 2021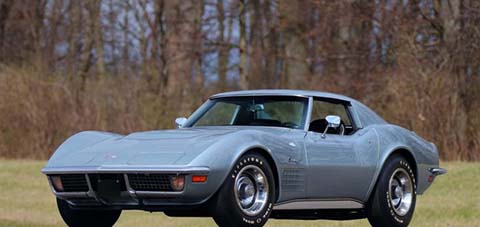 Chevy Corvette fans could be accurately described as fanatical. We study the cars, the history, the numbers. We have clubs like the National Corvette Restorers Society and National Corvette Owners Association. We have big gatherings to celebrate our cars like Corvettes at Carlisle, Bloomington Gold, and the NCRS National Convention. We know and love our Corvettes.
Even for the most rabid Corvette fan, there are a few Chevy Corvettes most of us have never seen, and even fewer will get to own. These are the rarest of the marque, the most desirable, or the most valuable, and some of the most collectible. This is a list of some of the most collectible Chevy Corvette models so far.
1963 Chevy Corvette Sting Ray Split Window Coupe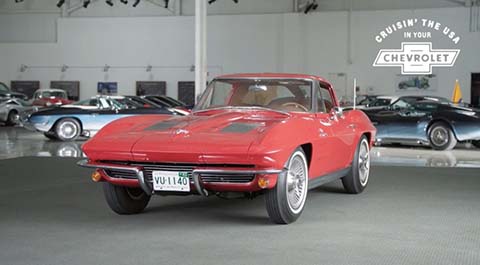 In 1963, the Chevy Corvette had a clean-sheet design. Gone was the Solid Axle platform of the Harley Earl dynasty. The new Corvette had a much more European look, heavily influenced by the 1957 Stingray Racer. The new Corvette had pontoon fenders, hidden headlights, a rear independent suspension with a transverse leaf spring, in-dash glove box, and a center spine that began at the windshield and arced backward, splitting the rear window of the coupe. This styling element had been present on the 1961 and 1962 Corvettes, but the 1963 model year was the first with a coupe in the lineup. The "Split Window" was not universally loved. Zora Arkus-Duntov, then Chevrolet's Director of High Performance, hated the partition because it blocked rearward vision. Duntov was outranked by Styling Section Vice President Bill Mitchell.
The Split Window coupe lasted a single production year, as the 1964 coupe had a one piece rear glass. A bit of trivia here: a number of '63 Split Window Coupe owners sawed the partition out of their cars when the 1964 model was released in the hopes of looking like they had the newest model. In all, 10,594 1963 Chevy Corvette Split Window Coupes were made; far fewer exist now. Hagerty Price Guide valuation for a 1963 Corvette SWC with the top-of-the-line 360-horsepower engine with Rochester mechanical fuel injection and four-speed manual transmission (the most desirable combo) in #1 condition is $235,000.
1963 Chevy Corvette Z06 Tanker Coupe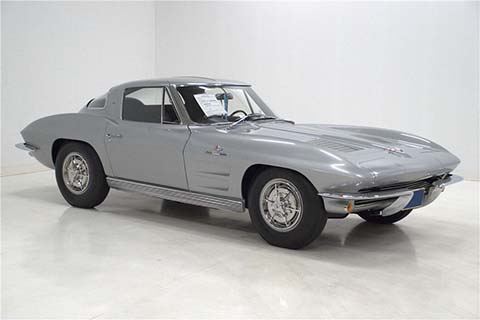 Photo credit: Barrett-Jackson
The 1963 Chevy Corvette coupe could be optioned specifically for competition use. The Z06 option included the 360-horsepower, L84 fuel-injected V-8 engine, a 36.5-gallon fiberglass fuel tank, a four-speed, close-ratio manual trans, Positraction rear end, heavy-duty shocks and springs, oversized anti-sway bars, oversized finned steel brake drums and cooling fans, a unique dual-circuit, vacuum-boosted master cylinder, and brake-cooling ducts that sent air to the front brakes. The Big Tank Z06 option was only available for the coupes, and only 63 were made. Hagerty Price Guide value for a 1963 Chevy Corvette Z06 Big Tank Split Window Coupe in #1 condition is $681,000.
1967 Chevy Corvette L88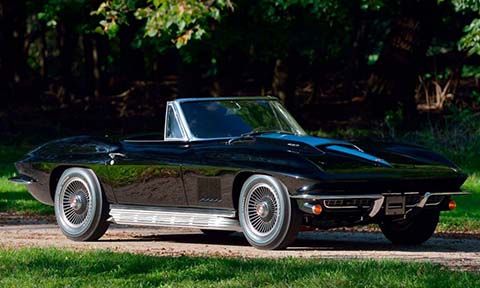 Photo credit: Mecum Auctions
Few Corvettes are as rare as the 1967 Chevy Corvette L88, with production totaling just 20 copies. The L88 was rated at 430 horsepower, but that was at 4,600 rpm, far below the engine's 6,400-rpm peak. True power output was somewhere between 500 and 600 horsepower after a bit of tuning. The L88 engine option had some very specific engineering intended to wring maximum performance from the 427 cubic-inch Big Block. It began with a reinforced cast-iron block, with 4-bolt mains, forged steel crank, forged rods, 12.5:1 compression, a radical solid lifter cam, Holley 850-cfm carb, transistorized ignition, and aluminum intake.
The L88 came with the Muncie M22 "Rock Crusher" transmission, power-assisted heavy-duty disc brakes, F41 heavy-duty suspension, and the G81 Positraction differential. If you selected the L88 option, you could not have a radio, heater, A/C, power steering, or electric windows. In case you happened to forget just what kind of beast you were piloting, there was a sticker on the parking brake housing that read: WARNING: VEHICLE MUST OPERATE ON A FUEL HAVING A MINIMUM 103 RESEARCH OCTANE AND 95 MOTOR OCTANE OR ENGINE DAMAGE MAY RESULT. Hagerty Price Guide value for a 1967 Chevy Corvette L88 Convertible in #1 condition is $3.25 million.
1971 Chevy Corvette ZR1 and ZR2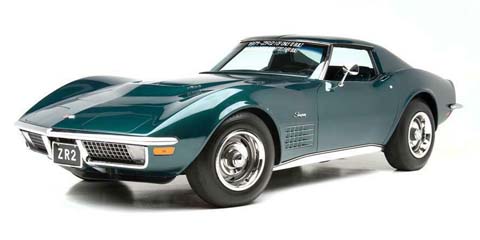 Photo credit: Barrett-Jackson
Much like the Z06 option package, the 1971 Chevy Corvette ZR1 was an option focused on competition use. The ZR1 Special Purpose LT1 Engine Package included the 330-horsepower 350 cubic-inch Small Block LT1 engine, Muncie M22 four-speed manual transmission , heavy-duty power brakes, transistorized ignition, special aluminum radiator, special springs and shocks, front and rear stabilizer bars, metal fan shrouds. RPOs A31 Power Windows, C50 Rear Window Defroster, C60 Air Conditioning, N40 Power Steering, P02 Deluxe Wheel Covers, UA6 Alarm System, U69 AM/FM Radio, and U79 AM/FM stereo were not available with ZR1.
The ZR2 Special Purpose LS6 Engine Package came with the 425-horsepower 454 cubic-inch Big Block engine and all the same options and restrictions as the ZR1 package. Productions numbers were incredibly low, with just eight of the ZR1 package and twelve of the ZR2 package leaving the St. Louis assembly plant. As so few of the ZR1 and ZR2s were built, pricing information is scant. However, a few of these rare Corvettes have crossed auction blocks. In May of 2017, a Chevy Corvette ZR1 coupe in Nevada Silver with only 35,000 original miles bid to $220,000 at the Mecum Indy auction, but failed to meet reserve. In January of 2019, a 1971 Chevy Corvette ZR2 convertible in Ontario Orange, with both an NCRS Top Flight and Bloomington Gold Hall of Fame certification, sold at the Mecum Kissimmee auction for $380,000.
These are just a few of the rare and collectible Chevy Corvettes models to be had. If we listed them all, it would make a decent book. Rest assured, this is far from the last collectible Corvette article!
Subscribe to GM Authority for more Corvette news, Chevrolet news, and around-the-clock GM news coverage.