Do you know who owns this Corvette?
By Abbie Sossamon on May 03, 2021
Do you live in Blacksburg and own or know someone who owns a 1996 white Chevrolet Corvette?
If so, Ty Thompson of Newnan, Ga., would like to connect.
The Corvette was Thompson's first vehicle; it was a surprise from his parents who purchased it for him when he turned 16 in 2002.
"I came home late one night, and my parents were waiting up to show me the car parked in the driveway," Thompson said. "I had never asked for the Corvette, I just wanted something to drive, but when my parents went to look at cars, my dad saw it and knew he had to have it."
Thompson said why his parents gave a 16-year-old a Corvette is a story for another day.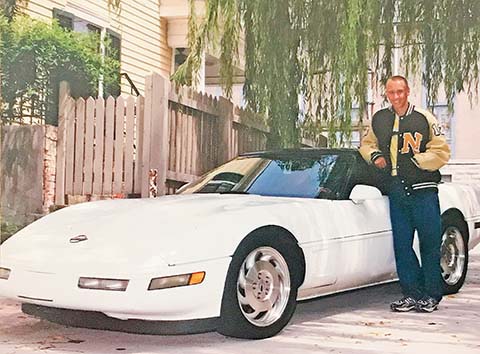 After graduating high school, Thompson worked part-time in landscaping while attending college and needed a more practical vehicle. His dad traded in the Corvette and gave him the down payment for a pickup truck.
"My dad traded in this car that he loved to help me get my start in the adult world," Thompson said.
Thompson has been searching for the vehicle on and off for several years, but he recently decided to pay the $39.99 to see the full Carfax history report. To his surprise, he found it was registered on the 8th of April to someone in Blacksburg. The report shows the current owner purchased the vehicle in 2017.
Searches for the owner's name and posts on social media have been fruitless, so Thompson turned to The Gaffney Ledger for help in finding his beloved first car.
Thompson has always admired his parents' work ethic — his mom was an elementary school teacher and his dad a forklift mechanic who worked nearly every Saturday to provide for the family.
"Through their hard work, my brother and I never wanted for anything," he said. "The Corvette has meant so much to me because it was a symbol of how hard they worked for us."
The ultimate goal for Thompson would be to purchase the Corvette, but just receiving an updated photo would make his day, he said.
"I just want to tell my dad, 'hey, I found it,'" he said. "This would make him smile from ear to ear."
The VIN on the car is 1G1YY22P5T5107529.
If you have any information on the vehicle, contact Abbie at abbie@gaffneyledger.com or call The Gaffney Ledger office, 864-489-1131.