1967 Chevrolet Corvette Looks All-Original, Hides Big Surprise Under the Hood
By Ciprian Florea on May 8, 2021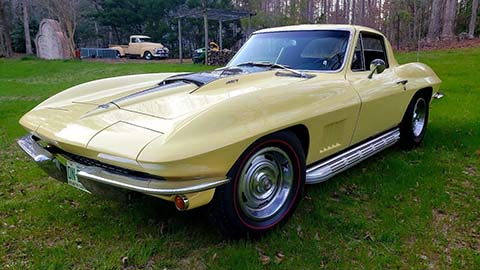 The late second-generation Chevrolet Corvette is one of the most desirable versions of the iconic nameplate. And it's not just the stunning design. The 1967 Corvette was also fitted with the 7.0-liter, big block Tri-Power V8 rated at up to 435 horsepower. This Sunfire Yellow model is a fine example from that era, but it packs an aftermarket, monstrous surprise under the hood.
This Corvette is the result of a fantastic restoration, but it's actually a restomod when it comes to the oily bits. The coupe rolled off the assembly line with a 7.0-liter V8 rated at 390 horsepower, but the original mill was replaced, at some point, with a larger 7.4-liter.
The owner, who passed away recently, opted to swap the 454-cubic-inch/four-speed combo with a massive, 8.2-liter V8 crate engine during the restoration. A more modern unit, it now mates to a five-speed Tremec transmission, through which it sends more than 500 horsepower to the rear wheels. That's at least 70 horses more than the range-topping Tri-Power mill from 1967.
Engine-side, this 1967 Vette is a fine restoration. The seller describes the Sunfire Yellow paint "a 10 footer," so it's not entirely perfect, but the car looks great from just about every angle. The Rally wheels, the redline tires, and the side-exiting exhaust pipes are all there for an authentic look.
The all-black interior looks pretty impressive, with no signs of wear on the upholstery and no cracks on the dashboard. Although it features a more modern gearbox, it still has the original shifter in place. I can spot an original AM/FM radio and power windows too.
A new, professional paint job would make this 1967 Corvette perfect, but the coupe is already a solid classic in its current state. Sure, enthusiasts looking for originality might not be happy with the aftermarket V8 under the hood, but this Vette is a fantastic sleeper.
And a lot of people seem to agree, as the eBay auction hosted by "lola_hill" is already at $60,000 with 24 bids with four days to go. Granted, all-original 1967 Vettes in tip-top shape tend to fetch more than $100,000, but this restomod could hit $80K in a few days.