Report: Chevy Corvette Z06 Delayed Until At Least 2023
By Sean Tucker on June 29,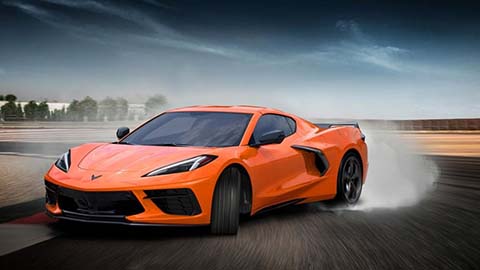 A Chevrolet Corvette is fast. But a Chevrolet Corvette Z06 is faster.
Since the Corvette's second generation appeared in 1963, a new Corvette has usually meant a new Corvette Z06. Z06 models take the standard Corvette and add parts from the Chevy racing bin. Literally. The first Z06 was concocted to give race teams a way to buy a 'Vette for their purposes at a time when GM wouldn't officially support racing. It was a wink-wink, nudge-nudge race car you could buy from your local Chevy dealer.
A Corvette Z06 traditionally commands a higher price than anything else except the ZR1 in the Corvette stable. But performance tweaks often push the car to European supercar speeds without the associated price tag only the ultra-wealthy can afford.
The Corvette was radically redesigned for the 2020 model year, moving to a mid-engine layout for its eighth generation. So… uh… where's our Z06?
2023 ... Or Later
Not coming this year, according to a report from GMAuthority.com. The site – usually quite reliable about GM's plans – says that Chevy has been working on a Z06 since the first eighth-generation Corvette Stingray appeared. But it reportedly won't be sold until the 2023 model year at the earliest.
Chevy Can't Build Corvettes Fast Enough
The reason? The existing Corvette Stingray is selling as fast as GM can build it. A combination of high demand and problems getting enough parts from suppliers to keep up has left the Corvette the fastest-selling car in America. In mid-May, Chevy held just a 6-day supply of Stingrays (the industry had about 35 days' worth of the average car that month, which is a historically low number). The company can't commit to building another version of the car when it can barely keep up with demand for the current one.
GMAuthority reports that "the launch of the C8 Corvette Z06 has now been pushed back to the 2023 model year."
Might Be Worth the Wait
The eighth-generation Z06 may be worth the wait when it does come. Reports say its 5.5-liter V8 will put out more than 600 horsepower. The current model gets 490, which is enough to send it from a stop to 60 mph in about 3 seconds.
If you must have a high-performance Corvette in the meantime, the fastest current model is the 2022 Corvette Stingray IMSA GTLM Championship Edition. It includes the performance tweaks of the Z51 package, plus a race-derived wing to enhance grip.