2014 Chevrolet Corvette: Still a Mystery, But Details Leak Out
The 7th-generation 'Vette is still a ways off, but Popular Mechanics knows a bit about it.
By Sam Smith on September 26, 2011 7:03AM
First things first: The car you see here is not the next Corvette. It is a concept car called the Stingray; it was built by General Motors in 2009. It's a hundred kinds of hot, but it is not going to see production.
No matter. We needed something to illustrate this post, and the Stingray was as good as anything. For one thing, it's a good approximation of what the next Corvette would look like if we lived in a perfect world. For another, it's about as realistic as any of the speculative next-'Vette illustrations floating around the Internet. If we're lucky, a few of the Stingray's styling cues and its basic proportions will see showrooms, but little else will. The car is both too impractical and too costly to make work in the real world.
But the point here -- and I do have one -- is that the next Corvette, due in 2014, remains a mystery. This is pretty common. GM tends to keep a tight lid on the model's development; by the same token, when details leak out, it's a big deal.
A few weeks ago, Popular Mechanics published a Web story that was largely overlooked by the enthusiast media and blogs. Turns out the magazine hit the Woodward Dream Cruise in August and went digging for new-Corvette dirt. Here's what they found.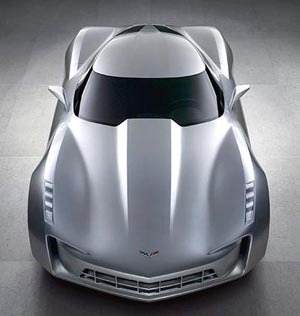 The Pop Mech piece is here. It's a short, moderately entertaining story that chronicles one writer's attempt to learn more about the upcoming Corvette by walking down Woodward. Some of this information has been seen elsewhere, but it's nice to have it all in one place:
Platform code: Y1XX. Production start: Summer 2013. Model year: 2014.
Supplier tooling is reportedly ramping up for a start of production in the May-June-July period of 2013. The seventh-generation Corvette is built around a platform coded internally as Y1XX and will initially be sold as a 2014 model-year car.
Design, interior: Better, less 'old-guy.'
Square taillights are rumored, as are Ferrari-style quarter windows a la the second-generation (C2) Corvette. The external central rib seen on the Stingray and C2 "split-window" coupe is likely to make an appearance. Seating and interior trim are said to be much improved over the current car, which isn't saying much. The seats and interior in the current Corvette need work. Everything feels nice, but certainly not expensive-sports-car nice. Expect that to change, with the car's interior finally competitive with offerings from Europe.
Drivetrain: Economical, fun.
The '14 Corvette should be the first car to use the fifth-generation, all-new Chevrolet small-block V8 engines. Push rods are likely for packaging reasons, the base V8 should shrink from 6.2 to 5.5 liters. A turbocharged V6 is also rumored, as is a turbocharged V8. An 8-speed automatic is in development; no twin-clutch gearbox is planned, but a 6-speed manual will be offered as an option. Engine in front, gearbox in the back.
There's more in the Pop Mech article, but frankly, it's almost better to know less. With cars like the Corvette, speculation is the fun part; it's also the part most likely to start a verbal sparring match with GM executives. (The link in the previous sentence refers to an Automobile Magazine piece that was either so accurate or so inaccurate that it put Corvette chief engineer Tadge Juechter on the public offensive. Fun stuff.)
I've driven a lot of Corvettes over the years, and every time I climb into one, I find myself wondering what comes next for the brand. You dump the clutch, you light the tires up, you wonder how it could get any better. Sure, every Corvette is a flawed car, and every new 'Vette is better than the last. But at a time when more and more automobiles are dead-eyed caricatures of cars that came before -- or, in the case of a few family sedans, kitchen appliances -- the Corvette stands alone, delightfully imperfect, always just a little bit unrefined. In other words, it has personality, and it sounds like that won't change any time soon.
2014 can't come soon enough.