2014 C7 Corvette, Declassified! All the Details on Chevy's Halo Car
We Nab Full Info on the Once-covert Chevrolet Corvette
Posted By Don Sherman, Car and Driver January 2013 Issue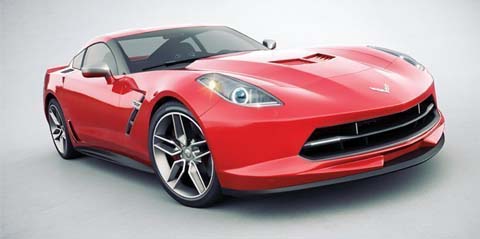 The Vatican elects a new pope about once every 10 years. Coincidentally, or not, reborn Corvettes follow the same cadence. Speculation about the next high priest of the Milford proving ground has consumed the faithful for the past few years, only intensifying in the lead-up to the car's official reveal at this year's North American International Auto Show. Now, weeks before the silk comes off, we have sleuthed out all the important secrets of the seventh-generation Corvette, a.k.a. C7.
Chief engineer Tadge Juechter and his team spent 2007 developing a radical mid-engined Corvette. Alas, their undisclosed discoveries, GM's bankruptcy, the melting of the polar ice cap, and other negative vibes have again moved that revolution far into the future. So C7 is an evolution of the C6 design, albeit a comprehensive one. In keeping with tradition dating to 1955, a front-mounted pushrod V-8 will power this sports car. But fret not, Vette brethren: the C7 news that follows is good enough to induce cold sweats in Zuffenhausen.
Advanced Materials
To meet an ambitious 3000-pound weight target, C7 is constructed like an aircraft. The three-rail space frame GM patented for C5 continues with major improvements. The hydroformed-aluminum main members developed for Z06 and ZR1 are now standard across all C7s, an upgrade enabled by transferring frame manufacturing from an outside supplier to the Corvette's Bowling Green assembly plant. Carbon-fiber (CF) floor and bulkhead panels adhesively bonded between the central backbone and the perimeter rails augment structural stiffness. We also expect CF to replace all the sheet-molded fiberglass exterior panels. A single-piece lift-off roof–a Corvette feature since 1984–remains standard on the coupe.
Chevy's not-so-subtle hint confirming the move to CF came with last fall's presentation of the new crossed-flag emblem on a black woven-cloth backdrop. CF has trickled down to the sub-$60,000 price range thanks to streamlined manufacturing processes implemented by supplier Plasan Carbon Composites that have reduced costs by 60 percent. Also, minor visual flaws are not an issue for the structural panels that live on the Corvette's dark side, further trimming cost.
Die-cast magnesium crossmembers provide rigid attachment points for the power­train, suspension, steering column, and instrument panel. Nearly all driveline and suspension pieces are aluminum castings or forgings, as before. Likewise, the fiberglass-reinforced plastic leaf springs in use under Corvettes for three decades carry on. Electrically assisted rack-and-pinion steering is standard while special features such as ­magnetorheological dampers and Brembo carbon-ceramic brake rotors are reserved for upper-echelon Z06 and ZR1 models due in a couple of years.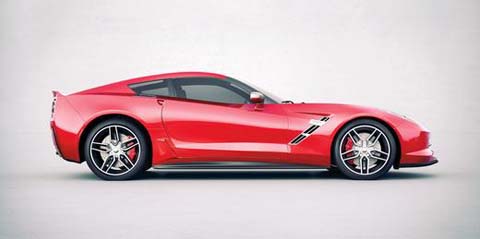 Bodywork
While C7 maintains the basic proportions of its immediate predecessor, the visual drama shifts to the side view. The B-pillar is subdued, for a smoother, sleeker flow to the greenhouse and roofline. This stretches C7's visual length without adding bulk or weight. That the Ferrari F12berlinetta shares the tapering side-glass motif won't be lost on Corvetteheads. (The renderings here were created some weeks back for our January print issue. Compare them to drawings, presumably from the car's owners' manual, that leaked out the day after Christmas–we think we did pretty good.)
No Throwback-yet
Two features previewed by a 2009 Chicago auto-show concept car–a split rear window and the hallowed Stingray nameplate–won't appear at C7's christening, but don't rule them out. When the Corvette needs a pick-me-up and a fuel-economy boost later in the decade, the iconic tail treatment and name combo could add luster to a 30-plus-mpg (highway) model powered by a 400-hp 5.5-liter V-8.
Tires
We've heard that Michelin has won the long-running war against Goodyear for base Corvette tire fitment, and the French brand's Pilot Sports have been spotted on C7 test mules in New Mexico. Given the 10-percent cut in curb weight, slightly narrower rubber should serve the new car nicely.
Powerplant
Bucking the global trend toward boosted small-displacement engines endowed with ample power and exemplary efficiency, the new, fifth-generation small-block–rechristened LT1–is a 6.2-liter naturally aspirated V-8 embodying a blend of traditional and advanced technologies. Though it is an all-new design, the bore, stroke, displacement, bore-center spacing, deck height, and camshaft location all carry over from the 2013 LS3 engine. The three new (for Corvette) technologies are direct injection, variable valve timing, and cylinder shutdown. Incorporating those features drove new shapes for the combustion chamber, piston crown, and intake and exhaust ports. Before settling on an 11.5:1 compression ratio (up from the LS3's 10.7:1), GM powertrain engineers investigated more than 75 alternative ­combustion-chamber configurations, consuming a staggering 6 million hours of computer-processing time. Contrast that with 60 years ago, when Chevy chief engineer Ed Cole and 14 draftsmen needed only 15 weeks to design the original small-block V-8 with pencils, paper, and slide rules.
The 450 or more horsepower (at 6000 rpm) expected from the new engine–only 14 more ponies than the LS3 equipped with bi-mode mufflers–isn't that impressive. There is, however, roughly the same torque as the Z06's 7.0-liter LS7 V-8 below 4000 rpm and what we predict will be spectacular fuel economy. Operating this engine as a 3.1-liter V-4 during cruising should boost EPA combined mileage from 17–18 mpg to the low- to mid-20s, comparable to six-cylinder sports cars (BMW Z4 sDrive35i, Lotus Evora, Mercedes SLK350, Nissan 370Z, and Porsche 911).
A five-degree splay angle between the 2.13-inch intake and 1.59-inch exhaust valves benefits volumetric efficiency. Cast-iron exhaust manifolds are heavier but smoother-flowing and better at retaining heat than the welded sheetmetal headers used before. A molded-plastic intake plenum containing eight tuned runners stifles the buzz of the new high-pressure fuel injectors. For the first time in a base Corvette engine, a dry-sump lubrication system is optional.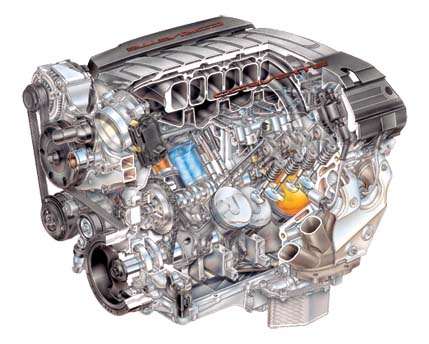 The beauty of the new LT1 small-block is its compact size, low mass (approximately one pound per horsepower), and overall practicality. The phasing device that shifts intake- and exhaust-valve timing in lockstep and valve lifters that collapse on cue to disable cylinders will keep a Corvette V-8 kicking for some time. There will definitely be more-powerful versions–expect both supercharging and greater displacement–and quite likely that aforementioned 5.5-liter V-8. The much-maligned pushrod/two-valve system has limitations but not in its ability to stave off the Grim Reaper.
More Gears
The addition of more transmission speeds is a sure thing. Because the eight-speed Hydra-Matic that GM has under development won't be ready when C7 enters ­production this summer, it's Aisin AW to the rescue. The world's largest automatic-transmission manufacturer's TR-series 'box fits the space vacated by C6's six-speed auto while providing ample torque capacity and the eight forward gears needed to achieve exemplary gas mileage. The dual-clutch automatic that GM has fiddled with for years appears to be dead, at least for Corvettes.
A seven-speed manual developed by Transmission Technologies (a.k.a. Tremec) also is part of the C7 plan. While Porsche and ZF use five gates to shift all eight (don't forget reverse) gears, we expect C7 to employ only four gates. Taller top ratios will help highway mileage ratings advance from the mid- to the high-20s.
As before, an aluminum torque tube ties the V-8 to a rear-mounted transaxle. This allows supporting the driveline on four widely spaced mounts, an excellent way to insulate the passenger cabin from noise and vibration. Following C5/C6 convention, the transmission mounts ahead of the differential.
Interior
The C6's seating accommodations, trim materials, and interior ambience are below par. To remedy that, the engineering team spread C7's frame rails to clear the space needed for proper sport chairs: Spy photos reveal thin-shell, high-back Recaro-style seats that appear suitable for endurance racing. An instrument panel that sweeps gracefully from door to door also is part of the new blueprint. Interior designers blew their budget on cut-and-sewn leather finish materials, a large touch screen, and a suede-wrapped steering wheel.
Lights, Jewelry
The demise of round taillamps is sure to ­provoke consternation among devoted ­followers. In their place, C7 picks up the square-cornered lights of today's standard Chevrolet hind-end style (Camaro, Malibu). At least the four exhaust pipes–minus C6's gap-toothed look–continue. LED headlamp accents and a more aggressive grille adorn C7's pointy nose. Ensuring that no one mistakes this new Corvette for a Hyundai, the crossed-flags badge is bigger, bolder, and brighter.
Pricing
We expect a base C7 coupe to cost no more than $55,000, about the same money as a Ford Shelby GT500. That's a 9-percent price hike over a 2013 Corvette, entirely reasonable given the ultralight construction, more powerful engine, and significantly better gas mileage. That increase buys what is arguably the most attractive, relevant Corvette since the 1963–67 midyear Sting Ray. Seems fair to us.
Tadge Juechter kindly agreed to check this story for accuracy, using a 10-point report card we supplied. Check back in March for a fully authorized rundown on the 2014 Corvette and the grades we earned from the ultimate authority on the subject. View Photo Gallery.