Callaway's German Arm To Build Corvette Stingray GT3 Race Car
By Viknesh Vijayenthiran on July 25, 2013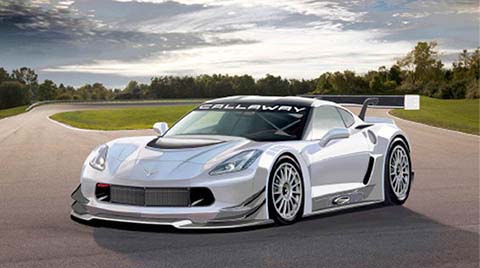 Callaway Competition 2014 Chevrolet Corvette Stingray GT3 race car
The European distributor for expert Corvette tuner Callaway, Callaway Competition of Germany, has started work on a new GT3 race car based on the latest 2014 Chevrolet Corvette Stingray. These initial drawings give an idea of what to expect from Callaway Competition and perhaps even hint at Chevy's own C7 R race car due out next year.
Callaway Competition has been building race cars since 1985 and became the official racing arm of Callaway in the early '90s. Some of the famous cars it's built over the years include the Callaway LM Project of '94, the Callaway C7R of '96 and the Callaway C12R from '01.
Callaway Competition is also a trusted partner of Chevrolet, which it needed permission from before it could submit its Corvette Stingray GT3 proposal to the FIA for homologation. This means Callaway Competition is now the representative for building and holding the homologation of the Corvette Stingray in GT3 competition.
No details on the race car have been released just yet. Hopefully we'll see the completed version sometime next year.
Back here in the U.S., Callaway is expected to launch its own modified versions of the Corvette Stingray, one of which will be a custom shooting brake called the C21 AeroWagon.