Pebble Beach Weekend: 60 Years of Corvette
By Jerry Garrett on August 17, 2013, 12:58 pm

For a news media event in connection with the 2013 Pebble Beach Concours d'Élégance, Chevrolet brought out examples of all seven generations of the Corvette. It is believed to be the first time all seven generations of the car have been shown at the same place and at the same time. All the cars were in running condition and were made available for short test drives.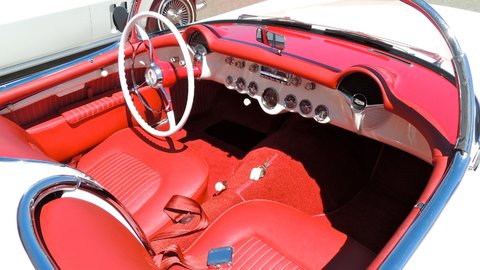 The dashboard of a 1953 Chevrolet Corvette.
The event certainly highlighted the changes that have taken place in the two-seater. The new Corvette, unveiled this year, is arguably the most technically advanced, most powerful and most fuel-efficient. But still, next to that 1953 model, even with that car's primitive brakes, punchless engine and buckboard handling, there's nothing that screams "Corvette!" quite like the original.