Sinkhole swallows 8 Corvettes at NCM
By National Corvette Museum on February 12, 2014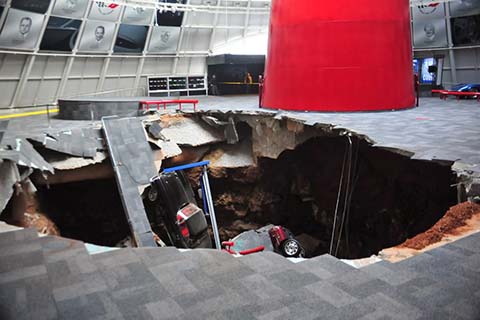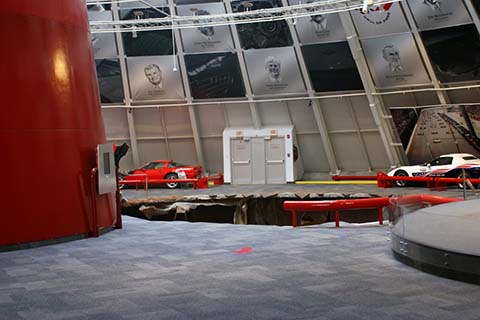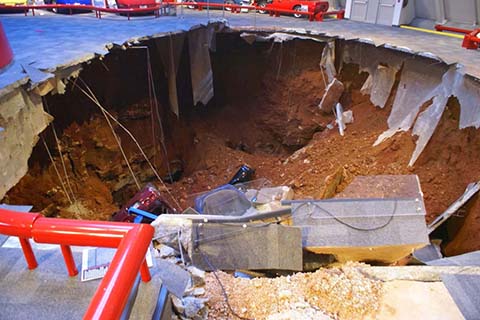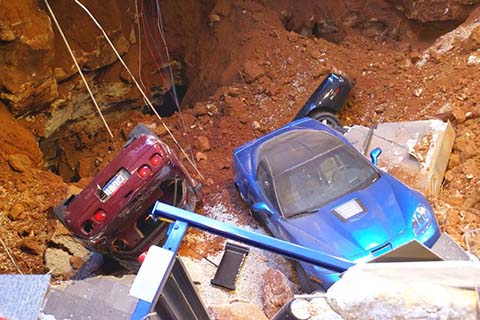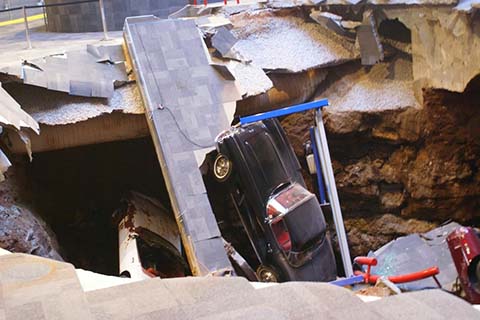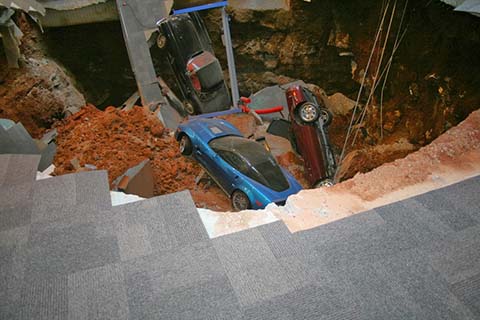 The National Corvette Museum will operate normal business hours tomorrow, Thursday, February 13 from 8:00 am- 5:00 pm CT. The Skydome, however, will be blocked off.
We received a call at 5:44am from our security company alerting us of our motion detectors going off in our Skydome area of the Museum. Upon arrival it was discovered that a sinkhole had collapsed within the Museum. No one was in or around the Museum at the time. The Bowling Green Fire Department arrived on the scene and secured the area. The Fire Department has estimated the size of the hole is 40 feet across and 25-30 feet deep.
For more information click here.
For high-res images click here.
The six affected cars the museum owned were a black 1962 Corvette, a 1984 custom pace car from the IndyCar World Series, the 1 millionth Corvette and 1.5 millionth Corvette ever built, a 1993 Ruby Red 40th anniversary Corvette, and a 2001 Mallett Hammer Z06 Corvette.
Also damaged were two cars GM had lent the museum: a one-off design concept of a 1993 ZR-1 Spyder -- a model that was never built, and the original 2009 ZR1 "Blue Devil" show car.
Both of GM's Corvettes probably were worth more than $1 million apiece, according to Chevrolet spokesman Monte Doran. But they weren't vehicles an owner might drive (the 1993 Corvette was for static display only).
"They were both one-off, highly collectible cars," Doran said. "Great museum pieces, but these weren't cars you could use as daily drivers." The status of the two donor cars is "hard to gauge at this point," Doran said.