The Real Story Behind the First Ever Chevy Corvette
Synonymous with American performance, the Corvette helped define the American car industry.
By Aaron Young on February 17, 2020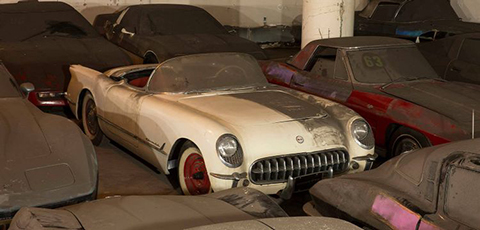 Among sports cars, there are certain models that go down in history as legends, leading decades long production lives that constantly improve upon the previous generations. Within those names lie such legends as the Porsche 911, Nissan GTR, and the Chevrolet Corvette.
Synonymous with American performance, the Corvette helped define the American car industry, and brought the concept of a small, lightweight, RWD, front engine, sports car to the forefront of the American car market. Not only that, but with 8 generations of Corvette, it can be considered one of the most prolific and influential sports cars of all time.
It's hard to think about what an American sports car would look like, or whether one would exist at all, without the Corvette's existence. But legends aren't formed in an instant, this is the story of how the legend of the Corvette was born.
Changing Times, European Temptations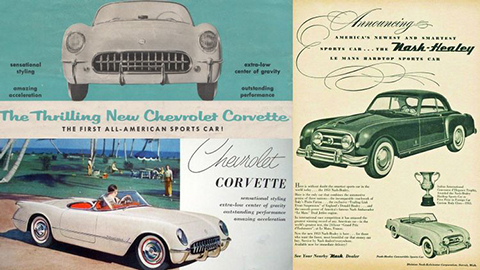 Corvette Forum
The end of the 1940s brought with it the end of a decade of chaos, and ushered in a decade of great change. War efforts prioritized military technological progress over the civilian market, and American cars of the time had remained relatively unchanged. That is to say, the concept of a true sports car in America simply didn't exist.
But, such cars did exist at the time in Europe, and since many American soldiers were stationed across Europe, the lightweight formula for fun firmly planted itself in their head. But those who discovered, and were hooked, on this exotic type of car were left high and dry when they returned stateside. While manufacturers like Jaguar and Austin-Healey had exported some of their sports cars to America, they were incredibly hard to come by, leaving the speed obsessed G.I.s with little option.
An Uphill Battle At GM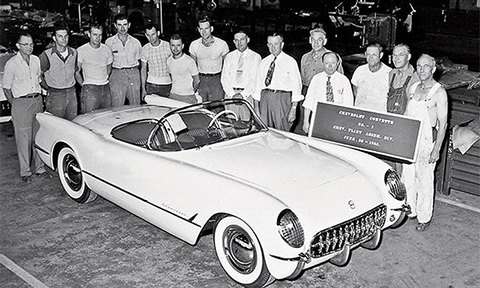 Reddit
Enter design legend, Harvey J. Earl. Named Head of Design at General Motors, Earl was the kind of thinker who saw beyond the current times and looked to the future. While the European domination of the American sports car market was in full swing, Earl had a fateful encounter with a Jaguar XK120, cementing his desire to bring to life an American version of the fantastic sports cars of the time.
But, despite Earl's position, General Motors wasn't convinced such a car was right for them to make, it was deemed too risky of a move. But Earl didn't give up, after fighting tooth and nail to bring his idea to life with no luck, he did what any designer dreams of doing, and designed the entire car himself. Of course, actually making a 2D design into a 3D, fully functioning car isn't something just one man can do, so GM engineers Edward Cole and Robert McLean were brought on to help.
Taking a lesson from previous GM test cars, Earl's sleek bodywork design is produced out of fiberglass, and the finished concept car, named "EX-122," is allowed by GM executives to be shown at the 1953 Motorama show.
Unrefined, But Well Loved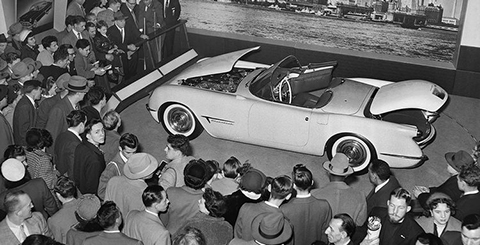 GM Heritage Center
While the 1953 Motorama show went down in history as a massively successful and inspiring autoshow, it was the densely packed crowd's reaction to the EX-122 concept car that would truly change history. The other thing that changed was the name, with EX-122 being replaced with "Corvette," a designation for small, fast, and maneuverable warships.
The sleek fiberglass roadster is a sensation, drawing huge crowds who had never seen such a small, lightweight, and sporty vehicle be produced by the American auto industry before. So great is the demand, that GM rushed the concept car into production the same year, with little changes from concept to production as the 300 Corvettes made for 1953 are rolled off the production line in Flint, Michigan.
The 1953 Corvette, while the groundbreaking sensation it was, was also rather unrefined. With an incredibly rudimentary chassis and suspension, as well as a 150 HP inline six only available with a 2 speed automatic transmission. Furthermore, the only options for the car were a heater and radio, and the only color available was white.
A Legend Is Born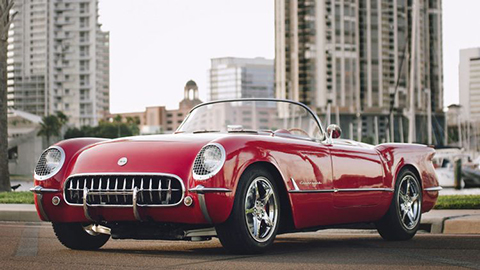 Mecum Auctions
Despite all of its flaws, the 1953 Corvette was the first car of its kind. The public was now aware that it was possible for Americans to make sleek little sports cars that could compete with the Europeans, leading to success for GM. But to stop there would be a failure, legends require gradual refinement, and that's what the Corvette got.
In 1954 production was expanded from 300, to 3640 Corvettes per year, as well as the addition of red, blue, and black, as paint options.
Then, in 1955 the Corvette came to life as the car we all know and love. A small block V8 was added in place of the inline six, as well as a 3 speed manual transmission. It was this 1955 version with a V8 that truly set the stage for the Corvette to become a legend, especially once it proved itself on the Pike's Peak Hill Climb, setting a factory car record.
The Legend Lives On


Ross Downing Corvettes
It goes without saying, that the Corvette went on to become one of the most successful, and well known American sports cars of all time. With 8 generations to improve across, the Corvettes of today are a far cry from the hastily built prototypes of 1953, offering massive speed, and daily driving reliability for an affordable priced compared to the competition. Whether you love to drool over the classic Corvettes of the 1960s, or lay down some hot laps in a C7, Corvette has something for every car enthusiast, especially today, with the latest generation poised to re-define what a Corvette can truly be.