Here's What the 2001 Corvette Z06 is Worth Today
By Megan McCoig on August 25, 2021
At the time, this model was the highest, most agile, and quickest production Corvette ever made.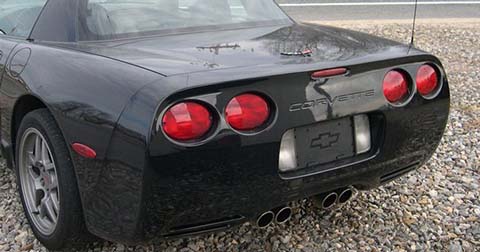 Chevrolet's Corvette lineup is pretty damn impressive. Many of you will have grown up hearing of a new Corvette hitting the market almost every year. This can apply dating all the way back to 1953. The range of Corvette models that have been produced is endless; we could sit here all day trying to list them all.
One that stands out is the 2001 Corvette Z06, which was impeccable for its time. Still to this day, it is the highest, most agile, and quickest production Corvette ever made. Featuring lightweight components, the 2001 model's exterior took inspiration from the Corvette C5 Hardtop and turned the car into something much more light and airy so that it could glide around the track, or the streets, effortlessly.
The 2001 Corvette Z06 Was A Small But Fast Ride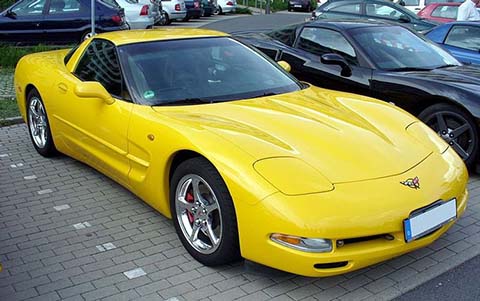 From previous years, the engineers decided to take it up a notch with the Z06 model. They added more horsepower, speed, and handling. The 2001 Corvette Z06 features a unique LS6 V8 engine and six-speed manual transmission that could output speeds of up to 170 mph, which is incredibly nippy for such a small ride.
The increase in horsepower exceeds 380, beating the predecessor's 350 hp. Not only could the ride maintain its speed and power, but it could also accelerate off the line exceptionally well. It managed to meet the engineer's expectations at hitting 0 to 60 mph in just 4.5 seconds.
To be able to manage and maintain this speed and power, the mechanics needed to be premium and lightweight, and indeed they were. Chevrolet ensured to kit the Z06 out with a tuned chassis and a lightweight suspension so that nothing weighed the car down.
The Interior Was Ahead Of Its Time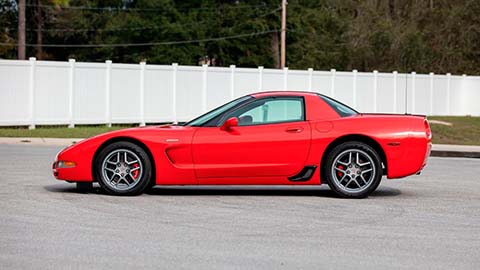 You'd always feel safe and comfortable inside the 2001 Z06, thanks to its occupant protection features. Its rigid structure is built from a safety cage, which is energy-absorbing in the case of a crash. Moreso, the 2001 Corvette Z06 features crash avoidance features, such as Active Handling and an ABS system, which can help drivers control the cars in case of an unexpected oncoming vehicle or sudden change in the terrain.
For added security, the Z06 features a keyless entry so that the owner can be the only one with the keys. There's also a lock and unlock button, which as an added feature, can even turn on the car's interior lights. For the time, these features were fairly uncommon and enhanced the car's superiority.
Moreover, the physical appearance and comfort of the 2001 Z06 were impressive too. It featured deep bucket leather-trimmed seats, climate controls, and it had a decent amount of space for a relatively small sports car. The attention to detail meant that the two-seater sports car reflected the inner beauty of America's favorite car brand for the time.
The Z06 Had An Awesome Powertrain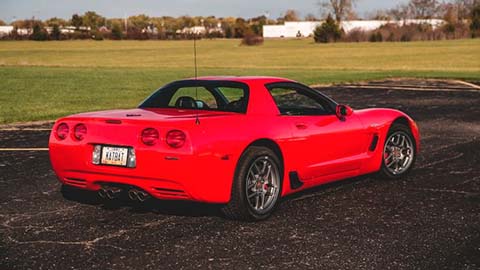 Via: Mecum Auctions
Every car has a standout feature. For the 2001 Corvette Z06, it has to be the engine. Chevrolet upgraded this model to go above and beyond the speed and power needs of its customers. The unique LS6 V8 engine is hardly short of surprises and fun, in fact, it's what helps the car to hit and maintain such impressive levels of speed and power.
If you're into a fun and sporty exterior, too, then the color range will impress you. You can choose from an array of finishes, from Light Pewter Metallics to Dark Bowling Green and Black.
It's A Little Expensive Nowadays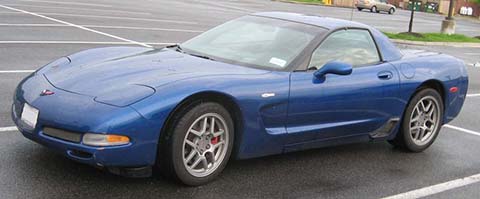 If you're looking for an early 2000s sports car that can satisfy your speed and performance requirements, then you can get a 2001 Corvette Z06 from around $40,000, albeit quite a few will cost more than that. Although it might not be completely pocket-friendly, it is a great addition to any sports car lineup.
For those obsessed with unique engines and sheer fun, Corvette's Z06 will likely be up your alley. Depending on the mileage and the condition of the 2001 Corvette Z06, you might be able to find one for cheaper than the typical market value. The older the car and the more miles it's done, the easier you can negotiate with the seller. However, the owners will likely be keen to get as much as possible for it, so be sure you know how much to offer before putting a price down.
In summary, the 2001 Corvette Z06 has a pretty high price tag for a car over 20 years old. However, it reflects its impressive engine and performance abilities. Corvette's do not always come cheap, especially if they are a unique and niche model. If you are looking for something sporty from the early 2000s and want to satisfy your speed needs with a V8 engine, then the Z06 will be right up your street.