The Rearview Mirror: The First, and Nearly Last, Chevrolet Corvette
By Larry Printz on January 22, 2022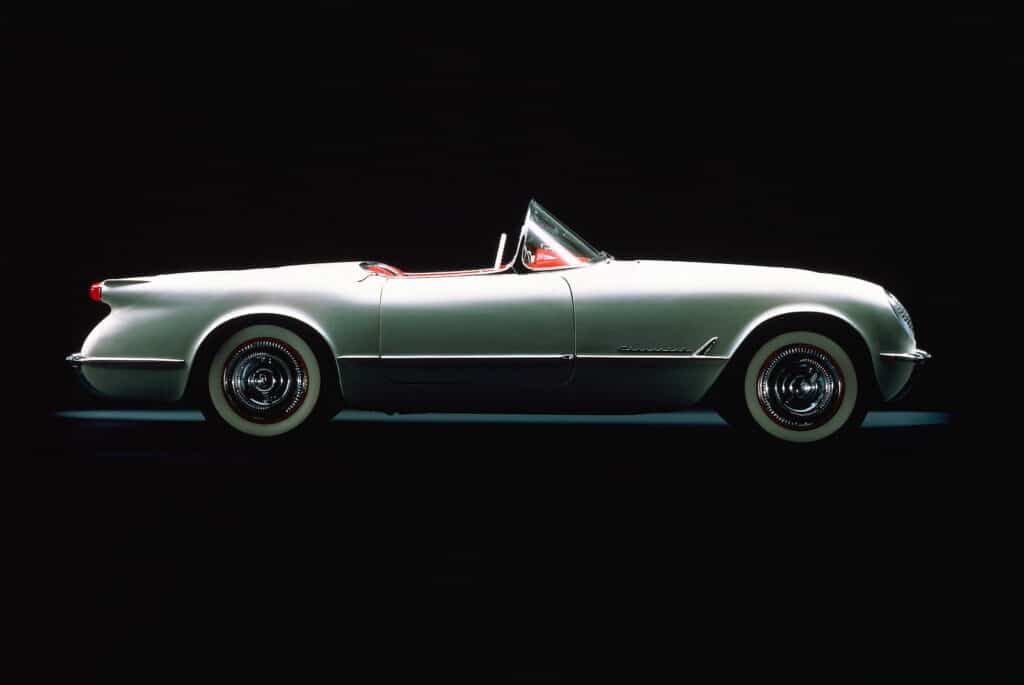 A high price, bad marketing and underwhelming power almost kill America's sports car, which debuted this week in 1953.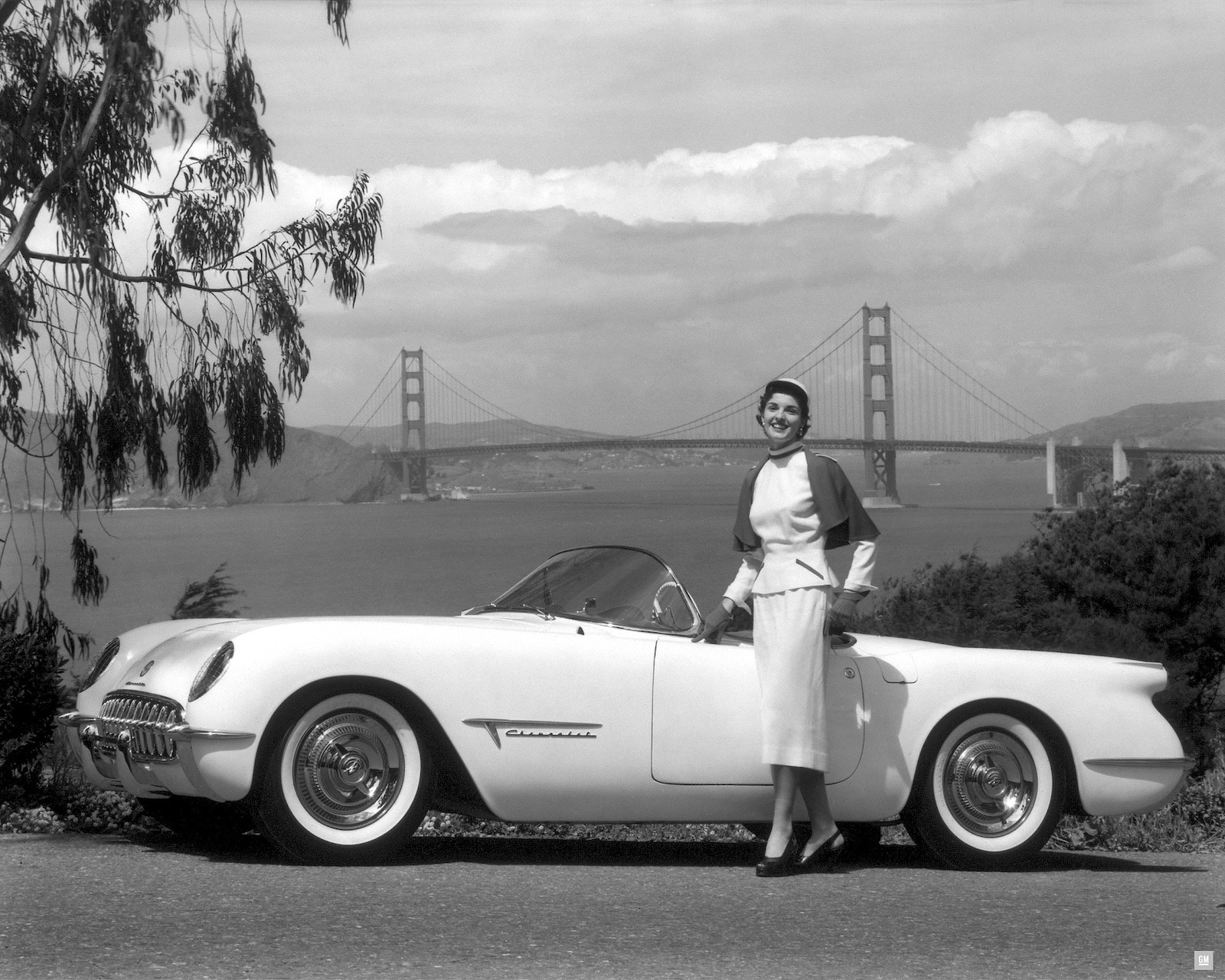 The 1953 Chevrolet Corvette Motorama show car.
Since the eighth generation Chevrolet Corvette debuted in 2019, it cultivated a newfound respect among car enthusiasts and the general public.
Thanks to its new mid-engine layout, the newest iteration offers performance that meets or beats the world's mightiest super cars at a fraction of their price. In that regard, it's truly a Chevrolet.
And it debuted its first appeared 69 years ago this week. But it nearly didn't survive.
It all began in Manhattan
The Chevrolet Corvette's story begins after World War II, when General Motors put on its first display of cars, the 1947 Motorama exhibition at Chicago's Museum of Science and Technology.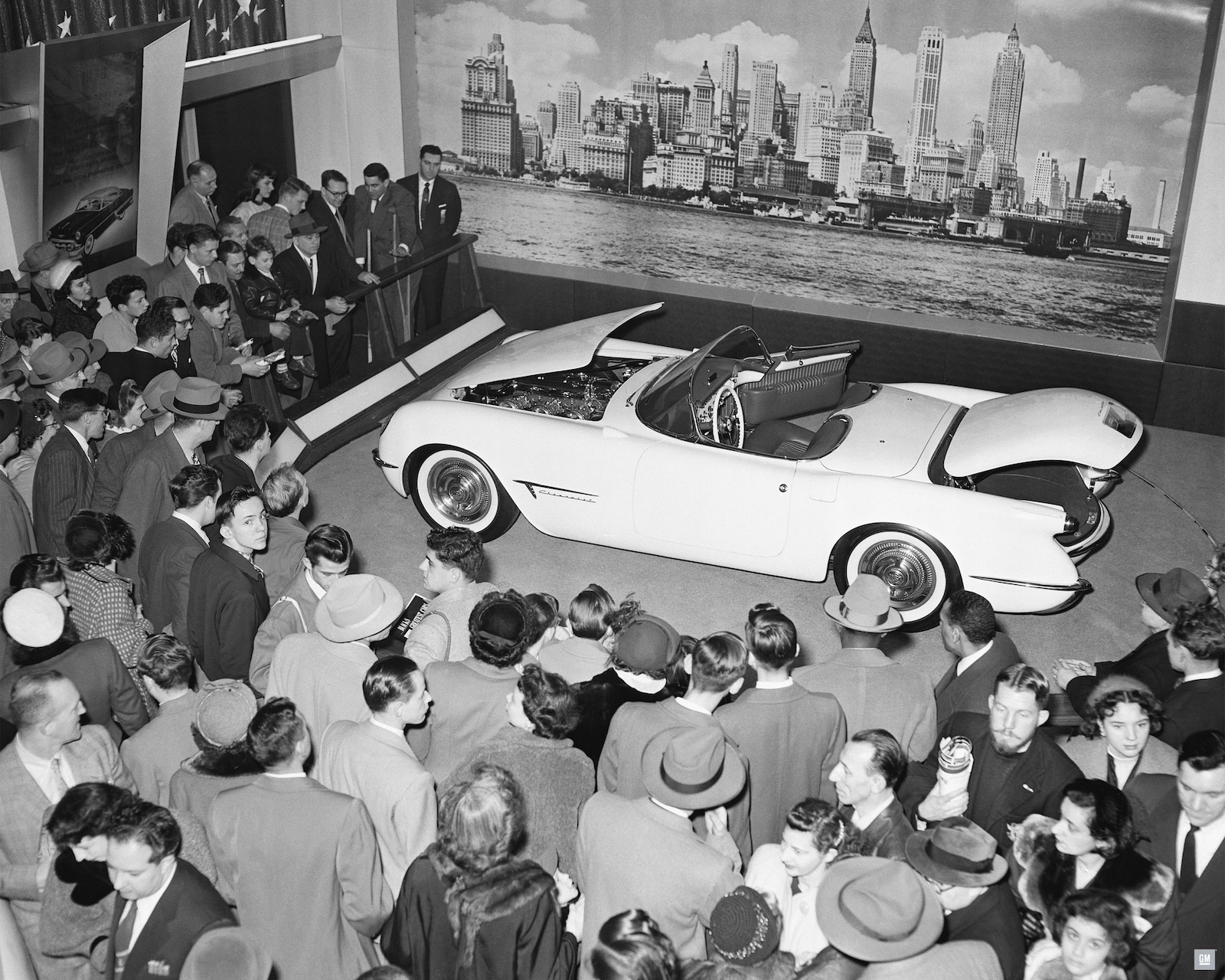 The 1953 Chevrolet Corvette concept car debuts at General Motors' 1953 Motorama at the 1953 Walfdorf-Astoria in New York City.
The company would expand the concept two years later at "Transportation Unlimited" a similar show held at the Waldorf-Astoria Hotel in New York City, and renamed the "Mid-Century Motorama" the following year. But the Korean War prevented GM from hosting it in 1951 or 1952. It was revived for 1953, opening in New York City in January before moving on to Miami in February, Los Angeles in April, San Francisco and Dallas in May, before wrapping up in Kansas City in June.
Admission was free, despite the fact that the show cost GM more than $5 million to produce, or $58.1 million when adjusted for inflation. And that doesn't include the cost of the concept cars, one of which was none other than the Chevrolet Corvette.
A growing market for sports cars
The idea for the Chevrolet Corvette occured in 1951, when Harley Earl took the 1951 GM LeSabre concept car to a sports car race in Watkins Glen. Earl knew sports cars were gaining in popularity, as young American buyers were snapping up MGs, Alfa Romeos and Jaguars.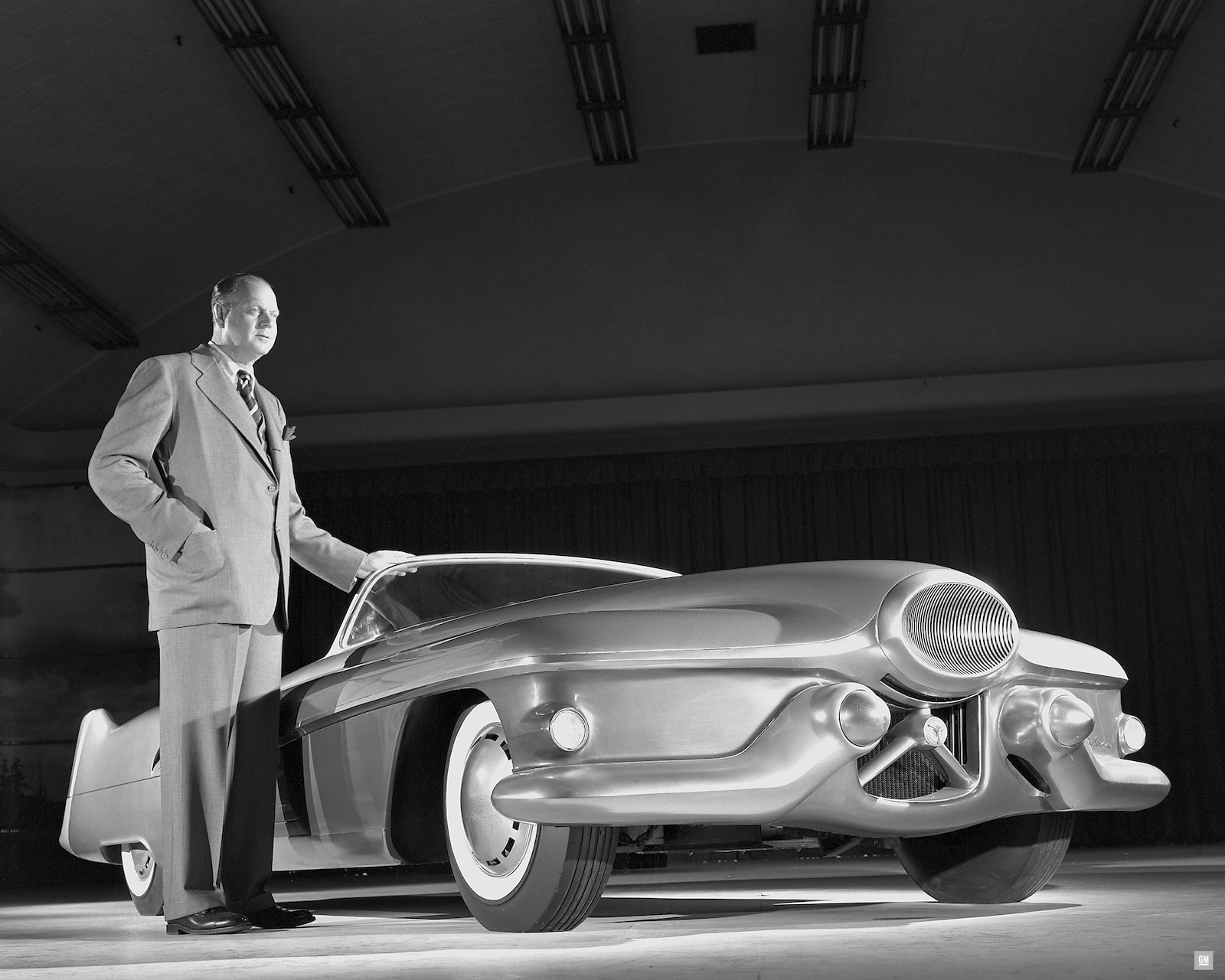 Harley J. Earl and the 1951 LeSabre Concept that he drove to Watkins Glen, N.Y.
The only major American automaker selling one was Nash. But the 1951 Nash-Healey was an amalgamation of a Nash Ambassador driveline installed on an English Healey chassis with a body designed and built in Italy by Pinin Farina. Other low-volume American manufacturers were in the market as well, including Cunningham, Kurtis and Crosley. Earl knew he had to make a move.
Harley Earl's dream
Developed under the moniker "Opel Passenger Car Development Project," it was designed to be as affordable as possible, using as many existing Chevrolet components as possible. The car's proportions mirrored those of its continental competitors, as did its details. It lacked door handles and roll-up windows, using snap-in side curtains instead.
In spring 1952, Chevrolet's chief engineer, Ed Cole, Division General Manager Thomas Keating, and GM Executive Vice President Harlow Curtice took a look at the new concept car, now called the EX-122. They agreed it would the Chevrolet dream car for the 1953 Motorama, with production to start as soon as possible after the show.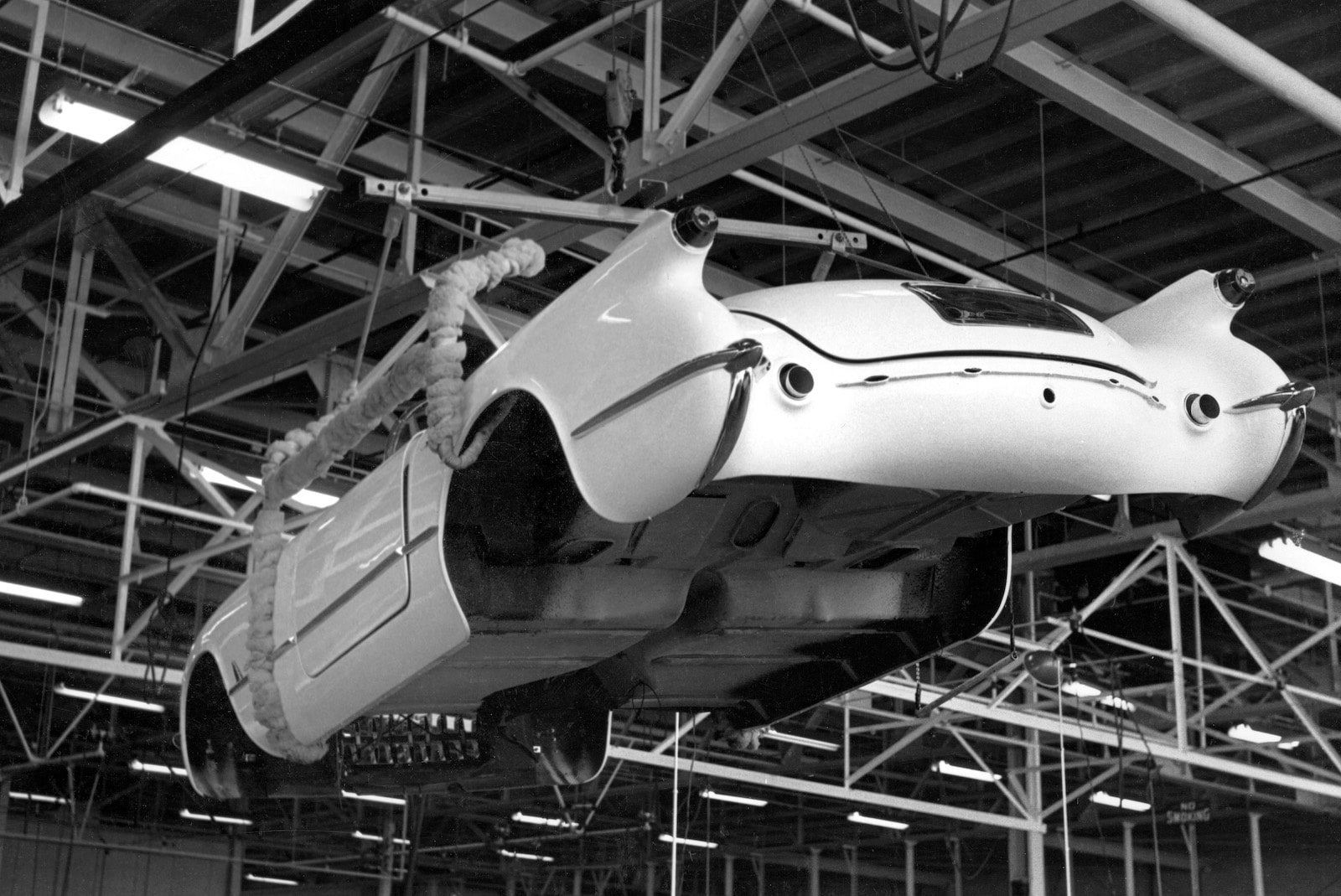 Only 300 Corvettes were made for the 1953 model year as problems with the fiberglass bodies hindered production.
The tight deadlines required that car's body be made from fiberglass, rather than traditional steel. Myron Scott, Chevy PR's assistant director, settled on the name Corvette, a class of small, fast British warships.
A star is born, but not yet
In January 1953, the Chevrolet Corvette at the 1953 Motorama, with predictable results. Its popularity was so strong, VP Curtice announced on the show's second day that GM would begin production in June. They made it, but just barely.
On June 30, 1953, production began in Flint, Michigan, with expectations of selling 10,000 units. But quality problems with the fiberglass fabrication torpedoed that estimate. A mere 300 were produced that first year, not only because of fabrication issues, but also because GM flubbed its marketing.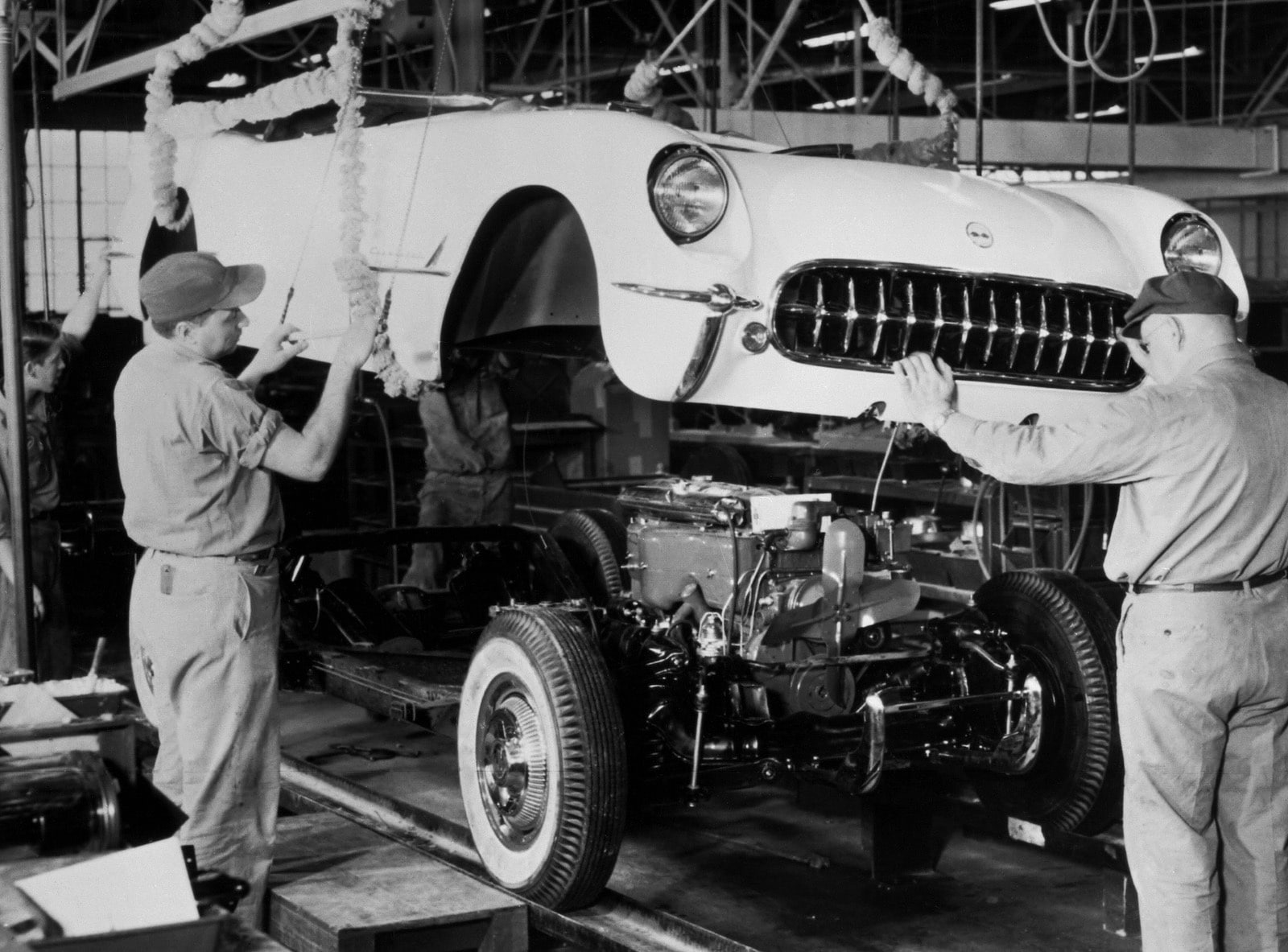 By the end of 1954, only 1,000 Corvettes had been built since 1953, and GM almost killed it.
Chevrolet limited the car's availability to VIP customers. The result was that of the more than 1 million Motorama visitors who saw the car, only 180 could buy one. Even if you could, the Corvette's $3,490 (or $36,580 today) price cost more than a 1953 Cadillac Series 62 convertible.
Certainly the younger buyer the car was aimed at couldn't afford one, while the buyer who could preferred to have door handles and roll-up windows, not to mention enough power to overtake a Buick Century, which it couldn't thanks to its 150-horsepower "Blue Flame" inline 6-cylinder engine and 2-speed Powerglide automatic transmission.
GM throws a party but nobody shows
It all took a toll on the Corvette's sales.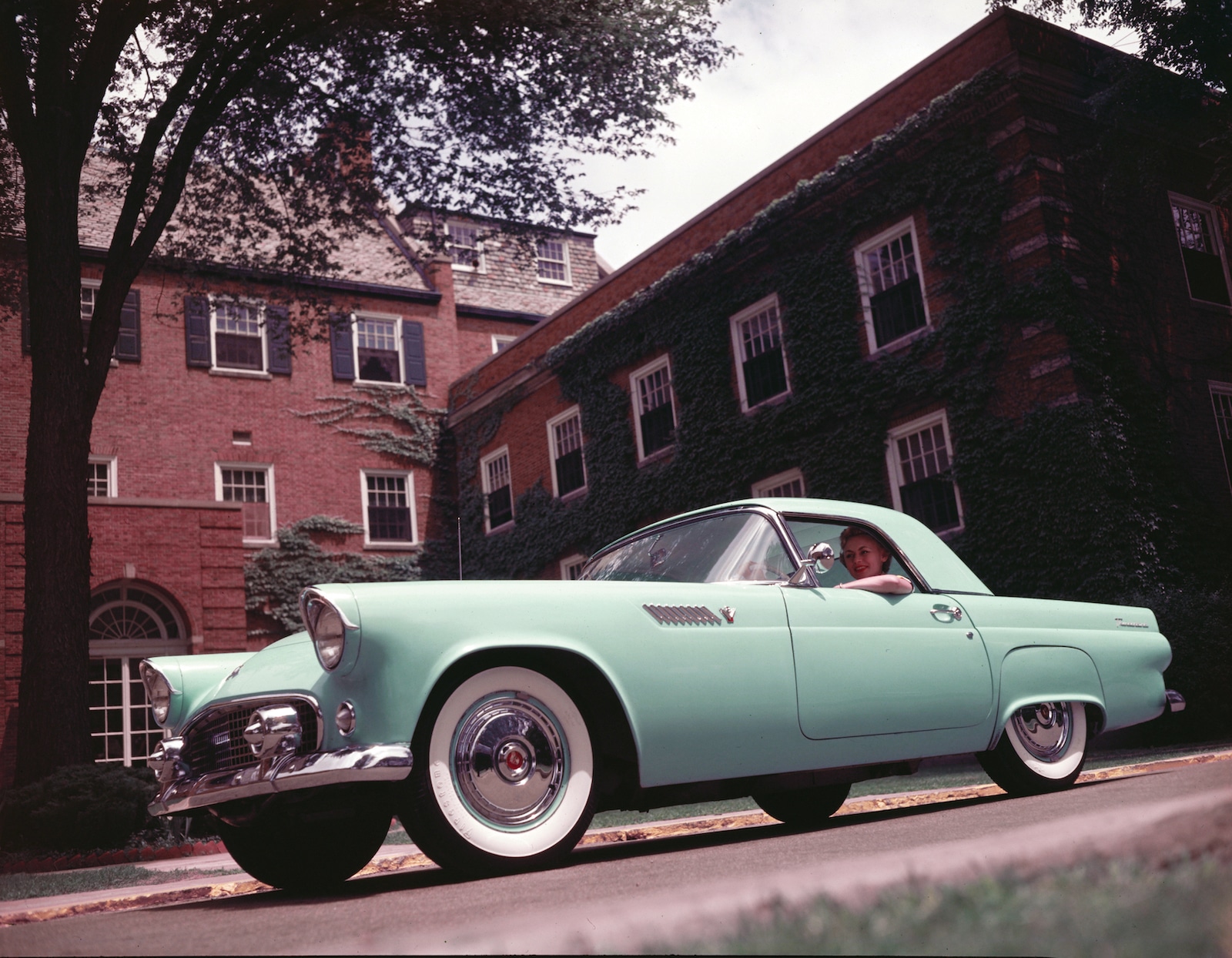 The 1955 Ford Thunderbird's arrival convinced GM executives to keep the Corvette.
GM lifted its misguided restricted availability, expecting sales to pick up. They even moved Corvette assembly to St. Louis, where the plant could build 50 cars a day. But the automaker was forced to cut production. Whatever consumer enthusiasm GM had stoked quickly cooled. By the end of 1954, only 700 had been built.
There was talk of dropping the car, which proved to be an anathema to design chief Earl.
But then came the 1955 Detroit Auto Show in January 1955. It was a new model from Ford and it would change the equation: the 1955 Ford Thunderbird.
A new model takes flight
The Thunderbird project began in 1952, when Frank Hershey, Ford's design chief, received a photograph from a friend at GM Design of the forthcoming Corvette concept car.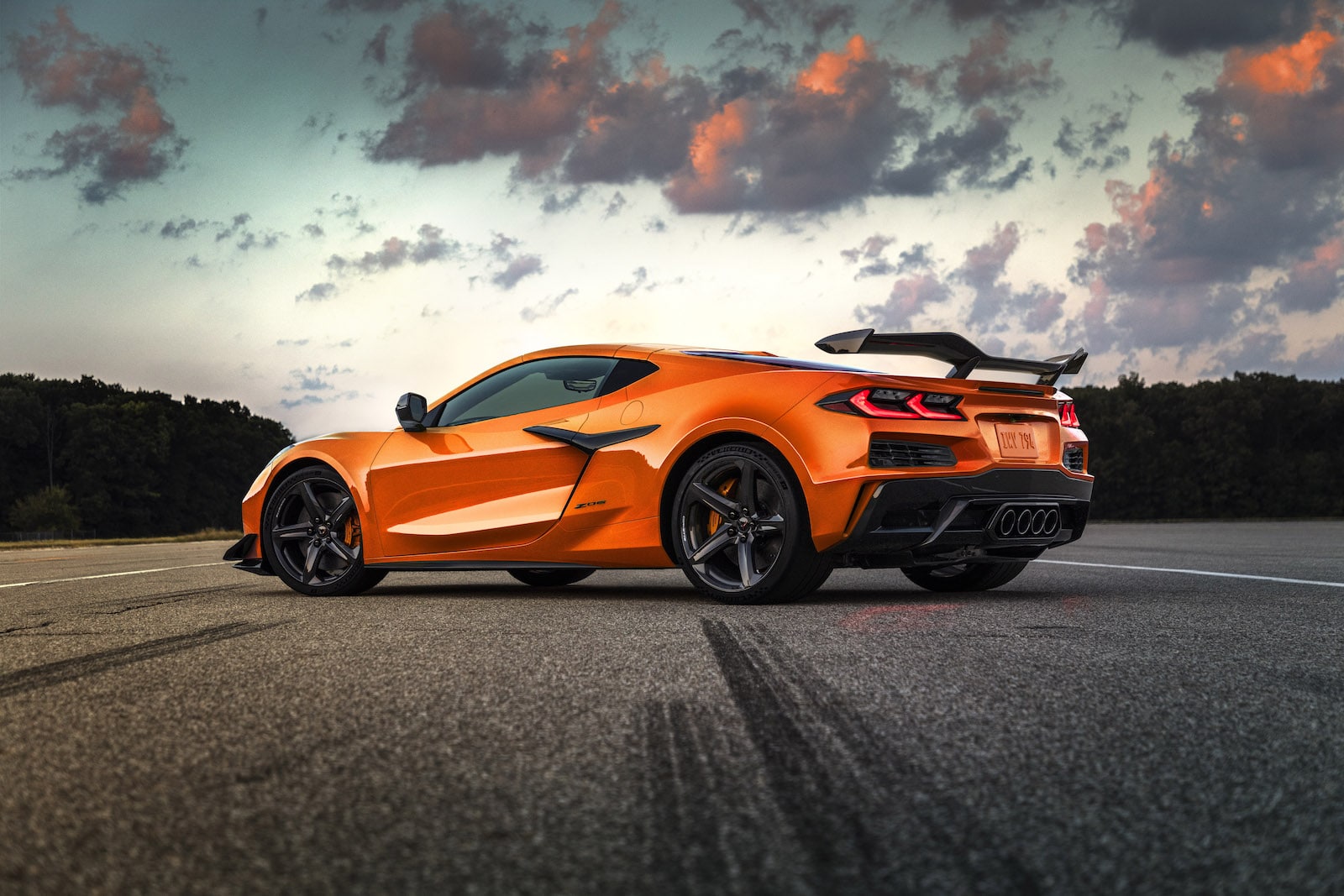 WIthout Ford's 1955 Thunderbird, there wouldn't be a 2023 Corvette.
"I flipped because it meant they were going to have something we didn't have," he recalled in the book, "Fins" by William Knoedelseder. "I had the authority to do whatever I wanted to, and I had an extra room, so I bought an XK-120 Jag, took the same wheelbase, and roughed out a car."
Hershey hid the project from upper management, who couldn't justify funding a car whose market was estimated to be a mere 12,000 units annually at best. But with the arrival of the Corvette, Ford executives agreed that the Thunderbird was needed to challenge the Corvette.
What emerged was a car that went beyond being merely a sports car. It had more class and comfort, and V-8 power. And it would go on to sell more than 16,000 units in its first year — far more than the 4,640 Corvettes did in three.
Ironically, the Thunderbird's arrival convinced GM that it shouldn't kill the Corvette, it should improve it. It prove to be its savior, not its executioner as Ford had hoped.
Soon, the Corvette would receive its first V-8 engine, the start of a never-ending series of improvements and innovative styling that would eventually entrench it as America's sports car and produce the 2022 C8 Corvette.