Uber-Low-Mile 1990 Chevy Corvette ZR-1 Auction Bound
Brett Hatfield on February 9, 2022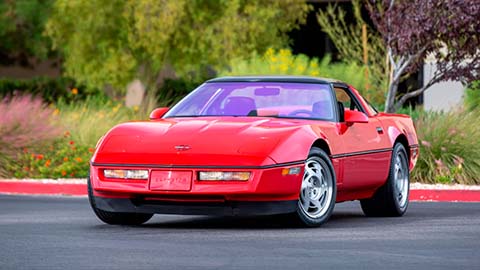 In the midst of the Malaise Era of American automobile performance and design, GM engineers were designing what would become a world-class performance supercar, the Chevy Corvette ZR-1. The Corvette ZR-1 boasted an all-aluminum, 32-valve, DOHC V-8 producing 375 horsepower and 370 pound-feet of torque. The engine was developed by Lotus, while Mercury Marine in Stillwater, Oklahoma, handled the assembly. The ZR-1 could hit sixty miles per hour from a dead stop in just 4.4 seconds, and had a terminal velocity north of 180 miles per hour.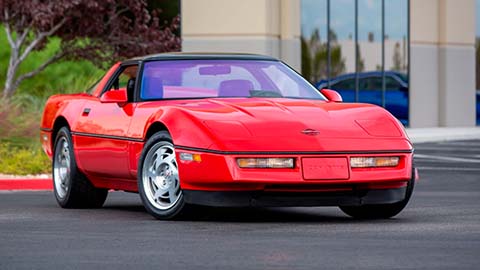 The 4+3 Doug Nash manual that had come in the fourth-generation Chevy Corvette since 1984 was replaced for the 1990 model year in favor of a new six-speed box from ZF. The bodywork was wider from the doors back in order to cover the massive 11-inch wide rear wheels shod in 315/35R17 steamroller Goodyear meats. The Corvette ZR-1 came with a long list of standard equipment that included FX3 Active Ride Control (also developed by Lotus), driver and passenger power leather sport seats, power windows and locks, a low tire pressure warning system, and a Delco-Bose 200-watt AM/FM/CD system. The ZR-1 option package nearly doubled the price of the base Corvette coupe, pushing the sticker price over $60,000.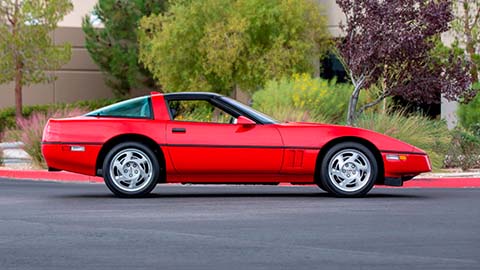 The Corvette ZR-1 lived up to its King of the Hill nickname, laying down a mid-four-second 0-to-60 time, rocketing through the quarter mile in just 12.8 seconds on its way to a top speed of around 180 mph. The 1990 Corvette ZR-1 was faster to 60 mph than that year's Ferrari Testarossa, and quicker through the quarter mile than the Lamborghini Diablo.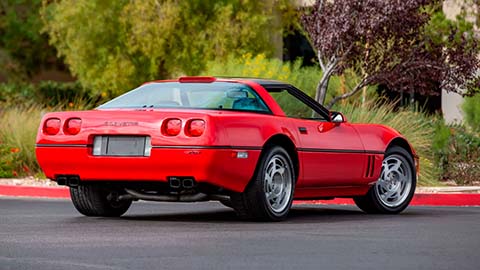 Our feature Chevy Corvette ZR-1 is an exceptionally low mile example, having registered just 11,778 ticks on the odometer. One of just 3,032 ZR-1s produced for the 1990 model year, it is finished in its factory Bright Red exterior hue over a black leather interior. Alloy wheels show no curb marks or rash. The glossy exterior shows obvious care, as it appears nearly new. The glass is clear, free from nicks or road pepper, and the weatherstrip still looks to be in good nick.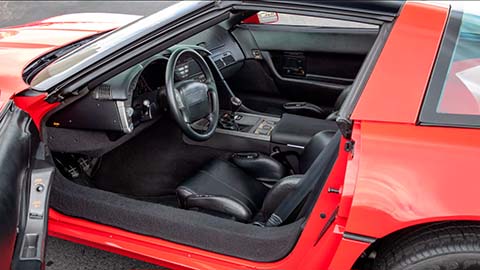 The outside seat bolsters, usually the first part of the interior to show wear from ingress and egress, show little sign of use. Carpets are colorfast, and there are no cracks in the massive expanse of dash. Under the hood, everything appears showroom fresh.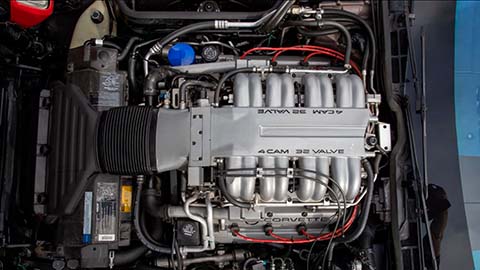 Included in the sale of this Corvette ZR-1 is the original sticker and build sheet. This nearly new Chevy Corvette ZR-1 will be up for grabs at the Mecum Auctions Glendale, Arizona event happening March 16th through the 19th.
Subscribe to GM Authority for more Corvette news, Chevy news, and around-the-clock GM news coverage.