Bring Your Wallet: This 1954 Chevrolet Corvette Roadster is The Main Attraction
On sale at auction in Glendale, the classic Chevy is stunning and one of just four delivered with a black exterior, red interior, and tan soft top.
Chevroletintroduced the Corvette in January 1953 as a concept vehicle, and produced 300 Corvettes that year to meet the demand. Since then, eight generations of 'Vettes continue to speak to the souls of performance car enthusiasts and collectors interested in American-made sports cars.
Are you ready to buy (or window-shop for) a piece of automotive history? If so, Mecum Auctions presents the Hooked on Corvettes Collection featuring models representing six generations of Corvettes in Glendale, Arizona, March 16-19, 2022.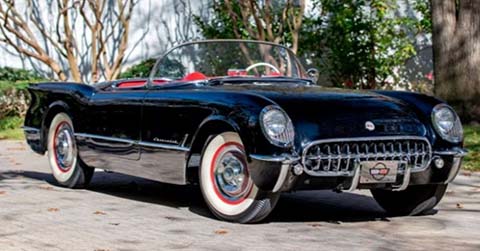 Mecum's Glendale Auction Main Attraction: 1954 Chevrolet Corvette Roadster
This 1954 Chevrolet Corvette Roadster is the main attraction at the Glendale auction on March 16-19, 2022 and will sell regardless of the price. Featuring a 253 cubic-inch inline six-cylinder engine with triple Carter side-draft carburetors and Powerglide automatic transmission, this Corvette is one of four 1954 Corvette Roadsters delivered with black exterior, red interior, and a tan soft top. The timeless Roadster features state-of-the-art 1954 technology, including a Wonder Bar radio, windshield washer, heater, and chrome bumper and trim. The auction estimated price is between $150,000 and $200,000.
Other Notable Corvettes Available at the Glendale Auction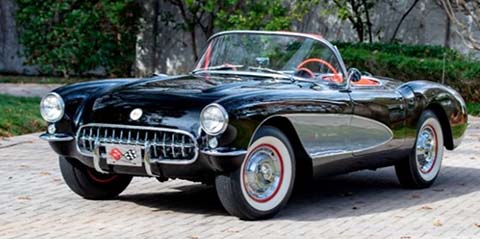 If you love the first-gen Corvette style but want a little more power, consider placing your bid on the 1957 Chevrolet Corvette convertible, complete with a fuel-injected 283 cubic-inch V8 and manual four-speed transmission. Estimated to bring up to $150,000, this offering from the Hooked on Corvettes Collection features a black and silver paint scheme with red interior and a black soft top. This car received a full "body-off" restoration in 2006 and was originally painted Arctic Blue from the factory.
Eighth generation Corvette fans will appreciate the 2020 Chevrolet Corvette Coupe Z51 with 1,639 miles. This black-on-black 'Vette has 495 hp from its 6.2-liter V8 and automatic transmission. Auction estimates range from $100,000 to $125,000, this Corvette features modern technology such as Apple CarPlay, SiriusXM satellite radio, and a launch control mode to decrease wheel-spin when you really need to go.
Here's How to Attend the Auction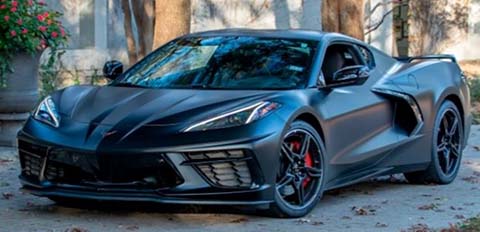 If you'd like to attend the Glendale auction, the first thing to do is Register to Bid so that you'll be ready when your dream car rolls in. The auction starts on March 16, 2022, so plan on being at State Farm Stadium located at 1 Cardinal Drive, Glendale, AZ by that morning. Advance tickets are available online for $20 per person per day and increase to $30 online and at the gate once the auction begins. Online bidding is an option, but if you're buying a car for $150,000 wouldn't you rather be there?