The Importance of the World's Only 1983 Corvette
All C4 Corvettes built in 1983 were preproduction models, used for testing and then destroyed. But this one slipped through the cracks.
By Jack NA Baruth on July 5, 2018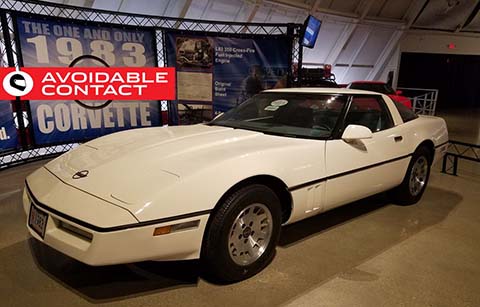 You don't need to be a Corvette fan to visit, and enjoy, the National Corvette Museum outside Bowling Green, Kentucky. It's a frequent destination for automotive fanatics of all stripes, from the Goodguys crowd to the various Midwestern Porsche and BMW regional clubs that use it as a destination for their back-road driving events. I've also personally witnessed a few road-to-Damascus moments at the museum in which people who are indifferent or even personally hostile to the crossed-flags sports car marque find themselves converted by the sheer volume of enthusiasm visible and audible from the moment you walk through the door.
One important aspect of that enthusiasm is that the NCM, unlike similar museums in Stuttgart and elsewhere, is not owned and operated by the manufacturer being honored within. It was the passion project of various people within the National Corvette Restorers Society, pursued on a bootstrap basis for over a decade before the necessary funding and assistance was secured. Most of the cars you'll find inside were donated or loaned by private individuals, although General Motors has also provided vehicles which could not be found anywhere else—like the Corvette Indy concept car and an early C5 crash-test example.
Oh, and they also handed over the world's last surviving 1983 Corvette.
It's only been 36 years since the Corvette wearing VIN 1G1AY0783D5110023 left the pilot assembly line and reported for duty at the GM Milford Proving Grounds, but the story of its escape, survival, and restoration has already acquired the misty sheen of a legend or fable. There were just 14 C4 prototypes and 43 "pilot cars" made in 1983, all of which were marked for destruction after the completion of testing. That's standard practice in the industry, and it's why you don't see, for example, pre-production Chevrolet Uplanders taking up space in your local buy-here-pay-here lot.
Corvettes aren't Uplanders, though, so this particular car was either "set aside"(according to some sources) or deliberately hidden (according to others) after the end of testing. About two years later, the plant manager found the car in the parking lot and had it moved into the plant. It was given a stars-and-stripes paint job and a set of directional 16-inch 1984-model wheels, all of which stayed on the car until it was donated to NCM to celebrate the museum's grand opening in 1994. At that point it was restored to plain white with a blue interior and the 15-inch wheels that had originally been designed for base-model C4s, before GM decided to fit all models with 16-inch wheels and Goodyear Gatorback tires.
Today, you can see the 1983 Corvette in a special display at NCM—true to form, the display was funded privately—and learn a little bit about its history. As rare and special as the car is, however, I'm more impressed by the fact that
It doesn't have 40,000 siblings, and
It wasn't a 1982 Corvette.
The stories behind both of those facts are important, because they are directly responsible for the Corvette's wild success as a proper sports car, both in 1984 and afterwards. The biggest reason why no model-year 1983 Corvettes were sold has to do with the state of California, which changed its emissions requirements before C4 production began. We are told that Corvette engineers took this "gap year" to make the car California-ready, but upon closer examination that doesn't make a lot of sense.
So-called "California Corvettes" had existed for years prior to 1983, with reduced performance compared to their 49-state counterparts to meet that state's stringent emissions laws. The most notorious example was probably the 1980 C3 model, which featured a 305-cubic-inch small-black with a mandatory automatic transmission. So there was ample precedent for the idea of what we'd call a "compliance car" nowadays. The Corvette team didn't do that. Instead, they worked on making the car better in all possible aspects before starting the line in earnest for 1984.
The new C4 Corvette wasn't exactly trouble-free, but by the standards of the era it was very thoroughly worked out. It's worth remembering that GM had just gotten through the X-car scandal, where several million of its top-selling front-drive compacts were recalled for dangerous handling behavior in panic-braking situations. The C4 was one of the first examples of the General's newfound willingness to prioritize getting it right over simply getting it done. In doing so, the company helped insure the Corvette's continued survival. The road has been occasionally bumpy since then, but the difference between, say, a 1977 Vette and a 1997 model is like the difference between the Wright Flyer and the Boeing 777 when it comes to build and materials quality.
As for the curious delay of the start of the C4 program from 1982 to 1983, that's supposedly due to a demand from Lloyd Reuss (former president of GM and father of current GM luminary Mark Reuss) that the next Corvette have a targa top instead of T-tops. Early attempts to comply with this request resulted in a significant loss of rigidity. The solution, which took time and effort, was to increase the size of the frame rails. That's why C4 Corvettes have tiny doors and a big, supercar-style step-over into the deep footwells. It's also how the 1982 Collector's Edition Corvette, with its 1984-spec powertrain and the amusing addition of a (supplier-sourced) functional glass hatchback, came to be; it was just marking time until the new car was ready.
I told these stories, and a few more Corvette tales besides, to the young man who accompanied me to NCM this past Sunday. His mother, an old friend of mine, had asked that I give him a ride from Nashville to Columbus so he could spend the summer with his grandparents. Once he realized that he'd be rolling with me in a brand-new 2019 Corvette convertible instead of sitting in the back seat of his mom's Pathfinder, he had no trouble getting on board with the idea.
The kid was more than a little knowledgeable about the differences across the C7 lineup, and he could tell me chapter and verse about how the various models performed on the racetrack and dragstrip. At NCM, however, he peppered me with questions about the old cars. Why did they go to dual headlights for 1958? (DOT regulations allowed a new headlight spec.) How did the pop-up lights work? (Not very well.) Do all Corvettes have a fiberglass body on a separate frame? (Kinda-sorta, depending on how closely you want to define "fiberglass" and "frame.")
When we came to the 1983, he offered me the opinion that this was the first Vette that looked like a Corvette. Which made me smile. I was about his age when that car started appearing in magazines. At the time, it seemed like an ultra-futuristic attempt to give the old marque one more shot at life before we all got our turbine-powered flying cars. Today, I recognize it as a new, and eventually compelling, definition of what it meant to be a Corvette. The 2019 C7 that we'd driven from Nashville to Bowling Green might contain a few stylistic nods to Vettes of the '50s and '60s, but its actual mechanical and functional lineage dates back to 1983 and not a moment earlier.
We live in a world where even people who despise the Corvette have to acknowledge its fundamental excellence as a track tool, dragstrip weapon, and road-trip flying carpet. It is a world where the designers of million-dollar hypercars and $350,000 limited-edition sporting specials have to nervously optimize every aspect of their product simply to stave off the inevitable day when a new-model Corvette smokes it down the quarter-mile or around VIR. Finally, it's a world where anybody with the ability to pay for a well-equipped SUV or pickup truck has the option instead to spend that same amount of money and get what is probably the finest all-around sports car in history. It's a hell of a world, you know, and it is the world made possible by this lonely, plain-Jane, small-wheeled 1983 Corvette.