Moonshot Corvette Z06 Engine Breaks Every Mold
Chevrolet's max-performance Corvette Z06 arrives later this year as a '23 model, packing a clean-sheet V-8 under the hood that claims the title as the most powerful naturally aspirated V-8 in a production car at 670 hp.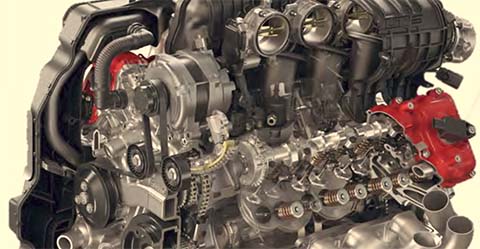 By Bob Gritzinger on March 2, 2022
From its flat-plane crankshaft to its dual overhead camshafts, General Motors' racing-inspired engine for the upcoming high-performance '23 Chevrolet Corvette Z06 may represent the last of a dying internal-combustion breed, but it's not going down without a fight.
The 5.5L V-8 builds on the company's seven decades of small-block engine heritage, but Jordan Lee, GM Small Block chief engineer, says the clean-sheet design shares only its 4.4-in. (111.7-mm) bore centers with its much-heralded ancestors. Rated at 670 hp and 460 lb.-ft. (624 Nm), the engine claims the title as the most powerful naturally aspirated V-8 in a production car.
The previous-generation Z06 featured the LT4, a 650-hp supercharged 6.2L V-8 then listed as "the most powerful Corvette production engine ever." The latest Z06 engine produces 20 hp more while the base engine weighs 31 lbs. (14 kg) less. The naturally aspirated LT2 6.2L V-8 in the standard Corvette Stingray produces 490 hp (495 hp with performance exhaust).
The LT6 breaks the mold with its predecessors, employing a flat-plane crank and overhead camshafts, among other technologies borrowed from the C8.R racing program.
Codenamed LT6, the engine is part of GM's Project Gemini – so designated because it is inspired by the mid-1960s NASA program that led to U.S. astronauts landing on the moon. A total of 54 "rocket ship" Easter eggs appear on the engine block, valve covers and other components to commemorate the connection to Gemini and the astronauts who loved their Corvettes (inset).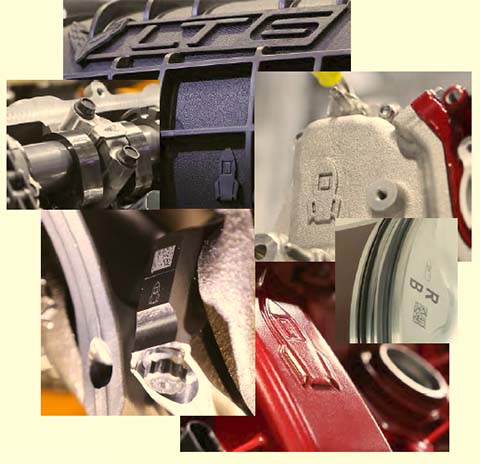 The Z06 engine is a twin with the LT6.R Corvette racing-program engine, with production engineers working in coordination with the race team to develop the LT6, says Yoon Lee, LT6 design system engineer. The engines share cylinder block and heads, valvetrain and fuel systems, with differences in the race engine for packaging and race performance requirements and power limitations. Lee says 12,606 engineer hours on 545 projects went into developing the engine.
The engine starts with an all-aluminum block – essentially twin 4-cyl. blocks – and incorporates a range of high-tech elements including: a lightweight flat-plane crank with an even bank-to-bank firing order to balance intake and exhaust flow; highly efficient induction with fully CNC-ported intake and combustion chambers; overhead-cam valvetrain with GM's first production application of exhaust-side fuel injection; forged titanium connecting rods and forged aluminum pistons; 4-valve-per-cylinder breathing employing titanium intake valves and sodium-filled steel exhaust valves; dual 87-mm throttle bodies fed by dual fuel pumps feeding each of the 4-cyl. banks; racing-inspired dry-sump lubrication; unique water cooling jackets and a specialized exhaust and muffler system.
Chief Engineer Lee says Ferrari, McLaren and Porsche engines were benchmarked en route to building the LT6, resulting in a "bespoke, exotic, high-output" Corvette-specific engine with an 8,600-rpm redline, distinct character and exhilarating power.
Each LT6 will be hand-built and signed by a single assembler at GM's Performance Build Center in Bowling Green, KY, with each engine requiring about three hours to assemble. Corvette Z06 production is slated to get under way this summer with cars trickling into dealerships shortly thereafter.
What's next? In a 2021 WardsAuto article, Corvette soothsayer Don Sherman predicted the Corvette ZR1 would come with "power supplied by a twin-turbocharged version of the LT6. We expect this LT7-coded engine to bow for the 2025 model year with at least 850 hp and 800 lb.-ft. (1,085 Nm) of peak torque."