Jay Leno Checks Out A Very Special Corvette C1
By Jarryd Neves on April 19, 2022
This 1954 C1 has been restored to perfection.
Priced from $69,695, the Chevrolet Corvette Stingray Convertible is the epitome of all-American open-top motoring. With up to 495 horsepower and 470 lb-ft of torque on offer, it's a seriously quick car for the money. The performance figures say everything you'll need to know; 0 to 60 mph is dusted in a mere 2.9 seconds and the top speed is pegged at 194 mph.
The Corvette has come a long way since the nameplate was introduced in 1953. In his latest video, Jay Leno takes a trip back in time, featuring a fastidiously restored 1954 Corvette C1, an absolute American legend. Owned by war veteran and master Corvette restorer Michael McCloskey, it's quite possibly the finest example of its kind.
A "National Corvette Restorers Society" sticker on the window is a subtle clue into this Corvette's condition. "They're crazy," quips McCloskey. "They're so neurotic that they will deduct [points] for over-restoration. You do something too nice, and it's a deduction."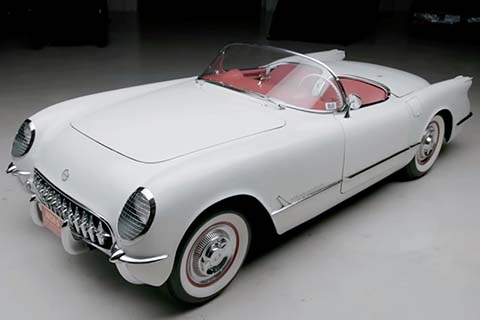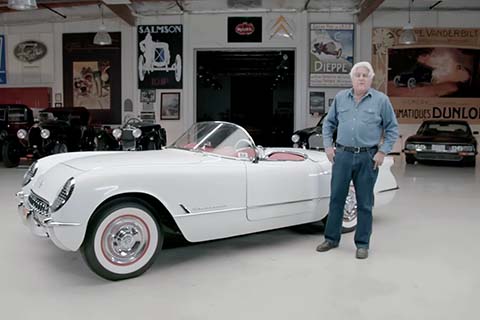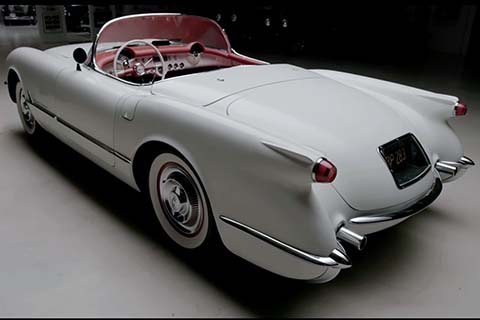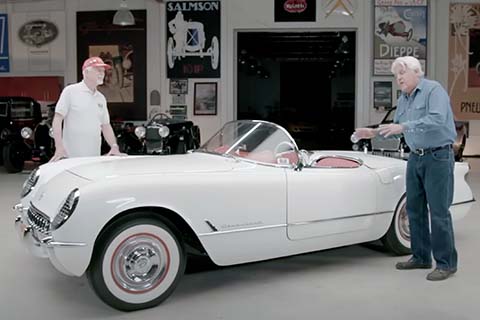 Many associate the Corvette with a rumbling V8 powerplant, but original models utilized a more humble engine. A 3.9-liter inline-six - known as the Blue Flame - sits under the sculpted hood and features three single, side-draught carburetors. To give it some extra performance, Chevrolet added a dual exhaust setup and a solid-lifter camshaft. This all came together to provide 155 horsepower; not much now but rather impressive back then.
But the C1 is about so much more than performance. What it lacks in speed it more than makes up for in beauty. It's a celebration of clean lines and elegant design and is as striking today as it was in the mid-'50s. "From the back, it's really space-age," remarks Leno.
While the C8 Corvette has a decidedly plush cabin, the C1 counters with a frill-free interior. That's not to say it isn't special. Like the exterior, it's a thing of beauty, and the red leather teams well with the white paintwork.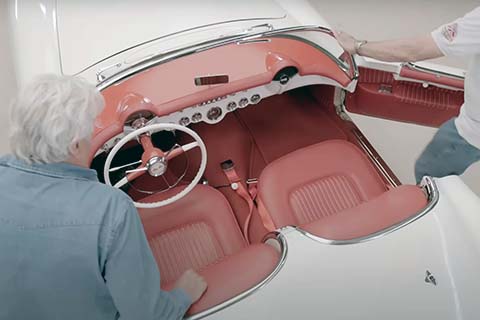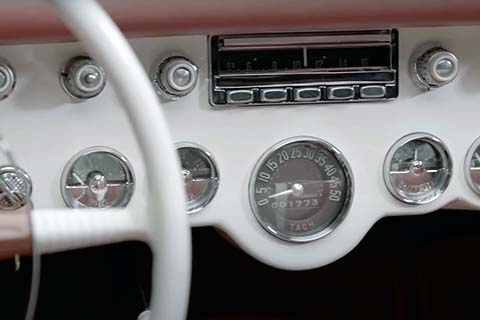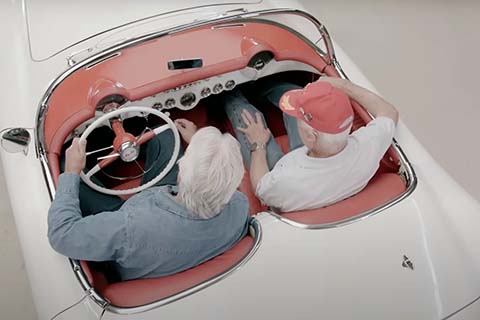 On the road, the Corvette C1 bumbles along with a light-hearted grumble. Jay Leno is pleasantly surprised by the driving experience. "This is a nice cruising car. The nice thing about buying something like this is it's as good as it can ever be [aside from] coming [out of] the factory." An example like this would surely set you back a hefty amount of cash; just recently, a newer '63 Corvette Z06 Split Window Coupe was estimated to sell between $700,000 and $900,000.
The Corvette emits a hearty six-cylinder thrum as it cruises through Los Angeles. According to its owner, it's far more at home in Hollywood - this is a bonafide star of the silver screen. "This was a movie car. It featured in the 1963 film It's a Mad, Mad, Mad, Mad World. If you watch that movie, it was just a drive-through car, but you see it several times and it was painted gold."