Early Corvette Prototype Not Seen Since 1954
Harley Earl's Styling Proposal for the 1955 Corvette was found and has been restored to 1954 prototype spec.
By Jerry Heasley on May 11, 2022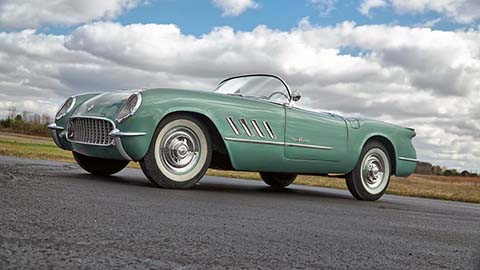 "This car was stripped, and I mean it was stripped in the 1950s," Billy Jay Espich said. How does anybody do that to a real Corvette prototype?
Stamped "S.O. 2151," on a plate under the hood, this was the "Proposal Car" for the 1955 Corvette. S.O. stands for "Shop Order," and in early 1954, Harley Earl's famous "Art & Colour Section" saw the pale yellow body of Motorama show car EX-129 mounted to a 1954 chassis with engine and running gear.
EX-129 was one of the one-piece, pre-production bodies, and it was common practice back then to use one body for multiple jobs. Their mission was to create the Proposal Car for management to view what the 1955 model should look like, the first Corvette with a V-8.
Concept Design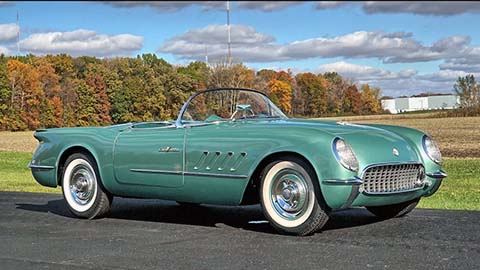 Revisions started with new "Corvette" lettering, highlighted by a gold superscript "V" on the doors to denote the new V-8 engine. Harley Earl's shop also modified the grille of a Bel Air to fit the opening of the Corvette, added custom side-vents to each front fender (one with polished stainless-steel inserts, and one painted, to pick from), a non-functional chrome-plated hood scoop, a larger, stylized rear deck lid, "bullet-style" dual exhausts exiting through the rear bumpers, and a dashboard painted Sand beige. Chevrolet upgraded the engine to a 265 cubic-inch V-8 for 1955, but management turned down the styling changes, probably due to slow sales. The bullet-style exhaust eventually did appear on the '56 Corvette, and similar side vents were incorporated into the 1969 Stingray design.
In Private Hands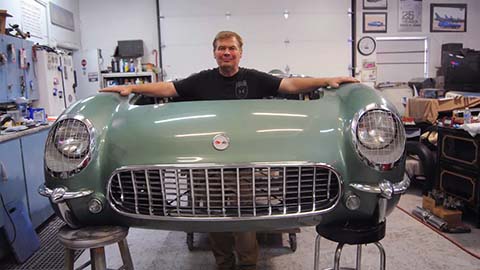 How S.O. 2151 got into private hands remains a mystery. The car's history from its GM exit through 1974 is unknown. In 1975, "2151" appeared, minus its styling upgrades, for sale in Hemmings Motor News. It was being handled through Empire Chevrolet in Novato, California. George Campbell purchased the car (not advertised as anything special) for around $3,000. According to Billy Jay Espich, "In 2012, a gentleman took it from [Campbell] to be restored."
Oddly enough, 2151 appeared for display at Bloomington Gold in 2014. Steve Burns (corvetteblogger.com) snapped photos that show several of the Harley Earl styling mods that appear to have been fabricated later, perhaps as part of a restoration. Apparently, the hood never got opened, or else it would have revealed "S.O. 2151."
"How S.O. 2151 got into private hands remains a mystery."
In 2015, the car landed at Billy Jay's Custom Painting in Indiana. "He just said to restore it," says Billy Jay. Being a Ford man, he had never heard of an S.O. tag. Luckily, 2151 is highly documented in books. One by Noland Adams, called Corvette American Legend Vol. 2: 1954-55 Production was especially helpful. Billy Jay is a master craftsman, pinstriper, and painter. He used full page photos in the book to accurately recreate the styling modifications found on the prototype.
Recreating A Legend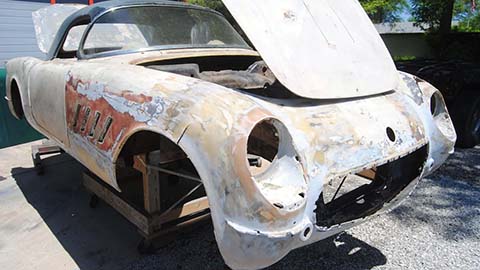 "As time went on, the car was abandoned, and I ended up with the car," Billy Jay says. When Billy Jay took the body off the frame, he discovered the 6,152 miles on the odometer might be accurate. The brake shoes still had quarter-inch grooves that only the manufacturer put on, an indication they had seen very little use. The engine bearings had little wear, and the cylinder walls still showed honing marks. He reused the original shocks, dated January 3rd, 1954, and many of the original bolts and parts, including six of the body-mounting pads.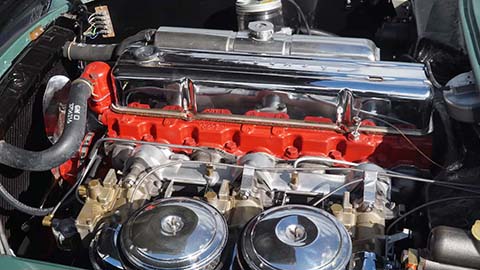 That Blue Flame Six wasn't blue—it was red. When GM made an engineering change, red denoted a test or prototype engine. Those changes, adopted the last month or so of 1954 production, included a new cam and 5-10 more horsepower. In the interest of preservation, Billy Jay left the trunk and steering column unpainted, as well as the area beneath the seats and beneath the top deck. Patches of yellow paint are remnants of EX-129; Bermuda-Green paint traces S.O. 2151. The exposed trunk and damaged front fender (which was replaced) reveal original, hand-laid fiberglass that is unique to the pre-production, one-piece bodies used for test vehicles and show cars, such as those that appeared at the GM Motorama.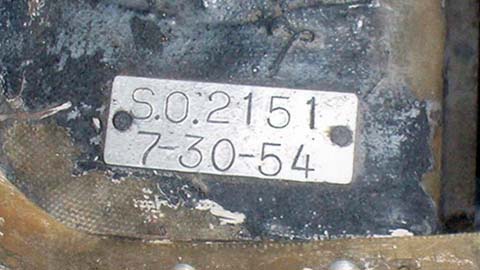 People who look at this car can see and feel the history, thanks to what could be described as a forensic restoration by Billy Jay. Maybe one day we'll find out how S.O. 2151 escaped General Motors. Maybe those parts that Harley Earl's shop made will also turn up. The good news is we have found S.O. 2151, and the body of EX-129, and the Corvette hobby is all the richer for that. Thanks to George Campbell for buying and saving the car in 1975, and to Billy Jay Espich, a Ford man from Indiana, who devoted almost five years and 1,800 shop hours to resurrect an early piece of Corvette history.