Struck Gold: Dennis Collins Scores a Super-Rare 1955 Chevrolet Corvette
Collins hits the mother load with this awesome and rare classic Chevrolet Corvette extraction.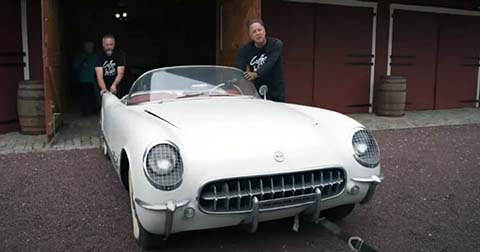 In Dennis Collins' latest YouTube video, he journeys farther than usual in searching for a super-rare 1955 Chevrolet Corvette. But a long trip to Westminster, Maryland, confirms that his efforts were well worth it.
A Perfect Setting For A Hopefully Perfect Car
Collins's arrival at the idyllic rural setting foretells what's in store for this adventure, blooming dogwood trees, a manicured landscape, and fairy-tale-worthy buildings are just some hints.
We see a pristine barn that's never housed an animal or a speck of dust - it's immaculate, and so is the Corvette resting under a yellow cover.
The excitement builds as Collins gives the car a quick look over: we learn that the enlarged and gold-covered "V" in the "Corvette" front fender badge indicates a V8 inside.
Another "V" on the build tags also confirms what's under the hood.
While viewers don't get to see any specifics about the car's condition, these details seem unimportant to Collins, he's just eager to get his hands on a highly sought-after vehicle.
A handshake a few minutes later seals the deal, and this automotive treasure will be heading back to Collins' Texas workshop.
The Significance Of The 1955 Chevrolet Corvette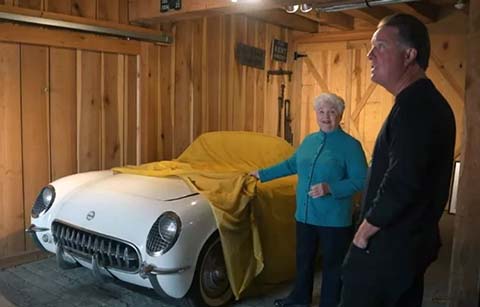 Throughout the video, viewers get reminded of the importance of the 1955 model year for the Corvette.
While there were no body-changes from the 1953 or 1954 model year Chevrolet Corvette, the '55 is the first 'Vette to feature a V8 engine.
The 265 cubic-inch small-block cranked out 195 horsepower and a punchy 260 lb-ft of torque, notably, the V8 was lighter than the stock six-cylinder engine, the larger power plant, which included a four-barrel carburetor, could do 0-60 mph in 8.7 seconds (respectable performance for the day).
No wonder, of the 700 Corvettes built in 1955, 693 had the V8; it's the power plant that helped cement the vehicle's status as a true sports car.
Buy One, Get One Free: A Valuable Toy Corvette Accessory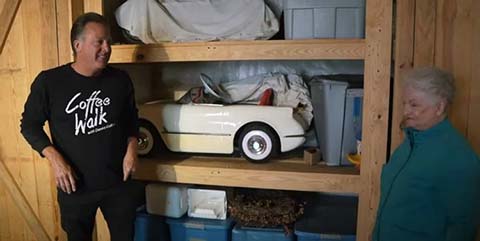 A commemorative Corvette pedal car is among the Corvette-related goodies that Collins comes across in the seller's barn.
In 2003, Chevrolet authorized 300 of these plastic-body replicas to celebrate the 50th anniversary of the first-year Corvette, the 300 number is significant as it matches the amount of actual Corvettes produced for 1953.
The toy appears in spotless condition, and the whitewall pneumatic tires and wheel covers