This 1963 Chevrolet Corvette is Rare for More than Just its Split Window
More than 10,000 split-window Corvettes were built in 1963, but only 278 were equipped with this ultra-rare option.
By Sam Maven on May 29, 2020
Thanks to its split rear window and single-year production, the 1963 Chevrolet Corvette Sting Ray is an icon among classic car collectors, but Corvette Mike is selling a split-window 'Vette that is even rarer than most others. That's because out of the roughly 10,600 Sting Ray coupes built, this Daytona Blue 1963 Chevrolet Corvette checked practically every option box, and it is one out of just 278 equipped with factory air conditioning.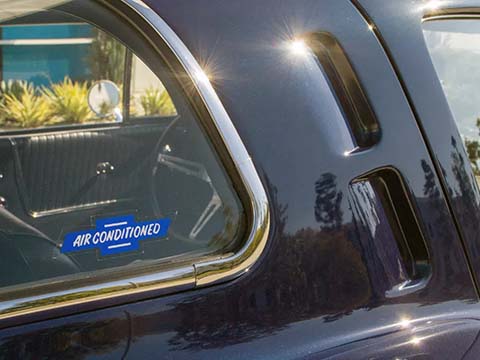 When Chevrolet launched the C2 in 1963, it marked the first time you could get factory air conditioning in a Corvette, and with a $421 price, A/C was the third most-expensive option on the '63 Corvette's order sheet behind the Z06 package and the fuel-injected, 360-horsepower L84 engine. On top of air conditioning, this Corvette was one cool cruiser in its day thanks to additional options such as the L75 version of the 327 cubic-inch V8 rated at 300 horsepower, three-speed automatic, power steering, power brakes and power windows. Optioned up, this Corvette cost almost $5,500 when it was new, but today it's being sold for $199,000!
Rarity alone doesn't get you a Corvette costing that much, though, and the best part of this split window is its jaw-dropping condition. Thanks to a factory-correct frame-off restoration, this Corvette probably looks even better than it did back in 1963, and it has been recognized as such as an NCRS Top Flight winner and the recipient of the even more prestigious Duntov Mark of Excellence Award. The Daytona Blue absolutely glows in the sunlight, while everything detail from the interior to the engine compartment has been meticulously restored.
This 1963 Chevrolet Corvette is as rare as it is beautiful, so contact Corvette Mike to add this show-ready 'Vette to your collection.