This 1983 Chevy Caprice Wagon Was Built to Chase Corvettes
From the Archive: In the 1980s, the Corvette development team needed a chase car, so it built this special Caprice.
By Rich Ceppos on February 3, 2023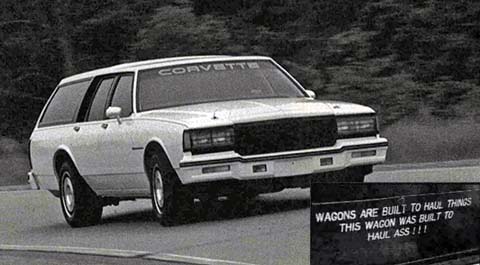 Aaron Kiley | Car and Driver
From the November 1986 issue of Car and Driver.
Raising Corvettes for a living isn't all sweetness and light – just ask the Corvette development group. Every now and again, this dedicated band of engineer-enthusiasts bumps into a problem that won't stand aside. Like workmen everywhere, they're always on the lookout for the tool that will break the logjam and help them get their job done. Sometimes they find it. In the case of the Corvette-chaser wagon, though, they had to build it themselves.
Longtime Corvette development wiz Jim Ingle is the wagon's keeper. Ingle is the kind of resourceful engineer the brass assign to special projects, and he can drive the wheels off of a Corvette to boot. Often as not, Ingle has the latest trick part in his briefcase, and he owns a bad-boy laugh that tells you he's up to no good even when he's playing dumb.
In a carefully worded letter sent along with the white behemoth, Ingle explains that the situation was getting desperate. When the development engineers take a group of Corvettes out for a test trip, they usually bring along a support vehicle to haul spare parts, tools, and extra luggage. Such bullets as diesel-powered Suburbans, Ingle writes, "fell rapidly behind the evaluation vehicles and out of radio range on even mildly challenging curves or grades." Not to mention on Interstates, on-ramps, off-ramps, two-lanes, downhill grades, and mountain switch-backs. The word is that these guys don't exactly tiptoe through the tulips on evaluation runs, so the feeble chase cars of yore were a permanent thorn in the side of speedy progress.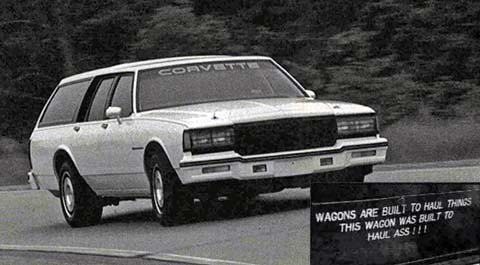 Car and Driver
The solution appeared back in 1983, when a batch of prototype Corvette L98 port-fuel-injected V-8s were installed in a few Caprices – one of them a wagon – for field testing. Here was the makings of a mother ship that could haul both parts and ass in company with 150-mph Corvettes.
At the end of the engine test, the Corvette development troops skimmed the L98 Caprice wagon off the top and set to work making "additional modifications to suit our needs, whims, and desire for distinction," notes Ingle.
With the GM spare-parts bins there for the raiding, Ingle and company mixed, matched, and patched together the white whale as time and manpower allowed. The only changes to the driveline were the addition of a free-flowing dual-exhaust system and a 3.23:1 limited-slip differential.
The mechanics buttressed the front suspension with a pair of Bilstein shocks and a Cadillac-limousine anti-roll bar the size of your thigh.
Since a Corvette can go around corners as if hooked to a tether, any Caprice that was meant to keep up would need to learn some fancy footwork. Dance class was administered in the C-P-C development garage at GM's Milford, Michigan, proving grounds. The mechanics buttressed the front suspension with a pair of Bilstein shocks and a Cadillac-limousine anti-roll bar the size of your thigh. The rear suspension was pumped up for action with a reworked anti-roll bar from a Caprice F41 handling package and a pair of air shocks to keep the tail from dragging once the spares were hefted on board.
Two more tweaks were made to the steer-and-stop equipment before the chassis was pronounced ready. First, a quick--ratio, high-effort steering gear from a pre-1982 Z28 was installed to improve feel and agility. And since it's only proper that a Corvette chaser wear Corvette running shoes, a set of Vette wheels and tires (255/S0VR-16 Goodyear Eagle VR50s on 8.5-inch-wide wheels) were socked into the wheel wells.
Now that the chaser had more grip and more zip than the typical sleepy Caprice wagon, improving its driving environment was a must. To keep the chase pilot from collapsing from overwork, the Caprice's sofalike bench seat was tossed in favor of a pair of deeply pocketed Corvette sport buckets, complete with power-adjustable everything. A thick, leather-covered Corvette steering wheel added the right look and feel. The two slickest additions were the tachometer and the oil-pressure gauge, which were transplanted into the dash so neatly that they look as if they came straight from the factory.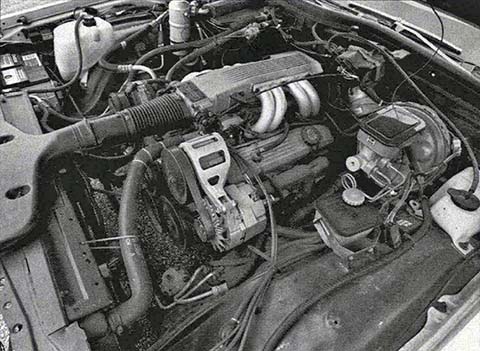 Car and Driver
The mother ship could easily be accused of looking like the world's largest boy racer; it sure won't be confused with anything that normally pulls Little League duty. Then again, its job is considerably more difficult. It spends winters at the GM proving grounds in Mesa, Arizona, and summers at the Milford proving grounds, attempting, Sisyphus-like, to keep up with Corvettes while loaded to the gunwales.
And it looks it. "As the interior shows," notes Ingle, "this is a working vehicle, not a show car. It has hauled toolboxes, floor jacks, chains, tires, convertible tops, and excess luggage over many miles of mountain roads."
After 35,000 hard ones, the chaser's cabin is scruffy and its body squeaks and groans, but its spirit is still willing. Around town, the exhaust note is pure ski boat, and when you belt the throttle, the mellow bellow is enough to tum heads. And so is this car's speed. On the run, big mamma will charge to 60 mph in a very respectable 7.2 seconds and will huff and puff all the way to 121 mph. That's well shy of a Corvette's terminal velocity, but it's light-years ahead of your average diesel Suburban's. The Corvette troops couldn't be happier.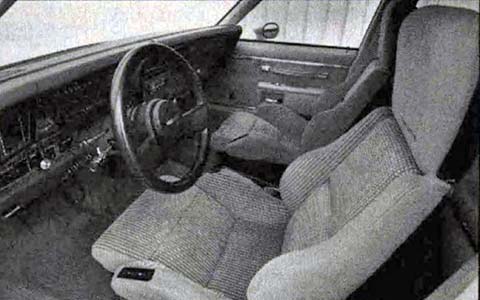 Car and Driver
As for handling, peeling off all the chrome and slapping a Corvette nameplate on the tailgate can't disguise the fact that the chaser is a USS Enterprise among PT boats. Still, it's hard to believe that anything so big can be so agile – even if it does take a couple of extra tries to wedge it into a parking spot. It's also difficult to believe that anything so big can be so much undiluted fun.
No wonder the Corvette development gang relishes its latest tool. Chasing down a pack of wild Corvettes was never easier. And until you catch up, there's always the odd Porsche to menace – eh, Mr. Ingle?
Specifications
1986 Chevrolet Corvette Chaser wagon
Vehicle Type: front-engine, rear-wheel-drive, 5-passenger, 5-door wagon
ENGINE
pushrod V-8, iron block and heads, port fuel injection
Displacement: 350 in3, 5733 cm3
Power: 230 hp @ 4000 rpm
Torque: 330 lb-ft @ 3200 rpm
TRANSMISSION
4-speed automatic
CHASSIS
Suspension, F/R: control arms/live axle
Brakes, F/R: 11.9-in vented disc/11.0-in drum
DIMENSIONS
Wheelbase: 116.0 in
Length: 215.1 in
Width: 79.3 in
Height: 57.1 in
Passenger Volume, F/R: 59/52 ft3
Cargo Volume: 50 ft3
Curb Weight: 4287 lb
C/D TEST RESULTS
60 mph: 7.2 sec
1/4-Mile: 15.5 sec @ 89 mph
100 mph: 21.6 sec
Top Gear, 30-50 mph: 3.8 sec
Top Gear, 50-70 mph: 5.4 sec
Top Speed: 121 mph
Braking, 70-0 mph: 232 ft
Roadholding, 300-ft Skidpad: 0.79 g
C/D FUEL ECONOMY
Observed: 12 mpg