Corvettes Offer a Sentimental Journey
By Dale Hutchings, Winging It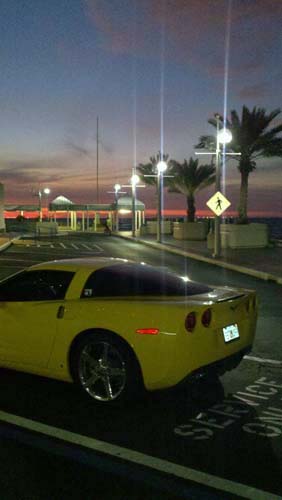 The Corvette is an icon to Americans middle age and older. Labor Day weekend, there will be a special auto show at the Pier featuring this sweetheart of a car.
On Saturday, Sept. 3, rain or shine, the Suncoast Corvette Association (often referred to as the SCA) will present the 18th Annual "Corvettes @ The Pier" show, from 10 a.m. to 4 p.m.
Cars will begin being parked for public viewing as early as 8 a.m., according to Mike Karr, SCA president.
Karr says those attending can expect to see every generation (there are six in all) of the sports car. The first generation dates back to 1953, when the Corvette first appeared on America's streets.
In all, a total of 100 cars have been pre-registered for this event, which provides an opportunity for people of all ages to see how this always visually-stimulating sports car has evolved over the decades.
Those especially interested in this show will be, believe it or not, many older local residents. Research shows mature adults love this car. Whether car buffs or not, seniors have the chance to recall special memories from their youth, when they go to this show. After all, their years of growing up were a time when the Corvette was one of the most trendy, popular sports cars around.
Just how trendy? Nostalgia experts point to the car as a prominent visual icon for millions of baby boomers in their youth. As prime examples:
The Corvette was so well thought of in the 1960s, one of the Beach Boys' earliest hits was "Shutdown" - a song about a drag race with one of the main cars being a Corvette "stingray."

A big hit TV show in the early 1960s was "Route 66," a drama series focused on two young men's adventures while traveling across America in a Corvette convertible.
And for many seniors, and not just the Baby Boomer segment, their affection with this car hasn't waned a bit. According to research by Speccialty Equipment Market Association and Experian Automotive, as of 2009, there were approximately 750,000 Corvettes of all model years registered in the United States.
Of those owning Corvettes, 82% are between ages of 40 and 69.
This compares favorably with the demographics of those serving as members of the SCA. Karr says about "98% literally (of our membership) is 50-plus in age." And some members of the Association are well past retirement age, the oldest being "Doc" Wells.
Karr noted, "He is a Purple Heart decorated veteran of World War II, in his 80s. He drives several different generations, going back to the days when he was a young man. Once a Corvette owner, always a Corvette owner." Wells, a snowbird currently residing out of state, unfortunately will not be at the upcoming show. But he will in all likelihood return come winter for SCA's other car shows, to "show-off" his latest vehicle, a 2011 Corvette.
But "showing-off" Corvettes is only part of what those who belong to the Suncoast Corvette Association do in terms of activities. Members meet once a month at a local restaurant to get to know one another better, especially learning more about new members. Another popular activity is progressive dinners, driving to different members' homes for various parts of a dinner meal. They also take what are known as "mystery rides" to enhance members' Corvette driving experiences.
And it doesn't stop there. At least once a year Association members parade their cars at a local high school football game for the school's homecoming celebration. There are also scheduled trips to the Corvette Museum and the Corvette Factory Tour in Bowling Green, Kentucky, and participating in various charity events throughout the year. With this kind of friendship-building and socializing, it's no wonder the Suncoast Corvette Association has been a fixture with classic car enthusiasts in the Tampa Bay area since 1983.
Susan M. Robertson, with Urban Retail Properties, LLC - the management company for The Pier and the person responsible for promotional events at the St. Petersburg waterfront landmark, gave this assessment of the annual Corvette car show. "This event has always been a hit with our visitors and tenants, as it brings a wonderful crowd of folks who not only are here to look out at the water, but enjoy seeing the cars on display."
Robertson says based on numbers from previous years, she expects the event is likely to draw at least 1,000 people, maybe even more, weather permitting. And you can bet, based on the demographic research for those who own Corvettes, a good deal of this crowd will be over 50 making this a great function for those of us who are regarded as "seniors."
Musical entertainment during the show will be the band "Easy Street" performing in The Pier's Courtyard by the Bay, from 10:30 a.m. to 3 p.m. Those with grandchildren might also want to bring them along, because there will be "Fritz the clown" and free face/body painting by Joanne Conte, from 1 to 4 p.m.
For more information on the 18th Annual "Corvettes @ The Pier" or other upcoming activities being held there, visit: http://www.stpetepier.com/.
To learn more about the Suncoast Corvette Association, please visit: www.suncoastcorvette.com.